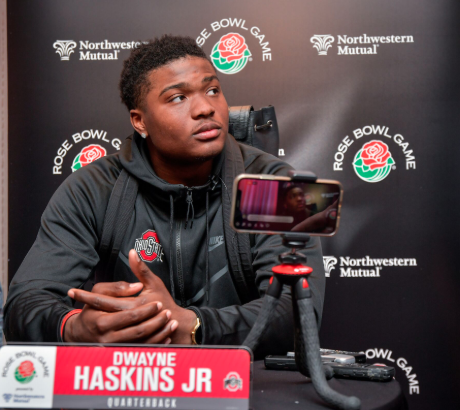 Debated with Oklahoma product Kyler Murray as the top prospect among quarterbacks in attendance at the NFL scouting combine, former Ohio State starter Dwayne Haskins had his opportunity to take center stage Saturday when he ran and threw.
After an official time of 5.04 seconds in the 40-yard dash, last among signal callers for the day, Haskins was a participant for all position drills when he took the field with quarterbacks and wide receivers in his group.
On the same turf at Lucas Oil Stadium in Indianapolis where he dazzled Dec. 1 and led the Buckeyes past Northwestern for the 45-24 Big Ten Championship Game win, Haskins presented his case to be the No. 1 quarterback — quite possibly overall — off the board in the April 25-27 NFL draft.
While he failed to clock his 40-yard-dash time below the 5.0 threshold, Haskins was reportedly dealing with leg cramps before both attempts and will run again March 20 when OSU hosts pro day at the Woody Hayes Athletic Center.
Aside from the 40-yard dash, Haskins (6-3 3/8, 231) leaped 28 1/2 inches the vertical jump. With former teammates Parris Campbell and Johnnie Dixon among his wide receivers for the day's earlier group — Terry McLaurin took the field later on — he flashed in a variety of drills.
From the 40-yard dash to on-field drills, take a look at how Haskins fared in the attached highlights below.
Dwayne Haskins