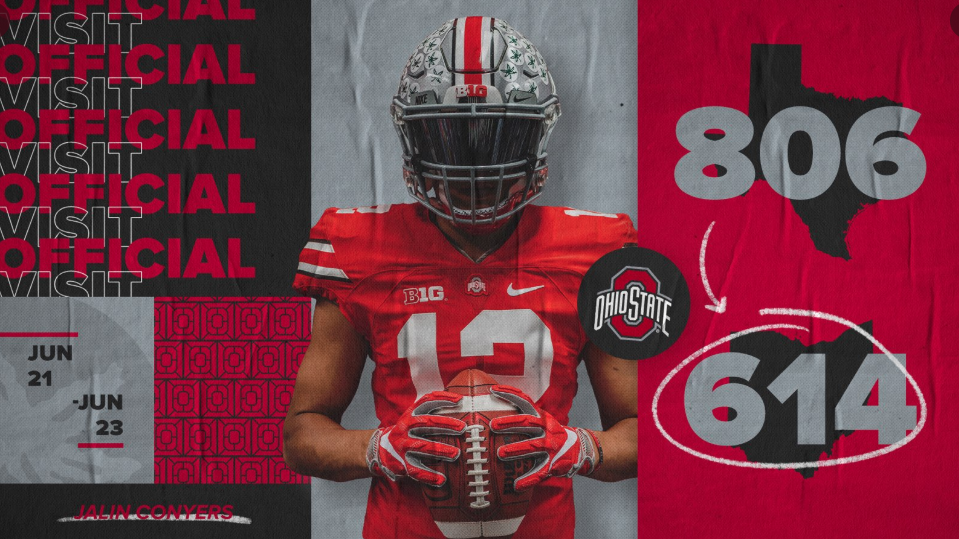 For a change, Ohio State's June camp circuit will not feature its premier workout inside the Horseshoe. While there is no Friday Night Lights for the second-to-last weekend of June, the Buckeyes do have an enormous recruiting event on deck.
OSU hosts its inaugural "Buckeye Bash & BBQ," which is closed to the media and public, Friday from noon to 2 p.m., at Ohio Stadium. The gathering brings together priority prospects in the classes of 2020 and '21, with the former among Ohio State's top targets as official visitors.
After the Buckeyes gained commitments from Catawissa (Pa.) Southern Columbia five-star wide receiver Julian Fleming (May 31), Cincinnati La Salle kicker Jake Seibert (June 4), Warren (Mich.) De La Salle three-star offensive tackle Grant Toutant (June 9) and Pickerington (Ohio) Central three-star defensive end Ty Hamilton (June 16), more might be en route as OSU wraps its pivotal month on the trail.
"This month is a big month for us," head coach Ryan Day said June 5. "There was a couple of positions that need on offense and we're working through all those, but it's really what we're going to be at the end of June. That's when I think we'll have a better handle on the whole class."
There were concerns among fans about Ohio State's recruiting on defense, which only boasted one commitment  — Bradenton (Fla.) IMG Academy four-star safety Lejond Cavazos (April 12) — for the 2020 class before Hamilton ended the drought.
The Buckeyes are in position to potentially land another defensive pledge Friday when La Habra, Calif., four-star cornerback Clark Phillips (5-10 1/2, 178) announces at 3 p.m. ET.
Ahead of Day's biggest weekend yet in recruiting the 2020 and '21 classes, below is a rundown of OSU's known visitors in Columbus or en route for Friday's event.
2020 Official Visitors
Cincinnati Princeton five-star offensive tackle commitment Paris Johnson (6-7 1/2, 295)
La Habra, Calif., four-star cornerback Clark Phillips (5-10 1/2, 178)
Tucson (Ariz.) Salpointe Catholic four-star safety Lathan Ransom (6-0 1/2, 200)
Deerfield Beach, Fla., four-star all-purpose back Jaylan Knighton (5-9, 185)
Cincinnati Princeton four-star defensive tackle Darrion Henry (6-4 1/2, 279)
Columbus I'm back !!!! #GoBucks 🌰 pic.twitter.com/r0lPKVGSeu

— D Hen🤡 (@darrion_henry) June 21, 2019
Jersey City (N.J.) St. Peter's Prep four-star outside linebacker Cody Simon (6-1, 218)
Charlotte (N.C.) Providence Day School four-star defensive end Kedrick Bingley-Jones (6-4 1/2, 266)
Columbus for the 4th and final official visit this weekend until the decision date!⭕️ #gobucks #forthem pic.twitter.com/R2KEvSMtjI

— Kedrick Bingley-J. (@kedrickbingleyj) June 21, 2019
Bellflower (Calif.) St. John Bosco four-star outside linebacker Kourt Williams (6-1, 216)
Gruver, Texas, four-star tight end Jalin Conyers (6-4, 220)
Offcial Visit to THE Ohio State this weekend!! #GoBucks💯 @ryandaytime @OSUCoachKDub @CoachTreyHoltz pic.twitter.com/J5WJH5Vsx5

— Jalin Conyers (@J_Conyers_2020) June 21, 2019
West Bloomfield, Mich., four-star safety Makari Paige (6-3, 182)
Sammamish (Wash.) Eastside Catholic four-star running back Sam Adams (6-2, 200)
I will be at THE ⭕️hio State University on an official visit June 21st. #GoBuckeyes 🌰 @CoachTonyAlford @ryandaytime @BrandonHuffman

— Sam Adams II (@SamAdamsII) May 29, 2019
Beech Grove, Ind., three-star interior offensive lineman Josh Fryar (6-5, 294)
Muskegon, Mich., three-star athlete Cameron Martinez (6-0, 195)
Warren (Mich.) De La Salle three-star offensive tackle commitment Grant Toutant (6-7, 320)
Headed back to Columbus tomorrow #GoBucks pic.twitter.com/kolHyRDLHD

— Grant Toutant (@toutant_grant) June 20, 2019
Dedham (Mass.) Noble three-star tight end Cam Large (6-5, 240)
Cincinnati Elder three-star tight end Joe Royer (6-5, 225)
Columbus this weekend!! #GoBucks🌰 pic.twitter.com/jwnACYlWN0

— Joe Royer 🤡 (@JoeRoyer25) June 21, 2019
2020 Unofficial Visitors
Houston North Shore five-star running back Zachary Evans (5-11, 200)
Sammamish (Wash.) Eastside Catholic four-star wide receiver commitment Gee Scott (6-2 1/2, 207)
Arriving to Columbus Mood: pic.twitter.com/b7GJoKBwuu

— Gee Scott Jr. (@geescottjr) June 20, 2019
More 2020 Visitors
Rockwall, Texas, four-star wide receiver commitment Jaxon Smith-Njigba (6-1, 188)
I'm back family OH

— Jaxon Smith-Njigba (@jaxon_smith1) June 20, 2019
Bradenton (Fla.) IMG Academy four-star safety commitment Lejond Cavazos (6-1, 190)
✈️COLUMBUS

— Lej (@lejondaryy) June 20, 2019
2021 Unofficial Visitors
Pickerington (Ohio) North five-star defensive end commitment Jack Sawyer (6-5, 230)
Philadelphia St. Joseph's four-star quarterback commitment Kyle McCord (6-3, 204)
Richfield (Ohio) Revere four-star offensive tackle Ben Christman (6-6, 299)
I will be at The Ohio State University on June 21st…#gobucks🌰⭕️ @CoachStudOL

— Ben Christman (@bigbenchristman) June 17, 2019
Katy (Texas) Tompkins four-star defensive end Tunmise Adeleye (6-3, 260)
— Tunmise (@tunmiseadeleye) June 21, 2019
Massillon (Ohio) Washington four-star wide receiver Jayden Ballard (6-2, 175)
Pickerington (Ohio) Central four-star wide receiver Lorenzo Styles (6-1, 170)
Dublin (Ohio) Coffman four-star safety A.J. Kirk (6-0, 200)
West Bloomfield, Mich., four-star running back Donovan Edwards (5-11, 190)
Katy, Texas, three-star cornerback Hunter Washington (5-11, 178)
Ohio State University June 21 #Buckeyes @OhioStateFB ⭕️⚪️

— Hunter Washington 🏝 (@Hunter_DB7) June 17, 2019