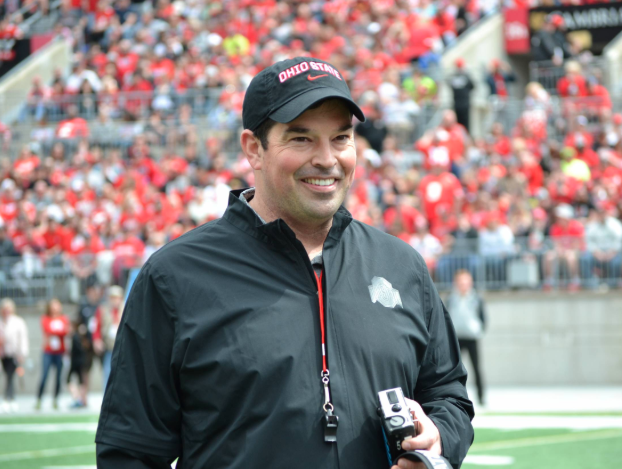 Since the calendar flipped to May, head coach Ryan Day and the Ohio State staff have hit the recruiting trail hard.
The Buckeyes closed out April with post-camp recruiting activity in the form of list cuts for the 2020 cycle and a major commitment from the 2021 class.
OSU remained in contention for Cincinnati Princeton 2020 four-star defensive end Darrion Henry (6-6, 260) April 29, Washington (D.C.) St. John's College 2020 five-star outside linebacker Mekhail Sherman (6-3, 234) April 30 and La Habra, Calif., 2020 four-star cornerback Clark Phillips (5-10 1/2, 178) May 1.
On top of those decisions, Philadelphia St. Joseph's 2021 quarterback Kyle McCord (6-3, 204) committed April 30.
In the time since then, Day and assistant coaches have branched out efforts for 2020, 2021 and even 2022, highlighted by offers to over a dozen recruits listed below.
Shawn Hardy, Jamie Felix
Ohio State started May with offers out to the Kingsland (Ga.) Camden County duo of 2021 athlete Shawn Hardy (6-3, 190) and 2022 running back Jamie Felix (5-10, 190), each of whom held scholarships from Purdue (March 5) and Louisiana State (April 30) at the time.
Hardy has since added opportunities from Tennessee (May 1), Kentucky (May 2), Auburn (May 2) and Central Florida (May 3).
Felix, who additionally had Mississippi State (April 10) among three early bids with Purdue and LSU, also gained UT and UCF on the same dates while Florida State (May 2) entered the mix.
BREAKING NEWS! During spring visit @OhioStateFB offers TWO @CamdenRecruits! #GoBucks #BIG10 https://t.co/AuQZnXSs3F pic.twitter.com/WmgdImNTAr

— Camden FB Prospects (@CamdenRecruits) May 1, 2019
Dametrious Crownover
The first of many offers in the Lone Star State for the week, the Buckeyes went southwest May 1 and offered 2021 tight end Dametrious Crownover.
The 6-6, 235-pounder from Grandview, Texas, had exploded over the previous two days with more than half of his initial 12 bids — Arizona State, LSU, North Texas, Purdue, Texas Christian and Colorado — entered the equation. He has since added an opportunity from Georgia (May 3), bringing the count to 13.
According to 247Sports, Crownover is the No. 73 overall prospect, No. 2 tight end and No. 12 player in Texas for 2021. While he has potential to play defensive end, his recruitment is currently led by offensive coordinator/tight ends coach Kevin Wilson and offensive graduate assistant/assistant tight ends coach Trey Holtz.
I am beyond blessed to have received an offer from THE OHIO STATE ⭕️‼️ pic.twitter.com/XWz7ckttwE

— Dametrious Crownover (@Dametrious1) May 2, 2019
Gage Wilcox
OSU continued to monitor tight ends May 2 when Gage Wilcox received an offer. The 6-4, 228-pounder from Tampa (Fla.) Jefferson's 23rd overall scholarship followed bids from Georgia Tech, Florida State and Tennessee in the previous two days.
One of the top performers Feb. 24 at The Opening Regional Orlando in Winter Garden, Fla., Wilcox ran a 4.80-second 40-yard dash and logged a 34.60-inch vertical jump. According to 247Sports, Wilcox is the No. 175 overall prospect, No. 6 tight end and No. 19 player in Florida for 2021.
I would like to thank @OhioStateFB for extending me an offer and the jboy process for making me the young man I am‼️ @247Sports @247recruiting @OhioStateAlumni @Rivals @Jboy_Recruits pic.twitter.com/jslLEbSFKG

— Gage wilcox 1️⃣3️⃣ (@GageWilcox12) May 3, 2019
KeAndre Lambert
Ohio State's evaluation of wide receivers in 2020 led to an offer May 3 for Norfolk (Va.) Maury four-star KeAndre Lambert. The 6-0 1/2, 172-pounder's 27th scholarship overall followed Miami (Fla.) and Louisville entered the race in April, adding to his list of Clemson and Texas A&M, among others.
Named the wide receiver MVP after The Opening Regional D.C. at the St. James Sports, Wellness and Entertainment Complex in Springfield, Va., he now heads to The Opening Finals from June 30-July 3 at The Star in Frisco, Texas. Lambert is the 247Sports composite's No. 244 overall prospect, No. 45 wide receiver and No. 4 player in Virginia for 2020.
Blessed to receive an offer from Ohio State University!! ⭕️ #GoBuckeys pic.twitter.com/IMAV7vUJ7V

— KDL² (@Klamb2_) May 3, 2019
Will Shipley
After he added Penn State, Illinois, Notre Dame and Georgia to his list since May 1, 2021 all-purpose back Will Shipley picked up another big offer May 4 when the Buckeyes extended one.
The 5-11, 198-pounder from Matthews (N.C.) Weddington's 21-offer resume includes Stanford (March 15) and Georgia (Jan. 16), among others.
According to 247Sports, Shipley is the No. 44 overall prospect, No. 1 all-purpose back and No. 2 player in North Carolina for 2021.
Another big 10 offer for @willshipley2021 as he has received an offer from the Ohio State University!! @UCNCFootball @UCHOOPS @coachcaponewhs pic.twitter.com/wcIycsXg4W

— Weddington Football (@BigDubFootball) May 3, 2019
Malcolm  Johnson Jr.
OSU's offer to Alexandria (Va.) St. Stephen's/St. Agnes 2021 wide receiver Malcolm Johnson Jr. (6-1, 178) May 6 marked his ninth scholarship overall.
The next day, he reached double digits with North Carolina State. The Wolfpack joined Michigan and Penn State, among others, in the previous two weeks.
Blessed to receive an offer from THE Ohio State University. pic.twitter.com/3A6Bo2C7a0

— Malcolm Johnson Jr (@TTG_Malcolm) May 6, 2019
Dont'e Thornton
Ohio State stayed in the DMV area May 7 with its offer to Baltimore Mount Saint Joseph's Dont'e Thornton.
The 6-4, 179-pounder committed Feb. 2 to Penn State but has since added scholarships from Oregon, West Virginia and Tennessee. Among those bids, Thornton has shown interest in exploring opportunities outside of the Nittany Lions, taking a visit May 5 to see the Mountaineers.
According to 247Sports, Thornton is the No. 54 overall prospect, No. 8 wide receiver and No. 2 player in Maryland for 2021.
Very thankful to receive an offer from The Ohio State University 🙏🏽 #GoBuckeyes🌰 @OhioStateFB @CoachKeeOSU @brianhartline pic.twitter.com/aWZNqJX6Es

— "The Real Joker🃏🤷🏽‍♂️" (@donte_thornton) May 7, 2019
Cody Simon
The first of two offers May 7 at Jersey City (N.J.) St. Peter's Prep, the Buckeyes extended a scholarship to 2020 four-star outside linebacker Cody Simon with co-defensive coordinator/secondary coach Jeff Hafley and linebackers coach Al Washington in the New York metropolitan area. The 6-1, 218-pounder's 18th overall bid followed Vanderbilt (May 1), Miami (April 9) and Kentucky (April 9) in the past month.
The younger brother of Notre Dame sophomore linebacker Shayne Simon (6-3, 230), Cody Simon possesses an opportunity with the Fighting Irish (April 6, 2018) as well. Simon is the 247Sports composite's No. 187 overall prospect, No. 14 outside linebacker and No. 5 player in New Jersey for 2020.
Extremely honored to have received an offer from The Ohio State University‼️ pic.twitter.com/ULVz6oTEUe

— Cody Simon (@Cody_Simon30) May 7, 2019
Keith Miles Jr.
Keith Miles Jr. was OSU's second offer May 7 at St. Peter's Prep, picking up his 17th overall scholarship. He added opportunities from Alabama (May 3), Kentucky (May 2) and Boston College (May 1) throughout the previous week.
The 6-3 1/2, 261-pound defensive end in the class of 2022 joins Simon as the third target out of St. Peter's Prep. The two follow high school teammate and 2021 defensive tackle George Rooks (6-4, 246), an Under Armour All-America Game commitment, who announced a bid March 24.
I am blessed to have received an offer from @OhioStateFB thanks #Buckeyes @CoachJeffHafley @CoachRyanDay pic.twitter.com/qMX6ssStlj

— Keith Miles Jr (@KJmilesJr1) May 8, 2019
Jatavion Sanders
Ohio State's activity in the Lone Star State resumed May 7 when Denton (Texas) Ryan 2021 defensive end Ja'Tavion Sanders announced an offer.
The 6-3 1/2, 220-pounder's 15th scholarship from a program at the Football Bowl Subdivision (FBS) level followed several recent bids — Florida (May 6), Florida State (May 2) and LSU (April 23).
According to 247Sports, Sanders — who also plays wide receiver — is the No. 31 overall prospect, No. 3 athlete and No. 5 player in Texas for 2021.
VERY EXCITED to receive an offer from Ohio State University 🔴⚪️‼️ pic.twitter.com/FKKDxkzNk2

— Jatavion (@Jatavionsanders) May 8, 2019
Cristian Driver
The Buckeyes became the 13th overall offer May 7 for Argyle (Texas) Libert Christian 2022 safety Cristian Driver. He announced an opportunity the next day from Baylor, upping the list to 14.
The 5-11, 170-pounder picked up bids from three Big Ten schools — Michigan (Nov. 14), Penn State (Nov. 15) and Rutgers (Nov. 15) near the end of his freshman year. Big 12 programs Texas Tech (Feb. 23) and TCU (March 2) also entered the mix earlier in the spring.
Driver is the son of 14-year NFL veteran wide receiver Donald Driver (6-0, 194), who starred from 1999-2012 with the Green Bay Packers.
I am extremely grateful and blessed to receive an offer from The Ohio State University!!! Thanks to my family, coaches and teammates. 🌰x♥️ @car20ruiz @RossRoby1 @Steven_Greek @Donald_Driver80 @Coach_Yurcich @OhioStateFB @ryandaytime #GoBucks pic.twitter.com/BpUsKGfoyS

— C҉ristian Donald Driver (@CristianDriver_) May 8, 2019
Emeka Megwa
Before he even started his freshman year of high school at Forth Worth (Texas) Nolan Catholic, Emeka Megwa earned an offer June 9, 2018, from Baylor.
The 6-0, 200-pounder's list has since ballooned to 11 bids at the FBS level with OSU becoming the latest May 7.
Also May 7, Nebraska and Texas extended scholarships to the 2022 running back.
#AGTG I AM EXTREMELY BLESSED TO RECEIVE AN OFFER FROM THE OHIO STATE UNIVERSITY!!! pic.twitter.com/2ypzksA7EN

— Emeka Megwa (@Emeka_Megwa) May 8, 2019
Aaron Armitage
Following the footsteps of two former four-star defensive ends in Jayson Oweh (6-5, 250) and David Ojabo (6-5, 252), Aaron Armitage appears to be the next big lineman from Blairstown (N.J.) Blair Academy. Ohio State targeted Oweh (2018, Penn State) and Ojabo (2019, Michigan) across the past two recruiting classes before they signed their letters of intent elsewhere in the Big Ten, but Armitage is another chance to add an intriguing edge rusher from the Jersey boarding school.
The 6-4, 240-pounder — originally from Toronto — picked up his first opportunity Nov. 5 from Virginia. After he added Rutgers (Nov. 17), Syracuse (Jan. 28), Pittsburgh (March 8 and Penn State (March 13), Armitage blew up entirely in April. Following mid-month opportunities from Vanderbilt (April 16) and Wisconsin (April 17), he saw his list explode as the spring evaluation period got underway. On April 30, Armitage announced four new offers — LSU, Michigan, Purdue and Duke. The next day, Maryland and Boston College entered the mix May 1. The rest of the week included Kentucky (May 2), West Virginia (May 3), Georgia Tech (May 3) and Massachusetts (May 8).
According to 247Sports, Armitage is the No. 157 overall prospect, No. 12 strongside defensive end and No. 2 player in New Jersey for 2021.
Blessed to have received an offer from Ohio State University.
@SaylorBlairFB @MikeCoyle12 @chatfootball @mccarthy_report @RivalsFriedman @BrianDohn247 @TodderickHunt @alexgleitman @Birm @CoachGMattison pic.twitter.com/QwSh4BqNn1

— Aaron Armitage (@armitage_aaron) May 8, 2019