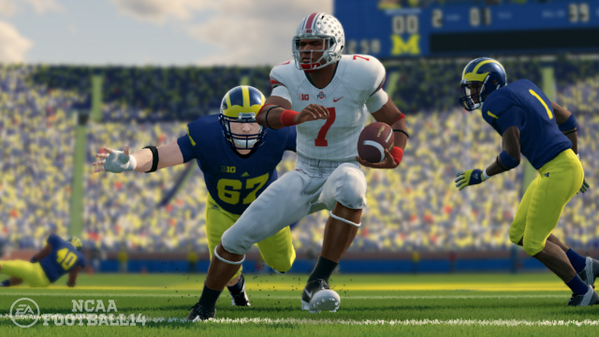 With every major sport postponed, including the annual college basketball NCAA Tournament, it's time to improvise.
While the tournament will be sorely missed, this is no time for wallowing. Entertainment has to come from somewhere, and it has to come in the form of a 64-team, single elimination bracket. And, while basketball is great and the implementation of a College Football Playoff has made for some tremendous moments, there is now an opportunity for a happy marriage.
Thus, the Buckeye Sports Bulletin NCAA Football 14 simulation bracket was born, both out of a push for creativity and out of complete necessity for anything that resembles sports.
The NCAA Football 14 simulation bracket is, to be brief, exactly what it sounds like. Using EA Sports' latest college football offering, we put together a makeshift bracket, downloaded the most updated rosters we could find for the 2019 college football season, and let the game do its work.
Now, there are a few points of order. First, this is, again, the 2019 roster. That means that players like Chase Young and Joe Burrow are still there. Think of this as a redo of sorts, an extended version of the playoff. Secondly, on the matter of how the seedings and matchups were determined, we wanted to be as objective as possible.
That's very difficult to do with college football, but using Bill Connelly's end-of-season SP+ rankings, we've been able to synthesize it pretty well. Some teams have been shifted slightly to better fit the geography of their bracket region, and Miami (Ohio) has been given an auto-bid because of its MAC Championship.
With that in mind, we landed on a 64-team field that we felt was balanced, if not a little bit single-conference heavy in each region (for example, the Big Ten completely owned the Midwest bracket, because there weren't a whole lot of qualified MAC teams).
The BSB NCAA Football 14 Simulation Bracket will begin on March 24 with one round per day until the championship game on March 29.
The links to all rounds will be updated on this story as the tournament moves forward. Can Ohio State make a run to the championship game that eluded the Buckeyes in 2019?
Championship — March 29
The seedings go as followed:
Midwest Region
1 Ohio State vs. 16 Miami (Ohio)
8 Cincinnati vs. 9 Kentucky
4 Minnesota vs. 13 Ohio
5 Iowa vs. 12 Kansas State
3 Michigan vs. 14 Nebraska
6 Iowa State vs. 11 Michigan State
7 Air Force vs. 10 Missouri
2 Penn State vs. 15 Western Kentucky
South Region
1 LSU vs. 16 Louisiana Tech
8 UL Lafayette vs. 9 Miami (Fl.)
4 UCF vs. 13 Mississippi State
5 Baylor vs. 12 South Carolina
3 Auburn vs. 14 Ole Miss
6 Texas A&M vs. 11 Tulane
7 Texas vs. 10 Florida Atlantic
2 Georgia vs. 15 Florida State
West Region
1 Alabama vs. 16 Illinois
8 Tennessee vs. 9 Oklahoma State
4 Oregon vs. 13 SMU
5 Washington vs. 12 Arizona State
3 Utah vs. 14 San Diego State
6 USC vs. 11 TCU
7 Washington State vs. 10 Boise State
2 Oklahoma vs. 15 BYU
East Region
1 Clemson vs. 16 Louisville
8 Navy vs. 9 North Carolina
4 Memphis vs. 13 Temple
5 Notre Dame vs. 12 Pitt
3 Wisconsin vs. 14 Texas Tech
6 Indiana vs. 11 Virginia
7 Appalachian State vs. 10 Virginia Tech
2 Florida vs. 15 Wake Forest
For four free issues of the weekly print edition of Buckeye Sports Bulletin, no card required, sign up at the link here: http://www.buckeyesports.com/subscribe-4issue-trial/