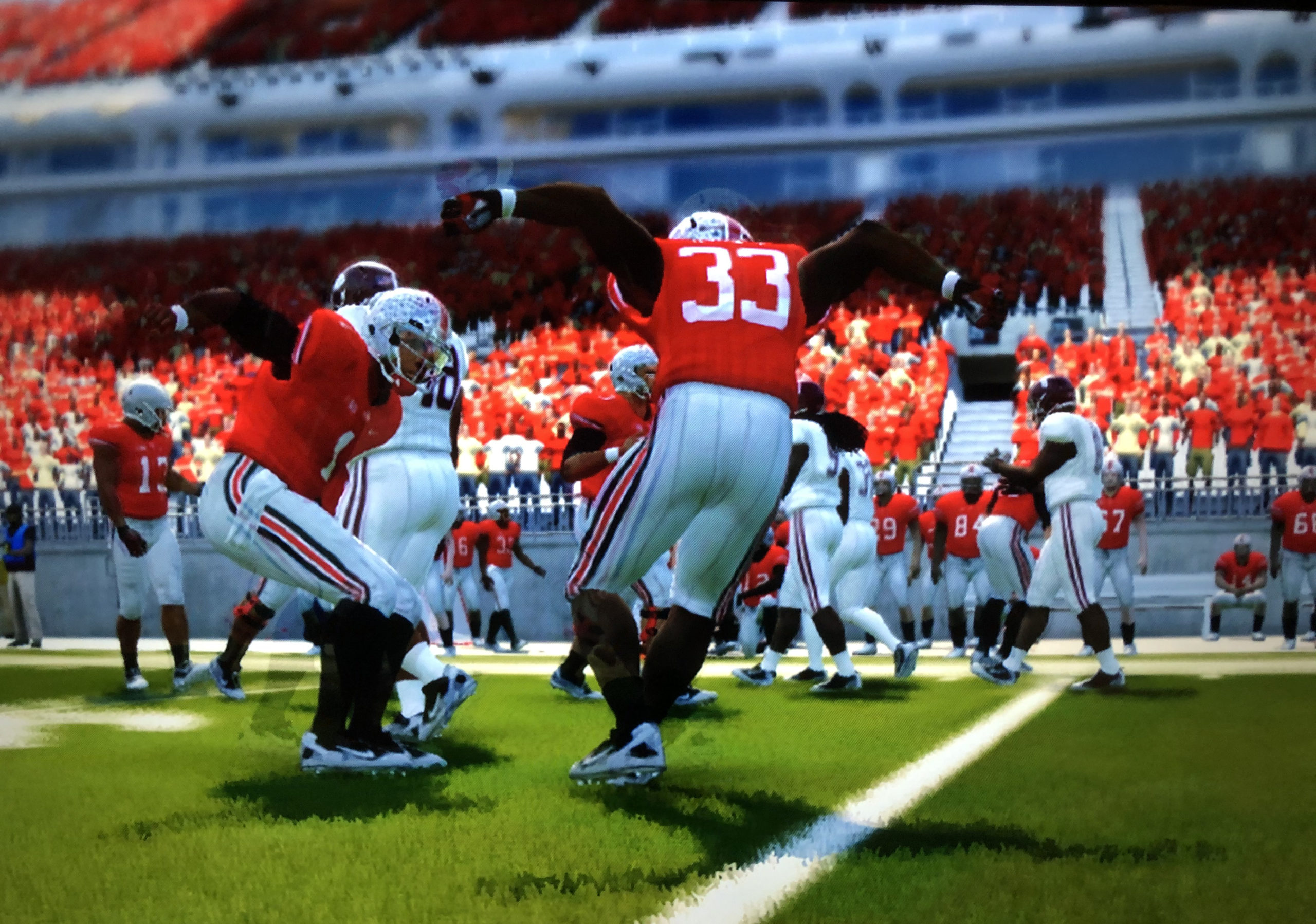 Well, we're finally here. It's been a long and exciting tournament, but after five rounds, the field of 64 has been whittled down to just two teams, with the one-seed in the Midwest, Ohio State, set to square of with Alabama, the top seed from the West. For an in-depth look at how we got to these matchups, be sure to check out yesterday's Final Four write-up, which saw two outstanding games to set up this finale.
Without any further wait, let's get right into the National Championship.
Note: For the full explanation of what this tournament is, how these seeds were selected and the schedule for when upcoming rounds will be released, click here for our introduction to the tournament, as well as links to the previous rounds.
#1 Ohio State vs. #1 Alabama
Before kicking off, it's worth taking a look at the paths that these two squads took to get here. Starting with the Buckeyes, who will host this national title game, things have not come easy in this tournament. Despite entering as the top overall seed, Ohio State has played in close game after close game, and emerged with an average win margin of 12.2 points that drops to just 4.75 without the first round blowout of Miami (Ohio), 59-17.
Since that first game, it has been a brutal, grueling run for the Buckeyes. A late touchdown pass from Justin Fields to Garrett Wilson gave OSU its first lead of the game with just three minutes to play against Kentucky, and the defense was able to seal the victory to advance to the Sweet 16, 23-20. There, Fields went down in the first quarter with a concussion, and backup Chris Chugunov was forced into action.
His passing game was almost non-existent, but he ran well, and the Buckeye defense again held strong on the way to a 19-14 victory over the Hawkeyes. In the Elite Eight, a 34-31 win over Michigan wasn't quite as close as the final score indicated, but it was still a difficult, grind-it-out battle for the Buckeyes.
The Final Four was the biggest battle of all. Trailing big early in the game, Ohio State staged a miraculous comeback from down 28-14 at the half, taking a 32-31 lead with just 3:12 to play on a short touchdown pass to Jaelen Gill. The defense held, the offense struck again, and Ohio State was somehow able to pull through and advance to the title game. To call this a team of destiny would be unfair, because the pre-tournament seeding indicated that this is exactly where this team is supposed to be, but the effort it took to get here shouldn't be lost on anyone.
On the other side, Alabama has had almost the exact opposite tournament. Oklahoma came within seven points in the Elite Eight, and Florida within three in the final four, but the Crimson Tide have beaten opponents by 18.4 points to this point. Even without star quarterback Tua Tagovailoa, Alabama has rolled through the bracket, and enters this game with quite a bit of confidence and momentum. Its defense has been as good as anyone's, and quarterback Mac Jones has managed a tremendously talented offense admirably. Ohio State is the more talented team, but Alabama has the experience and momentum on its side.
Into the game, Ohio State won the toss, took the kick, and scored just over a minute later, after a six play, 78 yard drive capped by this beautiful J.K. Dobbins touchdown scamper.
well, that was very easy. ohio state goes 78 yards in six plays, capped by J.K. Dobbins running through every member of Alabama's defense. 7-0 OSU pic.twitter.com/m2vExW6eOG

— patrick mayhorn (@patrick_mayhorn) March 29, 2020
The teams traded three-and-outs, before a terrible Jones interceptions set Ohio State up in Alabama territory.
not an amazing start for Mac Jones, who didn't have a receiver within 20 yards of this ball pic.twitter.com/hfejkbYsU2

— patrick mayhorn (@patrick_mayhorn) March 29, 2020
The Buckeyes nearly found the end zone again on an impressive Fields keeper, but a Binjimen Victor clipping call brought it back, and ultimately forced a field goal, putting the Buckeyes up 10-0.
a clipping brings back a Fields touchdown run, but Ohio State still gets 3 on a 30 yarder from Blake Haubeil. 10-0 OSU pic.twitter.com/jzR8mcKgBh

— patrick mayhorn (@patrick_mayhorn) March 29, 2020
More offensive struggles for the Tide gave Ohio State the ball again, and Fields was able to get into the end zone without any penalties this time, increasing that lead to a commanding 17-0 to end the first quarter.
it's 17-0 in the first quarter after this very slick Fields option keeper. not exactly sure what alabama's plan is here pic.twitter.com/99uhm8UeIT

— patrick mayhorn (@patrick_mayhorn) March 29, 2020
Interestingly enough, Ohio State did all this despite any real passing game. The approach early on was to run the ball and control the clock, and so far, it was working.
END OF Q1: OSU 17, ALA 0
Fields: 8/11, 22 YDS, 6 ATT, 46 YDS, 1 TD
Dobbins: 6 ATT, 45 YDS, 1 TD
Cooper: 2 TCK, 2 TFL, 2 SCK

Jones: 1/5, 4 YDS, 1 INT
Harris: 4 ATT, 20 YDS
Lewis: 5 TCK, 2 TFL pic.twitter.com/lgOtC4Of6r

— patrick mayhorn (@patrick_mayhorn) March 29, 2020
Another failed drive had Alabama in a serious danger zone, but a big interception by Jared Mayden gave life to the Alabama offense, and put Jones in a very friendly spot to try to cut into the Buckeye lead.
some life for the Crimson Tide! a Fields interception is gonna give alabama a very short field early in the second quarter pic.twitter.com/wTtjzCDyK6

— patrick mayhorn (@patrick_mayhorn) March 29, 2020
The Crimson Tide still couldn't move the ball very well, but managed to get three points, though missing on a touchdown after a terrible drop certainly had to hurt for Nick Saban and his staff. Despite what Jeff Okudah says, this miscue was on the receiver.
alabama is forced to settle for a field goal after this brutal drop. don't know why jeff okudah is celebrating this so confidentially but i like his gumption. 17-3 OSU pic.twitter.com/d5UlLSNGYF

— patrick mayhorn (@patrick_mayhorn) March 29, 2020
After dominating the first quarter, the second quarter saw Ohio State's offense unable to get any traction. A punt gave Alabama the ball back, and another near miss on the goal line gave the Crimson Tide three more points, and Okudah more to celebrate.
it was nice of the people who made this roster to somehow mod the game to make okudah do this a second time. 17-6 OSU pic.twitter.com/LXnR2Rovlr

— patrick mayhorn (@patrick_mayhorn) March 29, 2020
More punts made the end of the first half really drag, but Alabama looked to be in striking distance with just under two minutes to play, before this Jordan Fuller interception ended any hopes of that.
nevermind, Jordan Fuller yoinks it and alabama's momentum is gone again pic.twitter.com/LEWLTYXkCV

— patrick mayhorn (@patrick_mayhorn) March 29, 2020
However, two straight sacks to end Ohio State's drive gave Alabama another chance, but it refused to take advantage, missing a kick wide left.
alabama has caught the "false start before a long kick" bug, and just shanks this one pic.twitter.com/zqKjfomcIl

— patrick mayhorn (@patrick_mayhorn) March 29, 2020
At the end of the first half, Ohio State leads, but probably didn't feel very good about it with how poor the offense looked in the second frame.
FIRST HALF: OSU 17, ALA 6
Fields: 8/12, 22 YDS, 1 INT, 17 ATT, 20 YDS, 1 TD
Dobbins: 10 ATT, 73 YDS, 1 TD
Borland: 4 TCK, 1 TFL, 1 INT

Jones: 9/18, 117 YDS, 2 INT
Harris: 13 ATT, 48 YDS
Lewis: 6 TCK, 3 TFL, 1 SCK

gonna have a brownie we'll be back with the second half in a few pic.twitter.com/mMgsClnxFJ

— patrick mayhorn (@patrick_mayhorn) March 29, 2020
The second half opened with another missed kick, this time for the Buckeyes, to keep the score at 17-6 despite a pretty strong opening drive.
we're back, as are the pre-field goal false start woes for ohio state. score remains 17-6 with 5 minutes to play in the third pic.twitter.com/blmO4pgZuV

— patrick mayhorn (@patrick_mayhorn) March 29, 2020
After several punts, three Damon Arnette clipping penalties, and a third-and-long screen pass call that would make Mike DeBord blush for the Buckeyes, Alabama finally managed to take advantage, and scored its third straight unanswered field goal, cutting the deficit to eight, 17-9.
we have action! kinda! alabama is on the board again with another field goal. 17-9, OSU pic.twitter.com/RFS0g3rPv4

— patrick mayhorn (@patrick_mayhorn) March 29, 2020
That was about it for the third quarter. It was largely devoid of anything resembling football. Ohio State has entered fully conservative mode, and Alabama can't move the football. However, the stage is still set for a competitive and entertaining fourth quarter.
END OF Q3: OSU 17, ALA 9
Fields: 13/17, 48 YDS, 1 INT, 27 ATT, 68 YDS, 1 TD
Dobbins: 15 ATT, 102 YDS, 1 TD
Borland: 6 TCK, 2 TFL, 1 INT

Jones: 11/24, 141 YDS, 2 INT
Harris: 21 ATT, 71 YDS
Carter: 10 TCK, 3 TFL, 1 SCK

Fields has been sacked six times but it feels like 30 pic.twitter.com/BTwSjRnK1o

— patrick mayhorn (@patrick_mayhorn) March 29, 2020
After two scoreless quarters, Ohio State's offense decided to reemerge to open the fourth quarter. A great drive moved the Buckeyes inside the redzone, and Dobbins punched it in from just a few yards out to give Ohio State a 24-9 lead with just seven minutes to play.
that might do it. Dobbins finds the end zone, and the Buckeyes lead 24-9 with 7:15 to play. also, wyatt davis celebrated so hard that he became the exact same height as dobbins. concerning to see pic.twitter.com/UDKjW3Jlou

— patrick mayhorn (@patrick_mayhorn) March 29, 2020
Meanwhile, in an attempt to entertain us, Arnette has picked up his fourth clipping penalty.
unbelievable pic.twitter.com/gaxkE5SNoD

— patrick mayhorn (@patrick_mayhorn) March 29, 2020
The teams traded three-and-outs again, but Alabama was able to break through with just a few minutes to play, hitting a deep strike to Henry Ruggs to cut the deficit back to within range, though the two-point try was intercepted by Pete Werner, making Ohio State's lead nine, 24-15 with about four minutes to play.
well hey, it is possible to pass the ball down the field! alabama cuts it to 9, 24-15 after the two-point try is intercepted pic.twitter.com/FWMmjsofI2

— patrick mayhorn (@patrick_mayhorn) March 29, 2020
Despite some baffling play calls and time management, Ohio State had enough to answer Alabama's offense with some movement of its own. A long drive gave Blake Haubeil an easy kick, and he knocked it through to give the Buckeyes a 27-15 lead with under two minutes to play.
27-15. against all odds, the all-draw offense has worked pic.twitter.com/Yh5vzn7eAO

— patrick mayhorn (@patrick_mayhorn) March 29, 2020
Alabama still had a small chance if it could find a few more big plays, but the Silver Bullets quickly put a stop to that, with Sevyn Banks intercepting Jones' pass on the first play from scrimmage to end all hopes of a comeback, and secure a (simulated) national title for Ohio State.
ohio state is gonna be your simulated national champion, after Sevyn Banks intercepts the first pass of alabama's drive. 27-15 OSU with just under 2 to play pic.twitter.com/NBkpWACUf8

— patrick mayhorn (@patrick_mayhorn) March 29, 2020
It wasn't easy for Ohio State, but it rarely has been this tournament. The Buckeyes are the winners of the inaugural BSB 64-team College Football Playoff, 27-15.
FINAL: OSU 27, ALA 15
Fields: 15/19, 72 YDS, 1 INT, 34 ATT, 99 YDS, 1 TD
Dobbins: 23 ATT, 145 YDS, 2 TD
Cooper: 5 TCK, 3 TFL, 2 SCK
Arnette: 4 clipping penalties

Jones: 14/29, 198 YDS, 1 TD, 3 INT
Harris: 24 ATT, 81 YDS
Carter: 11 TCK, 4 TFL, 1 SCK

full write up shortly

— patrick mayhorn (@patrick_mayhorn) March 29, 2020