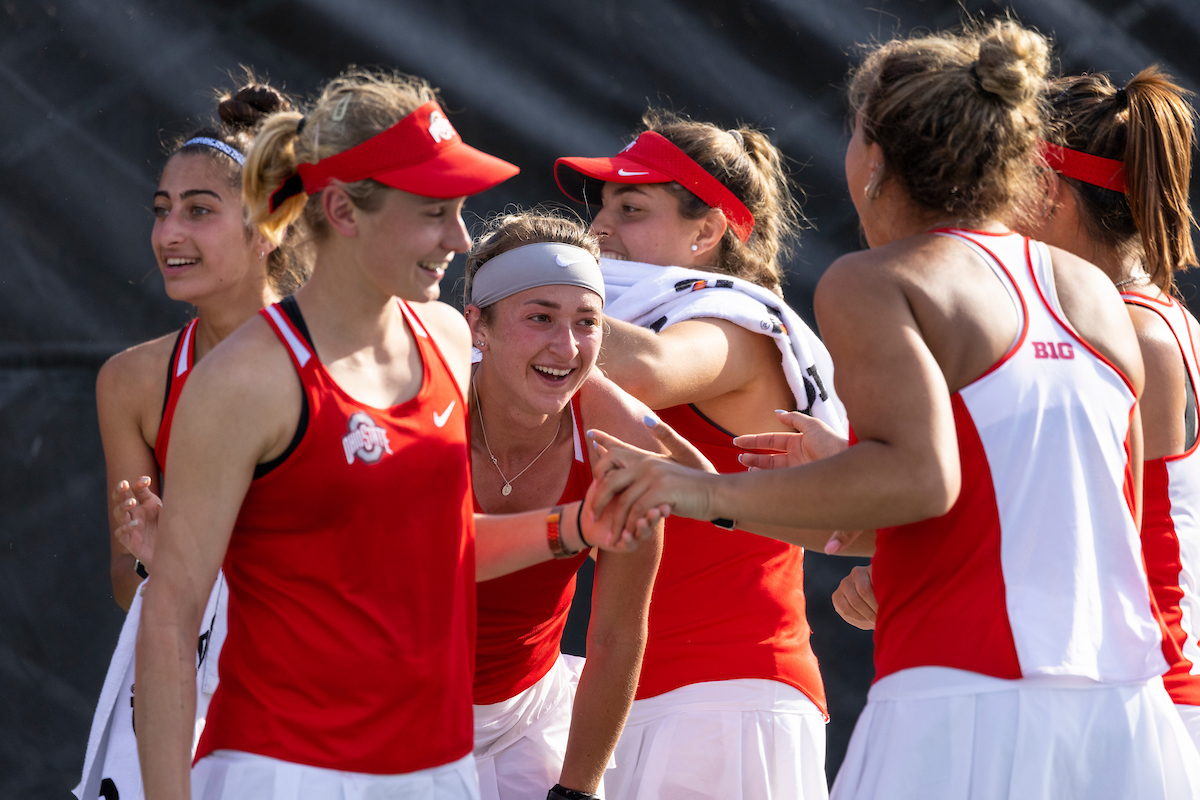 After taking a look at the honorable mentions and the first two entries into BSB's top 10 most important players, moments and teams of Ohio State's 2020-21 Olympic sports season on Monday, it's time now to dive into part two. Let's unveil No. 8-5.
No 8. – Field hockey finds late season surge
Ohio State's field hockey team certainly would have preferred a better start to the season than the one that it got in 2021. Entering the year with a young but talented group, Ohio State looked… exactly like a young but talented team.
It lost its first seven games of the season in the rugged Big Ten, falling in increasingly frustrating ways, be it a 2-1 overtime loss to Rutgers to open the season or the five consecutive one-goal losses that followed a 2-0 defeat at the hands of Maryland in week two, capped by a pair of overtime defeats against Northwestern.
It seemed like the two halves of the game never quite synced up. When the offense was good, like against Northwestern, when it generated five goals in two games, the defense fell apart, surrendering seven in the same timespan. When the defense held up, the offense couldn't get going, like in a 1-0 loss to Rutgers or a pair of 2-1 defeats against Iowa.
Ohio State always seemed so close to breaking through, but kept coming up just short.
Then, sitting at 0-7, everything snapped into place, led by the offensive maestro and Big Ten Offensive Player of the Year Mackenzie Allessie, a sophomore for Ohio State. The Buckeyes bludgeoned Indiana on April 2 and 4, winning the series with a combined score of 11-0. It swept Michigan State the next weekend, 4-2 and 5-0, before taking a game off of Penn State to close the regular season at 5-8. Certainly not an ideal record, but a far cry from the brutal start to the year that the Buckeyes endured.
That run of form wasn't over. Ohio State eked out a Big Ten conference tournament spot, toppled Penn State in overtime for the second consecutive game, and then took out Northwestern in the conference semifinals, again in overtime, 2-1, to advance to the conference finals. The Buckeyes fell 4-0 in the conference finals to Michigan, ending their dream late-season run, but with Allessie returning and plenty of momentum to sustain them through the offseason, another 0-7 start would be a pretty big surprise next season.
No. 7 – Cantos Siemers leads Buckeyes to Big Ten crown
Ohio State women's tennis won its third Big Ten official title after defeating Penn State 6-0 to close out a fantastic regular season, led by star sophomore and ITA All-American Irina Cantos Siemers. Cantos Siemers paced the Buckeyes all season and finished with a 22-6 record, a victory in the NCAA Individual Championship bracket and a number of Big Ten and national plaudits.
A week later, it was teammate Lisa Hofbauer that shone brightest as Ohio State claimed the Big Ten tournament title, completing the season sweep, with a 4-1 victory over Michigan. Hofbauer was named the tournament's most valuable player, but it was Cantos Siemers on court one for much of Ohio State's regular season title run. With just three seniors on the 2020-21 roster and the possibility of the COVID extra eligibility, a Big Ten title seems firmly within the realm of possibility once again for the Buckeyes next season.
No. 6 – Dorenkott named Big Ten's best coach
Speaking of Big Ten titles, the Ohio State women's swim and dive team claimed one of its own back in February, edging out Michigan for the crown. A month later, longtime head coach Bill Dorenkott was honored for the season by his peers, as he was voted the Big Ten's Coach of the Year. From BSB's write-up at the time:
"Ohio State director of swimming and diving, Bill Dorenkott, was voted the Big Ten women's swimming Coach of the Year by a panel of all Big Ten coaches, Ohio State announced on March 23.
"It is humbling to be recognized by your peers for a job well done," Dorenkott said. "I have been in the Big Ten for 26 years and could not be more proud to be a part of this league. Our coaches and student-athletes set the standard for academic and athletic success with honor."
"This is Dorenkott's second consecutive claim to the crown after leading Ohio State's women's swim and dive team to its second straight Big Ten title and a program-best fifth-place finish at the NCAA Championships. He credited his staff for Ohio State's growth as a program.
"The credit truly goes to our student-athletes and our staff including athletic training, strength and conditioning, academic support, compliance, sports nutrition and sports psychology," Dorenkott said. "I am grateful to be surrounded by people who are committed to being elite.
"It starts at the top with Gene Smith and my boss, T.J. Shelton, with whom I have worked for the past 13 years. Show me a dynamic organization and I will show you a culture built on alignment with core values."
"Dorenkott, who has been with Ohio State for 13 seasons, also won the award with Penn State in 2005. He's won five Big Ten titles – three with the Nittany Lions and now two in Columbus with the Buckeyes."
No. 5 – Hackenbracht has her 'flu game'
Although it was usually the pitching duo of Payton Buresch and Allison Smith leading the Ohio State softball team to victories in a 24-19 season, the most important – or at least the most memorable – moment of the season came via a performance at the plate, rather than one from the circle. Catcher Sam Hackenbracht was excellent for the Buckeyes all season, delivering a second-team All-Big Ten season and a team-high 12 home runs, but her best work came against Penn State on April 3.
Hackenbracht went 4-for-4 at the plate against the Nittany Lions, knocking in six runs and racking up two home runs in her first two at-bats. Behind her performance, the Buckeyes grabbed a 9-3 victory. It was Hackenbracht again leading the Ohio State attack a day later, helping to claim a 9-0 victory with another home run. She batted .833 for the series and earned Big Ten Player of the Week honors.
Most importantly, according to an excellent report from The Lantern's Jacob Benge, she did it all with a stomach bug that had her nearly incapacitated anytime she wasn't up at the plate.
"I pretty much went up to hit, hit the home run, came back to the dugout and laid on the bench with ice on my head because I felt horrible," Hackenbracht told Benge. "That's pretty much all I did the whole entire game when I wasn't hitting was lay in the dugout with ice on my head. Then, after the game was over, I went back to the hotel and I threw up about 10 more times."