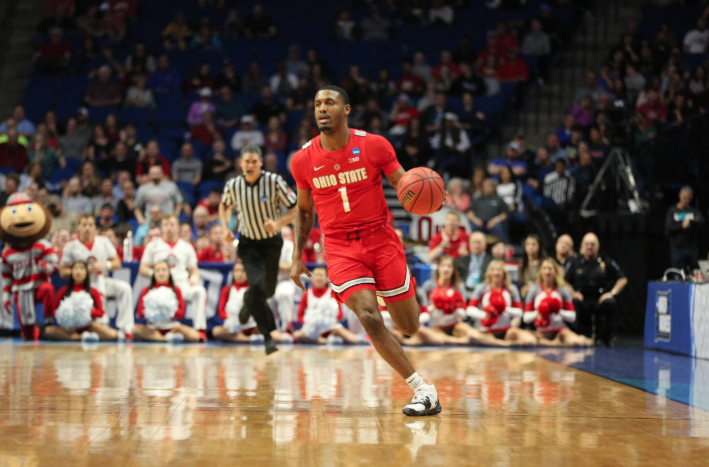 The offseason just started for the Ohio State men's basketball team, but the Buckeyes already know their Big Ten opponents when they open the 2019-20 conference slate.
As the Big Ten announced Wednesday afternoon, OSU has three home games, three road contests and seven mirror matchups.
Among the home-and-home meetings, Ohio State draws Michigan twice next winter.
The Buckeyes faced the Wolverines just once during the 2018-19 season on Jan. 29 when they ventured north to Ann Arbor, Mich., and suffered their 65-49 loss at the Crisler Center.
On top of two cracks at U-M, OSU gets mirror games against Indiana, Maryland, Minnesota, Nebraska, Penn State and Wisconsin.
Head coach Chris Holtmann's second year at the helm for Ohio State boasted a 20-15 overall mark and 8-12 record in conference play with a 4-2 combined record vs. the Hoosiers, Terrapins, Cornhuskers, Golden Gophers, Nittany Lions and Badgers across the regular season.
OSU draws Illinois, Purdue and Rutgers once each its home floor at Value City Arena in Columbus.
On the road, its Big Ten campaign features one-time trips to Iowa, Michigan State and Northwestern.
Below is the conference schedule in its entirety for the 2019-20 campaign.
Ohio State
Home: Illinois, Purdue, Rutgers
Away: Iowa, Michigan State, Northwestern
Home/Away: Indiana, Maryland, Michigan, Minnesota, Nebraska, Penn State, Wisconsin
Illinois
Home: Indiana, Minnesota, Nebraska
Away: Ohio State, Penn State, Wisconsin
Home/Away: Iowa, Maryland, Michigan, Michigan State, Northwestern, Purdue, Rutgers
Indiana
Home: Iowa, Michigan State, Northwestern
Away: Illinois, Michigan, Rutgers
Home/Away: Maryland, Minnesota, Nebraska, Ohio State, Penn State, Purdue, Wisconsin
Iowa
Home: Ohio State, Rutgers, Wisconsin
Away: Indiana, Michigan State, Northwestern
Home/Away: Illinois, Maryland, Michigan, Minnesota, Nebraska, Penn State, Purdue
Maryland
Home: Michigan, Nebraska, Purdue
Away: Minnesota, Penn State, Wisconsin
Home/Away: Illinois, Indiana, Iowa, Michigan State, Northwestern, Ohio State, Rutgers
Michigan
Home: Indiana, Penn State, Wisconsin
Away: Maryland, Minnesota, Northwestern
Home/Away: Illinois, Iowa, Michigan State, Nebraska, Ohio State, Purdue, Rutgers
Michigan State
Home: Iowa, Ohio State, Rutgers
Away: Indiana, Nebraska, Purdue
Home/Away: Illinois, Maryland, Michigan, Minnesota, Northwestern, Penn State, Wisconsin
Minnesota
Home: Maryland, Michigan, Nebraska
Away: Illinois, Purdue, Rutgers
Home/Away: Indiana, Iowa, Michigan State, Northwestern, Ohio State, Penn State, Wisconsin
Nebraska
Home: Michigan State, Penn State, Purdue
Away: Illinois, Maryland, Minnesota
Home/Away: Indiana, Iowa, Michigan, Northwestern, Ohio State, Rutgers, Wisconsin
Northwestern
Home: Iowa, Michigan, Ohio State
Away: Indiana, Rutgers, Wisconsin
Home/Away: Illinois, Maryland, Michigan State, Minnesota, Nebraska, Penn State, Purdue
Penn State
Home: Illinois, Maryland, Wisconsin
Away: Michigan, Nebraska, Purdue
Home/Away: Indiana, Iowa, Michigan State, Minnesota, Northwestern, Ohio State, Rutgers
Purdue
Home: Michigan State, Minnesota, Penn State
Away: Maryland, Nebraska, Ohio State
Home/Away: Illinois, Indiana, Iowa, Michigan, Northwestern, Rutgers, Wisconsin
Rutgers
Home: Indiana, Minnesota, Northwestern
Away: Iowa, Michigan State, Ohio State
Home/Away: Illinois, Maryland, Michigan, Nebraska, Penn State, Purdue, Wisconsin
Wisconsin
Home: Illinois, Maryland, Northwestern
Away: Iowa, Michigan, Penn State
Home/Away: Indiana, Michigan State, Minnesota, Nebraska, Ohio State, Purdue, Rutgers