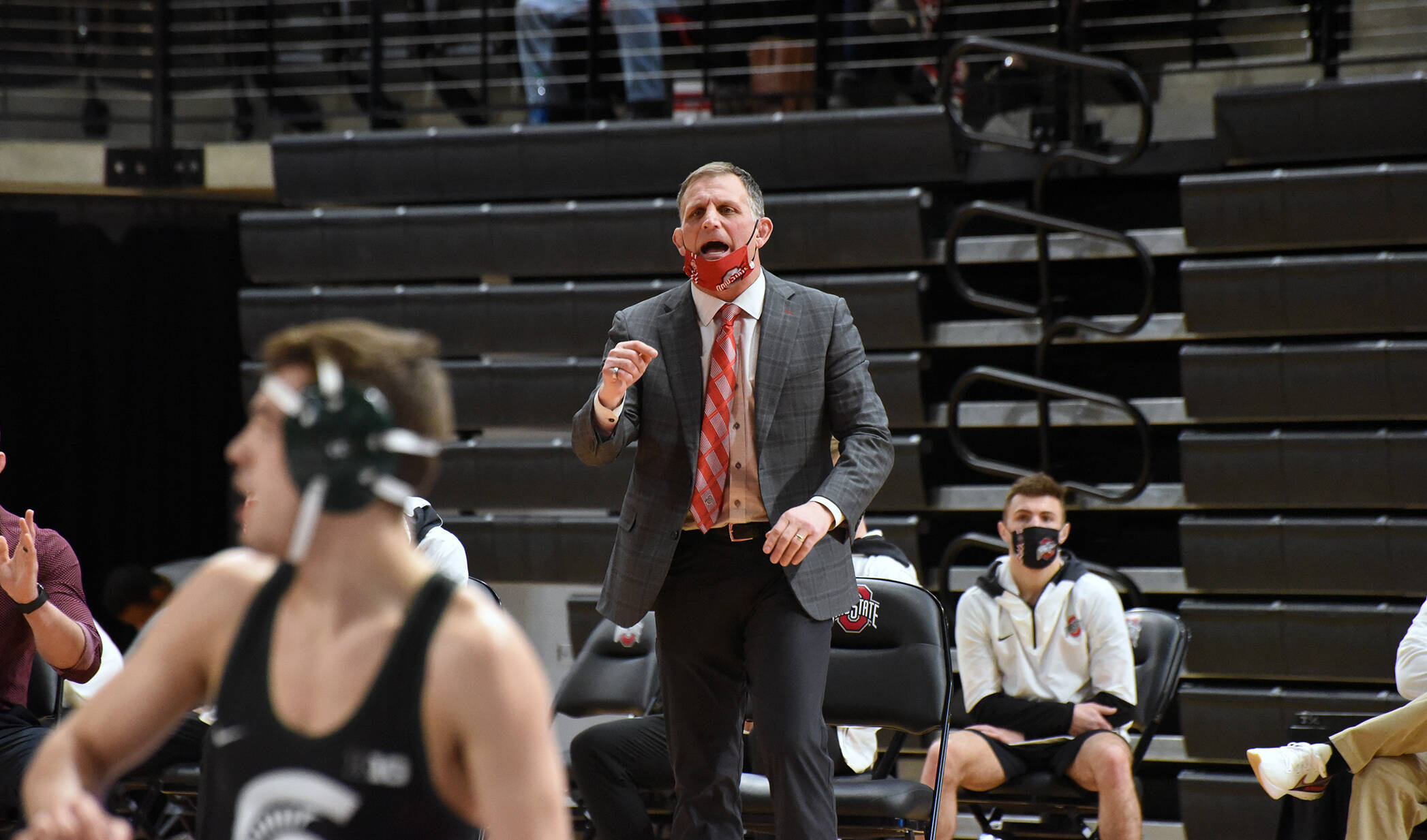 Ohio State's weekend trip to West Lafayette for a tri-meet with No. 1 Iowa and No. 27 Purdue got off to just about the worst possible start, but closed strongly, with the Buckeyes falling to Iowa 33-14 but toppling the host Boilermakers, 23-12.
Ohio State's dual with the top-ranked Hawkeyes was all but over before it started for the Buckeyes. They entered the bout seeking at least one assured victory, and it appears that the coaching staff decided that the best approach to achieve that was to focus fully on Purdue in the second timeslot, with Iowa fielding a lineup almost entirely populated with top-10 wrestlers.
That bore out at the very beginning of the meet, as Ohio State opted to toss out the Koontz brothers, Brady and Dylan, at 125 and 133 pounds, respectively. Neither fared especially well against their foes, with heavy national title favorite Spencer Lee pinning Brady at 125 pounds in the first round while No. 4 Austin DeSanto grabbed a 19-4 tech fall victory against Dylan.
Things started to clear up for the Buckeyes at 141 pounds, where freshman Anthony Echemendia put up two encouraging periods against No. 1 Jaydin Eierman, trailing just 2-0 into the third. However, Eierman managed to secure a pin of his own, injuring Echemendia in the process and bolstering the Iowa lead up to 17-0.
The rest of the match was without the fireworks of those first three bouts, but didn't see Ohio State fare much better. The best performance of the day for Ohio State came from Sammy Sasso at 149 pounds, where he secured a late pin of No. 5 Max Murin.
At 157 pounds, Elijah Cleary managed to notch a victory of his own to cut further into the Iowa lead, with a 4-3 decision against Bretli Reyna. Ethan Smith earned an 18-3 tech fall victory over Zach Axmear at 165, bringing the Buckeyes as close as they would get in the match at 17-14, as Iowa would win each of the final four bouts.
Notably among those final four: No. 4 Kaleb Romero suffered a tough defeat against No. 1 Michael Kemerer, 3-1. Romero held his own for much of the bout, but seemed to suffer an ankle injury late in the match and couldn't mount a late comeback. To end the bout, No. 3 Tony Cassioppi pinned No. 10 Tate Orndorff.
---
The Buckeyes were met with a much friendlier matchup against the Boilermakers, though it still certainly wasn't a walk in the park for Ohio State with several members of the lineup dealing with nagging injuries.
At 125 pounds, Malik Heinselman suffered his first loss of the season against Devin Schroder in a 1-0 decision, but Ohio State quickly bounced back with three straight victories. Jordan Decatur took a close decision, 6-5, over Jacob Rundell at 133 thanks to the riding time point, Dylan D'Emilio grabbed a 12-4 major decision at 141 pounds and Sasso finished off the run of form with a 20-4 tech fall win over Trey Kruse.
Purdue got back on the board at 157 with a close victory over Cleary for Kendall Coleman, but another major decision, this time from Ethan Smith, who knocked off Gerrit Nijenhuis 15-5. Ohio State suffered its third loss of the dual at 174 with Romero out, replaced by Fritz Schierl. Schierl couldn't quite get the job done against Emil Soehnlen, losing 9-4.
With the team score sitting at 16-9 in favor of the Buckeyes, Rocky Jordan picked a good time to spring into life, grabbing a huge 7-2 decision over No. 18 Max Lyon. It's been a rough season for Jordan, but this win could serve as the turning point for him moving forward.
With a 10-point lead in hand, Ohio State couldn't quite close out the match in the way that it wanted to, with Gavin Hoffman dropping the bout to Thomas Penola at 197 pounds, but Orndorff was able to get back on track against Jared Florell with a 10-1 win that gave the Buckeyes a 23-12 victory on the dual.
125 — No. 1 Spencer Lee def. Brady Koontz — Fall
133 — No. 4 Austin DeSanto def. Dylan Koontz — TF, 19-4
141 — No. 1 Jaydin Eierman def. Anthony Echemendia — Fall
149 — No. 2 Sammy Sasso def. No. 5 Max Murin — Fall
157 — No. 26 Elijah Cleary def. Bretli Reyna — D, 4-3
165 — No. 6 Ethan Smith def. Zach Axmear — TF, 18-3
174 — No. 1 Michael Kemerer def. No. 4 Kaleb Romero — D, 3-1
184 — No. 8 Nelson Brands def. No. 17 Rocky Jordan — D, 3-0
197 — No. 3 Jacob Warner def. No. 24 Chase Singletary — MD, 11-1
HWT — No. 3 Tony Cassioppi def. No. 10 Tate Orndorff — Fall
TS: Iowa 33, OSU 14
125 — No. 11 Devin Schroder def. No. 10 Mailk Heinselman — D, 1-0
133 — No. 21 Jordan Decatur def. Jacob Rundell — D, 6-5
141 — Dylan D'Emilio def. No. 26 Parker Filius — MD, 12-4
149 — No. 2 Sammy Sasso def. Trey Kruse — TF, 20-4
157 — No. 7 Kendall Coleman def. No. 26 Elijah Cleary — D, 3-2
165 — No. 6 Ethan Smith def. Gerrit Nijenhuis — MD, 15-5
174 — Emil Soehnlen def. Fritz Schierl — D, 9-4
184 — No. 17 Rocky Jordan def. No. 18 Max Lyon — D, 7-2
197 — No. 17 Thomas Penola def. Gavin Hoffman — D, 3-2
HWT — No. 10 Tate Orndorff def. Jared Florell — Fall
TS: OSU 23, PUR 12