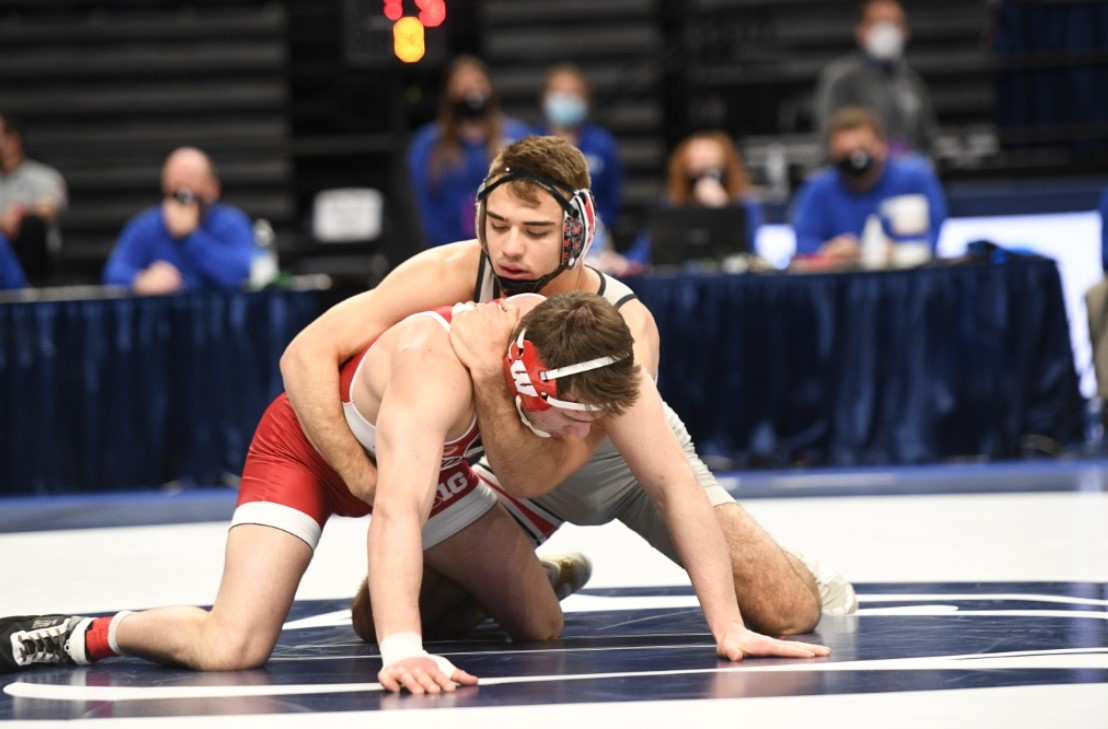 Ohio State wrestling's first day at the Big Ten Championships went nearly directly to seed, with a slight overperformance from Ethan Smith at 165 pounds, slight underperformance from Rocky Jordan at 184 pounds and on-schedule performances from just about everyone else.
Starting at 125 pounds, Malik Heinselman took victories in the first two bouts, pinning Maryland's Zach Spence in round one and taking a 3-2 decision over Wisconsin's Eric Barnett in the quarterfinal, but fell in the semifinals against Purdue's Devin Schroder, 10-0. He'll wrestle Penn State's Robert Howard in the consolation semi-finals, with a chance at third place with two victories. He's locked up a national bid.
Jordan Decatur was scratched at 133, so Ohio State was without a wrestler there.
Dylan D'Emilio won his first round bout against Danny Bertoni of Maryland but fell to Nick Lee and Drew Mattin, ending his tournament. He'll have to hope for an at-large bid to the NCAA Championships.
Sammy Sasso is one of two Buckeyes fighting for a title on Sunday, with the No. 7 seed Ridge Lovett of Nebraska standing between him and his first conference title. He made quick work of Michigan State's Peyton Omania and Michigan's Kanen Storr on Saturday.
Elijah Cleary managed an upset of Wisconsin's Garrett Model in round one, but followed that up with losses to Northwestern's Ryan Deakin and Nebraska's Caleb Licking to end his day. His season is likely over.
Smith is the other Buckeye with a title on the line Sunday, after he secured victories over Wisconsin's Josh Otto, Maryland's Jonathan Spadafora and Nebraska's Peyton Robb. With a victory over No. 1 seed Alex Marinelli (Iowa), Smith would conclude a magical individual season, winning every single bout since a loss in Ohio State's first dual of the season.
Kaleb Romero will have a shot at bronze at 174 pounds after a quarterfinals loss to Carter Starocci but two straight wins in the consolation tournament. He'll face off with Logan Massa of Michigan in the consolation semifinals.
Jordan's day came to a close quickly, with a loss to Max Lyon in the first round and Nelson Brands in the consolation tournament. Like Cleary, his season is likely over.
Gavin Hoffman secured a first round victory to overperform his seed, but dropped his next two matches to end his day. The first round victory may be enough to secure an at-large bid.
Lastly, heavyweight Tate Orndorff has locked up a national berth and will compete for a third-place finish on Sunday, with Iowa's Tony Cassioppi on deck in the consolation semifinals.
125 | Malik Heinselman
R1 | Def. Zach Spence (MD) | PIN 2:56
QF | Def. Eric Barnett (WIS) | D, 3-2
SF | Lost to Devin Schroder (PUR) | MD, 10-0
141 | Dylan D'Emilio
R1 | Def. Danny Bertoni (MD) | D, 3-1
QF | Lost to Nick Lee (PSU) | TF, 3:12 (17-1)
Con Rd 2 | Lost to Drew Mattin (MICH) | D, 2-1
149 | Sammy Sasso
R1 | BYE
QF | Def. Peyton Omania (MSU) | MD, 9-1
SF | Def. Kanen Storr (MICH) | D, 5-0
F | Ridge Lovett (NEB)
157 | Elijah Cleary
R1 | Def. Garrett Model (WISC) | D, 9-6
QF | Lost to Ryan Deakin (NU) | MD, 8-0
Con Rd 2 | Lost to Caleb Licking (NEB) | D, 2-1
165 | Ethan Smith
R1 | Def. Josh Otto (WISC) | D, 8-4
QF | Def. Jonathan Spadafora (MD) | MD 15-6
SF | Peyton Robb (NEB) | SV1, 5-3
F | Alex Marinelli (IOWA) |
174 | Kaleb Romero
R1 | Def. DJ Shannon (Ill) | D, 4-1
QF | Lost to Carter Starocci (PSU) | D, 2-0
Con Rd 2 | Def. Emil Soehnlen (PUR) | D 4-1
Con Rd 3 | Def. Jake Allar (MINN) | D, 9-4
Con SF | Logan Massa (MICH) |
184 | Rocky Jordan
R1 | Lost to Max Lyon (PUR) | D, 3-2
Con R2 | Lost to Nelson Brands (IOWA) | D, 5-2
197 | Gavin Hoffman
R1 | Def. Matt Wroblewski (Ill) | SV1, 3-1
QF | Lost to Eric Schultz (NEB) | D, 2-0
Con R2 | Lost to Billy Janzer (RUT) | D, 3-2
285 | Tate Orndorff
R1 | Def. Christian Rebottaro (MSU) | D, 6-0
QF | Lost to Gable Steveson (MINN) | TF, 5:34 (19-4)
Con Rd 2 | Def. Jack Heyob (NU) | D, 5-2
Con Rd 3 | Def. Luke Luffman (ILL) | SV1, 3-1
Con SF | Tony Cassioppi (IOWA) |