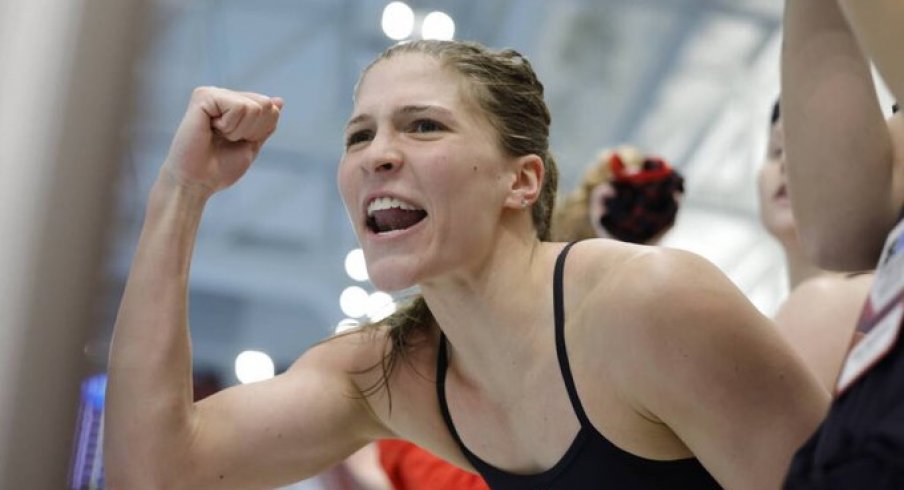 Ohio State women's swimming and diving claimed its third straight Big Ten championship this weekend in Madison, Wisc., earning a final tally of 1,303 points – 118 more than second-place Michigan – to hoist the trophy.
Several Buckeye swimmers broke school records in the competition, including Hannah Bach in the 100-yard breaststroke (57.61) and Amy Fulmer in the 200-yard freestyle (1:43.73). While she didn't watch her name in the record books, Kristen Romano defended her Big Ten title in the 200-yard individual medley at 1:54.43.
Ohio State also won three of the five relays, setting Big Ten championship records in the 200-yard medley (1:33.64) and 400-yard medley (3:26.35) relays. The Buckeyes also captured the title and set a school record in the 800-yard medley relay (6:58.17).
Eight Buckeyes earned first-team All-Big Ten honors: Bach, Emily Crane, Fulmer, Paige Hall, Teresa Ivan, Romano, Katherine Trace and Katherine Zenick. All eight swimmers were on at least one of the relay teams that secured victories.
Ohio State has won eight Big Ten team titles in program history. Head coach Bill Dorenkott, who previously won three titles at Penn State, had led the Buckeyes to each of the last three titles.