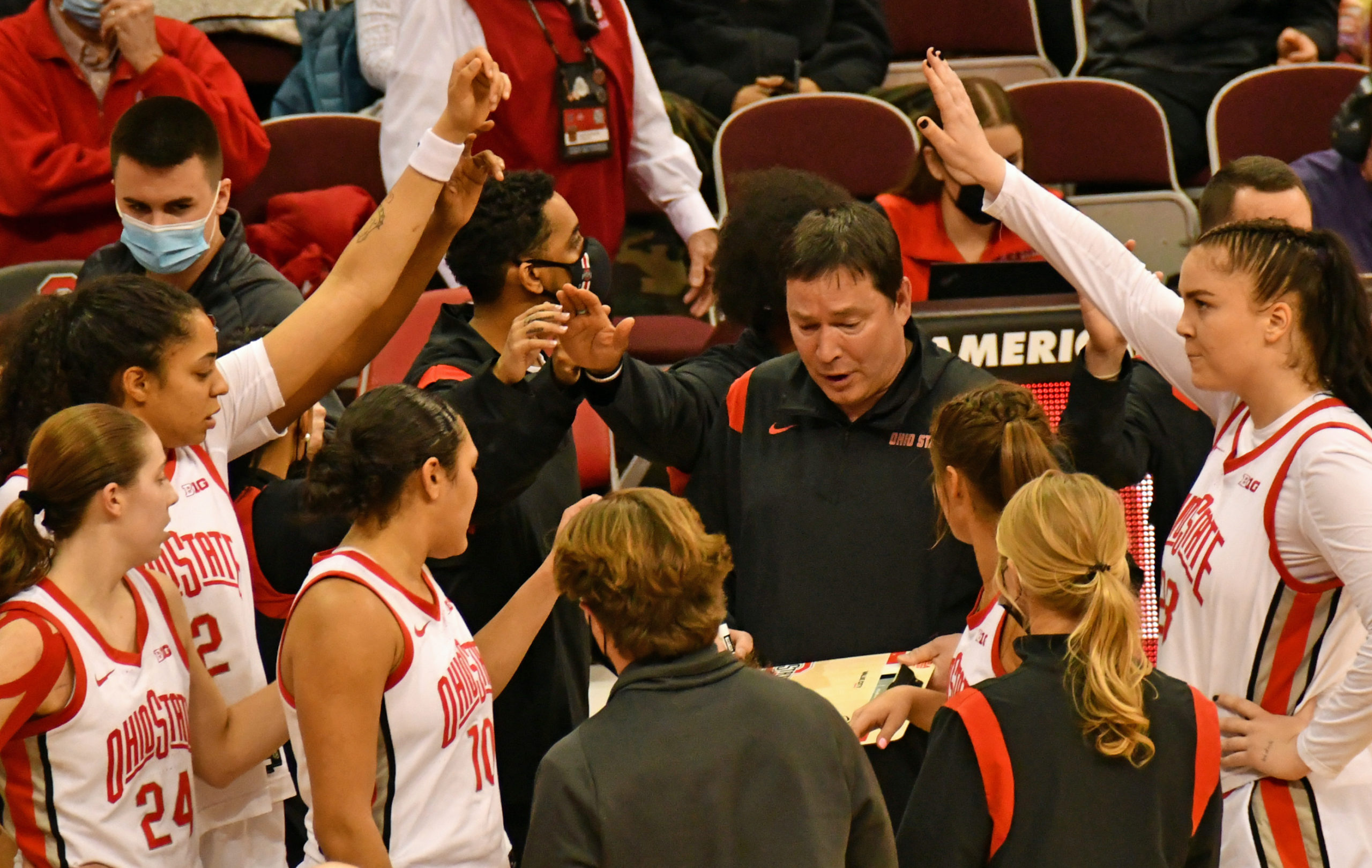 Fresh off a Sweet 16 run in March, Ohio State guards Jacy Sheldon and Taylor Mikesell and head coach Kevin McGuff will lead their team into Louisville, Ky., for a matchup with the Cardinals, who made a Final Four run in 2022, in the ACC/Big Ten Challenge on Nov. 30.
Ohio State is 4-10 all-time in the cross-conference series. The Buckeyes earned their first win in the challenge against Virginia, and their most recent victory was over then-ranked No. 2 Louisville in 2019 — a win that marked the program's 13th all-time win versus a top-five ranked team and its first over the Cardinals.
Last season, the Buckeyes went 25-7 and were the Big Ten regular-season champions with a 14-4 mark in conference competition. They lost to Indiana in the third round of the Big Ten Championship before earning a No. 6 seed at the 2022 NCAA Tournament. In the Spokane Regional, Ohio State defeated Missouri State and No. 3-seeded LSU in Baton Rouge, La., eventually falling to No. 2-seeded Texas, 66-63, in the Sweet 16.
Ohio State was led by a dynamic backcourt of Sheldon and Mikesell, who combined for 38.3 points, 6.16 assists and 7.2 assists across 32 games for the Buckeyes. Sheldon was the team's primary ball-handler and offensive creator, while Mikesell set fire from behind the arc, making 47.5 percent of her three-point attempts. Both of them will return to lead the team in 2022-23.
Louisville went 29-5 last season with a 16-2 record in the ACC. The Cardinals suffered an upset loss to Miami in the ACC Tournament, falling to Miami 61-59 in their first game. In the NCAA Tournament, the team earned a No. 1 seed and defeated Albany, Gonzaga, Tennesee and Michigan on their way to the Final Four, where they were beaten by South Carolina — the eventual national champions.
Hailey Van Lith led the Cardinals with 14.4 points, 2.2 assists and 3.6 rebounds per contest. She will return to Louisville for her junior season in 2022-23 with point guard Chrislyn Carr and forwards Morgan Jones, Alexia Mobley and Olivia Cochran as her running mates.
Game times, as well as television coverage for the 2022 ACC/Big Ten Challenge, will be announced at a later date. The complete schedule of home/away matchups can be found below.  
2022 ACC/Big Ten Women's Basketball Challenge
Wednesday, Nov. 30
Illinois at Pitt
Ohio State at Louisville
Syracuse at Purdue
Virginia at Penn State
Wake Forest at Minnesota
Rutgers at Boston College
Thursday, Dec. 1
Northwestern at Duke
Michigan at Miami
Maryland at Notre Dame
North Carolina at Indiana
Nebraska at Virginia Tech
NC State at Iowa
Florida State at Wisconsin
Georgia Tech at Michigan State