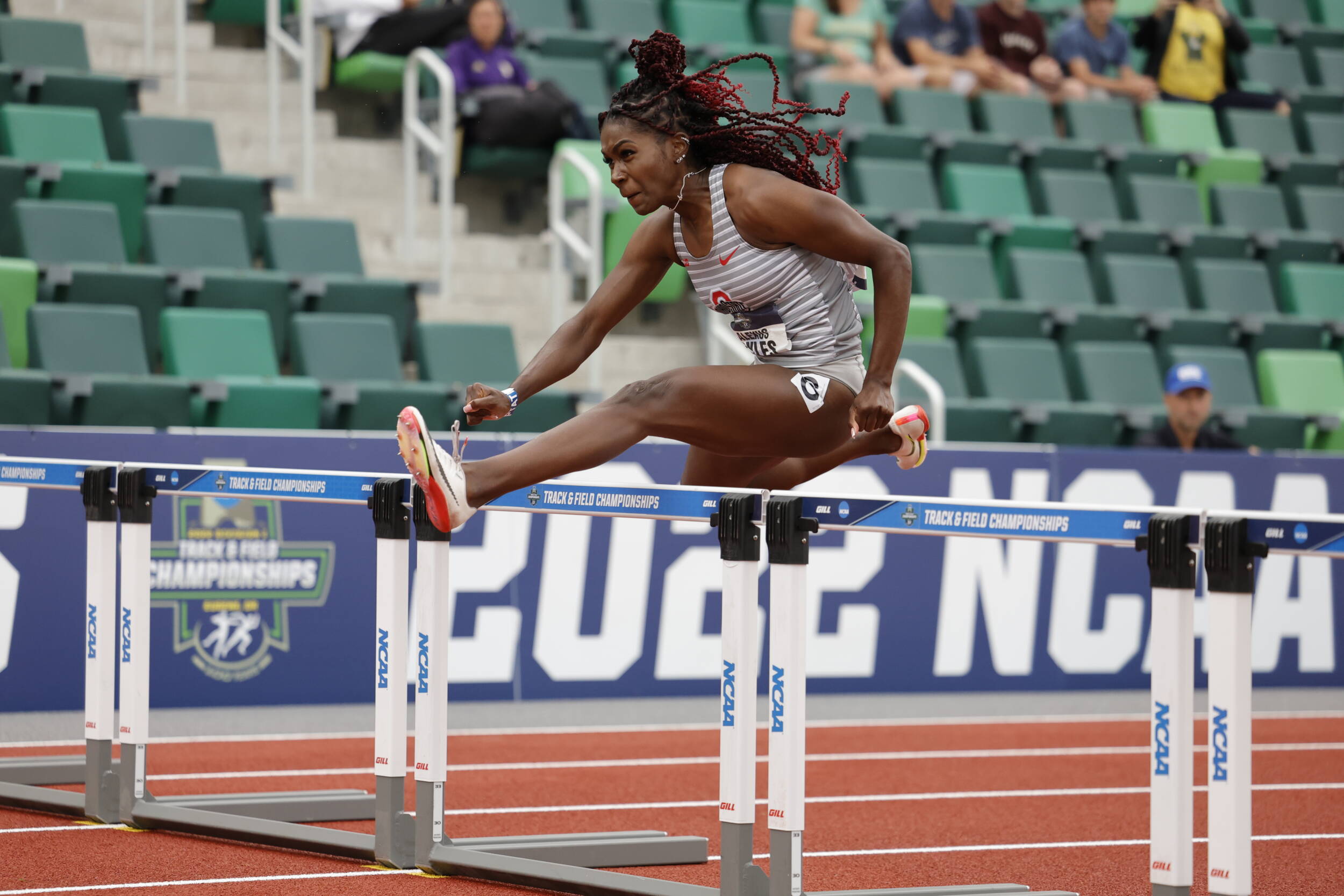 The Ohio State men's and women's track and field teams concluded their seasons at the NCAA Championships in Eugene, Ore., from June 8-11, and the women's team brought home a 12th place finish while eight Buckeyes earned All-American First-Team honors.
The women's team finished with a team score of 19, just two points off the top 10. The highlight of the competition was senior Adelaide Aquilla, who broke the NCAA shot put record with a throw of 19.64 meters and defended her NCAA title.
Other individual placers for the women included Anavia Battle in the 200 meter (third, 22.33 seconds) and Jaimie Robinson in the triple jump (12th, 13.14 meters). Alexus Pyles also competed in the heptathlon, finishing 13th overall with a first-place finish in the 100-meter hurdles (13.07 seconds) and second-place finish in the long jump (6.18 meters).
The 4×100 meter relay team of Yanique Dayle, Battle, Nya Bussey and Leah Bertrand finished sixth with a time of 43.52 seconds.
On the men's side, individual placers included Shaun Miller Jr. in the high jump (ninth, 2.15 meters), Tanner Watson in the discus (12th, 57.53 meters), Kentre Patterson in the 110-meter hurdles (sixth, 13.46 seconds), Tyler Johnson in the 400 meter (eighth, 45.83 seconds) and Eric Harrison in the 200m (ninth, 20.71 seconds).
All-Americans (Men)
First Team: Adelaide Aquilla (shot put), 4x100m relay (Yanique Dayle, Anavia Battle, Nya Bussey, Leah Bertrand), Anavia Battle (200m)
Second Team: Alexus Pyles (100m hurdles), Nya Bussey (100m), 4x400m relay (Jaydan Wood, Alyssa Marsh, Bryannia Murphy, Yanique Dayle), Jaimie Robinson (triple jump), Alexus Pyles (heptathlon)
Honorable Mention: Yanique Dayle (100m), Anavia Battle (100m), Chanler Robinson (400m hurdles).
All-Americans (Women)
First Team: Hayden Tobias (shot put), Kentre Patterson (110m hurdles), Tyler Johnson (400m)
Second Team: Eric Harrison (100m), Robby Oswald (pole vault), 4×100 relay (Kainnan Ramsey, Harrison, Adrian Curry, Praise Olatoke), 4×400 relay (Zidane Brown, Donnie James, Praise Olatoke, Tyler Johnson), Shaun Miller Jr. (high jump), Tanner Watson (discus), Eric Harrison (200m).