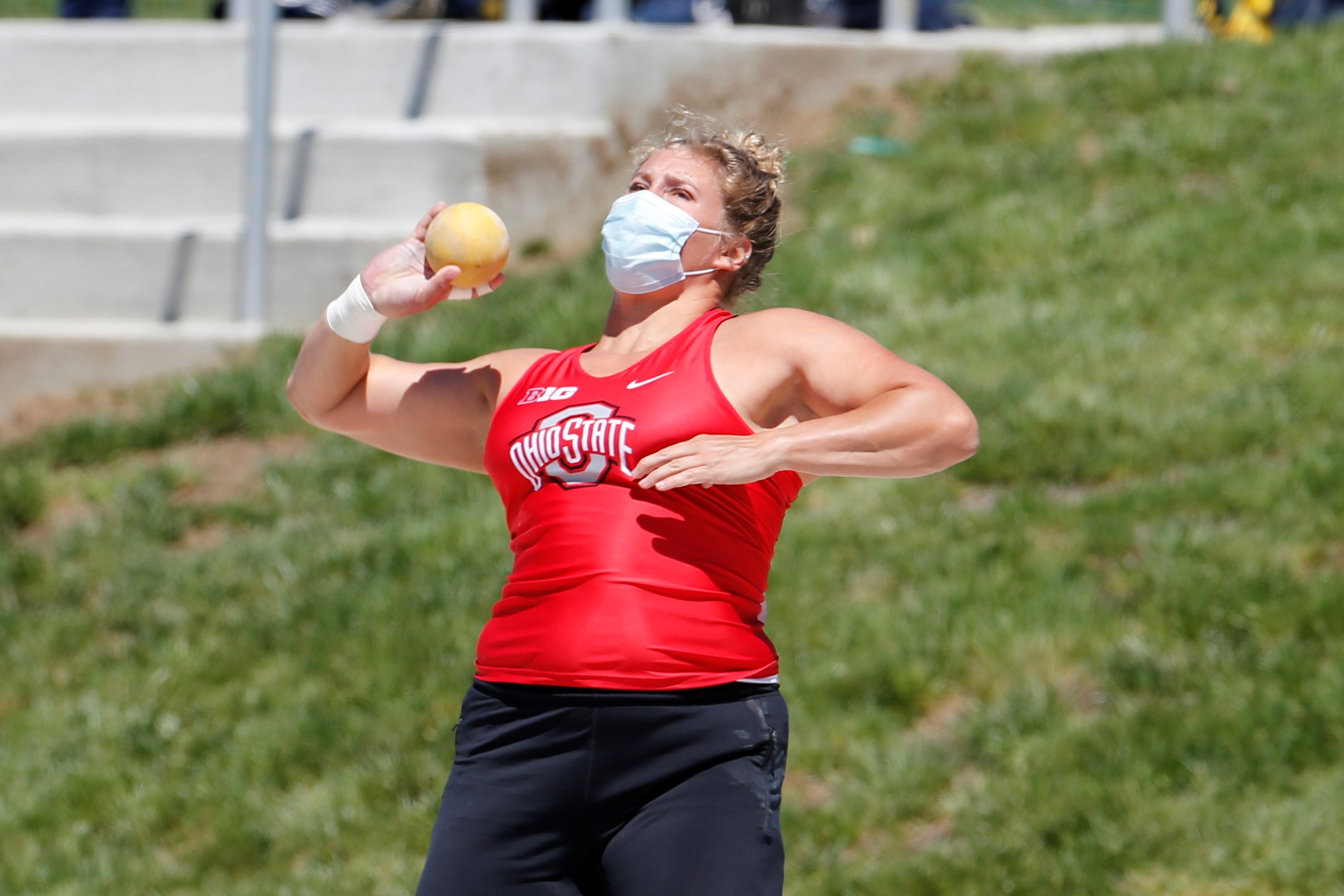 After taking a look at the honorable mentions and the first two entries into BSB's top 10 most important players, moments and teams of Ohio State's 2020-21 Olympic sports season on Tuesday, it's time now to dive into part three. Let's unveil No. 4-1.
No. 4 – Sasso sits atop Big Ten at 149 pounds
Ohio State wrestling didn't have the season that it wanted in 2021, finishing No. 9 as a team at the Big Ten Championships and the NCAA Championships, but it wasn't a year without big moments, and none were bigger than 149-pound sophomore Sammy Sasso's performance at the Big Ten Championships. Sasso stormed through his conference competition and toppled Nebraska's Ridge Lovett in the finals for his first Big Ten crown.
After his victory, Sasso took the opportunity to shout out his teammates and to make a recruiting pitch for the Buckeyes.
"I love this program and I love everybody in it," said Sasso after his win. "I'm going to keep trying to do my best to start a new legacy here Ohio State. I want to start winning team titles, and I want to try and get young savages from high school to come be a part of this because we have something special here at Ohio State."
Although Sasso came up just short of the national crown, falling to Austin O'Connor, his Big Ten title and 12-0 season before the national championship was a nice consolation for a Buckeye team that needed some positivity in a rough season.
No. 3 – Oldenburg makes strong first impression
It took new Ohio State women's volleyball coach Jen Flynn Oldenburg much longer than expected to get to her first game on the sidelines for the Buckeyes because of the coronavirus pandemic, but once she did, she did not disappoint. Oldenburg led the Buckeyes to an astonishing 12-0 start to the season, one of the best in program history. Interestingly enough, she credited that extra time between when she was hired, back in January of 2020 and her first match, as a huge factor for the early success.
"It's a big deal. I think the hardest part of the shutdown is just not being together and not really having a plan and knowing when we were going to be able to train again," Oldenburg said. "They're elite athletes that want to be playing their sport, and that goes across all sports on campus, and to get back and start training again was awesome. I think the fall was good for us, but they're super competitive. They don't want to see the same faces across the net all the time, so to get back to playing matches and see other people and compete for things that matter like those match moments, it's a really big deal.
"I think that's a big reason why a lot of these schools, and especially ours, pushed for the opportunity to play and get some of these matches in. They know how much it means and how important it is to our student-athletes."
Ohio State's dream season led it all the way to a No. 9 seed in the NCAA Tournament, though the Buckeyes came up short in the second round against No. 8 Florida.
No. 2 – Women's hockey returns to Frozen Four
Ohio State returned to the Frozen Four for the second time under Nadine Muzerall this season, behind an excellent forward line and one of the deepest teams in the WCHA. Though they came up short, falling to Wisconsin in the semifinals, it was yet another excellent season for a program that had seen the depths of the WCHA before Muzerall arrived at OSU.
"I think that's what everyone struggles to explain," Muzerall said. "How do we keep winning? How do we keep battling back? We were down 3-0 tonight against the No. 2 team in the nation, and we came back and battled as hard as we could, and it all comes back to the same thing and it's family. We can sit here and say that over and over again, and it's hard to explain because no one can see it from the outside. It's just really within us and what we have as a group. Obviously, we have amazing talent and people that own their roles on every single level, but I think it just comes back to how much we love each other."
No. 1 – Aquilla lands the shot put sweep
It was a clean sweep for Ohio State women's track and field standout Adelaide Aquilla that helped earn her the top spot in our rankings. The Buckeye junior earned all four potential shot put crowns this season, and earned her spot atop the Ohio State Olympic sports world for the year. From our write-up:
"Ohio State women's track and field standout Adelaide Aquilla completed her sweep of the 2020-21 season on Thursday when she secured the outdoor shot put national title crown. The Buckeye thrower had already claimed indoor and outdoor Big Ten titles and won the indoor shot put crown at the indoor national championships.
"Teammates Sade Olatoye and Divine Oladipo also competed in the shot put finals, recording 17.26m and 16.76m throws and checking in at No. 8 and No. 14, respectively. Olatoye also finished No. 7 in the hammer throw.
"Aquilla bested Wisconsin's Josie Schaefer with an 18.98m throw, more than enough to edge out the Badger, who put up an 18.29m result. Aquilla was actually a bit under the throw that earned her the Big Ten crown, as she hit 19.12m – an Ohio State record and her personal best – on her sixth and final throw in that event.
"Next up for the Buckeye junior will be the U.S. Olympic Trials in a few weeks on June 24, where she has a very real chance to qualify and represent Ohio State at the Olympics."