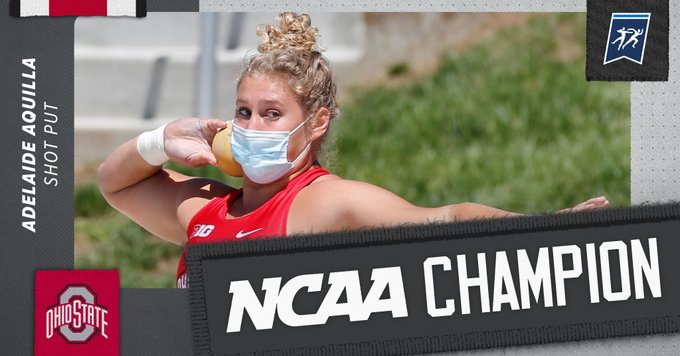 Ohio State women's track and field standout Adelaide Aquilla completed her sweep of the 2020-21 season on Thursday when she secured the outdoor shot put national title crown. The Buckeye thrower had already claimed indoor and outdoor Big Ten titles and won the indoor shot put crown at the indoor national championships.
Teammates Sade Olatoye and Divine Oladipo also competed in the shot put finals, recording 17.26m and 16.76m throws and checking in at No. 8 and No. 14, respectively. Olatoye also finished No. 7 in the hammer throw. Behind their strong showings, the Buckeyes currently sit at No. 3 in the NCAA Championship standings with 13 points, trailing only Georgia (20 points) and Oregon (14 points) while stuck in a dead lock with Arkansas and North Dakota State.
Aquilla bested Wisconsin's Josie Schaefer with an 18.98m throw, more than enough to edge out the Badger, who put up an 18.29m result. Aquilla was actually a bit under the throw that earned her the Big Ten crown, as she hit 19.12m – an Ohio State record and her personal best – on her sixth and final throw in that event.
Next up for the Buckeye junior will be the U.S. Olympic Trials in a few weeks on June 24, where she has a very real chance to qualify and represent Ohio State at the Olympics.
Meanwhile, Ohio State is playing the waiting game. Anavia Battle took 12th in the 100 meters at 11.43, but has one big race left, as she qualified first overall for the 200 meters, scheduled for Saturday evening. Heptathlete Emma Nwofor also has her events left.