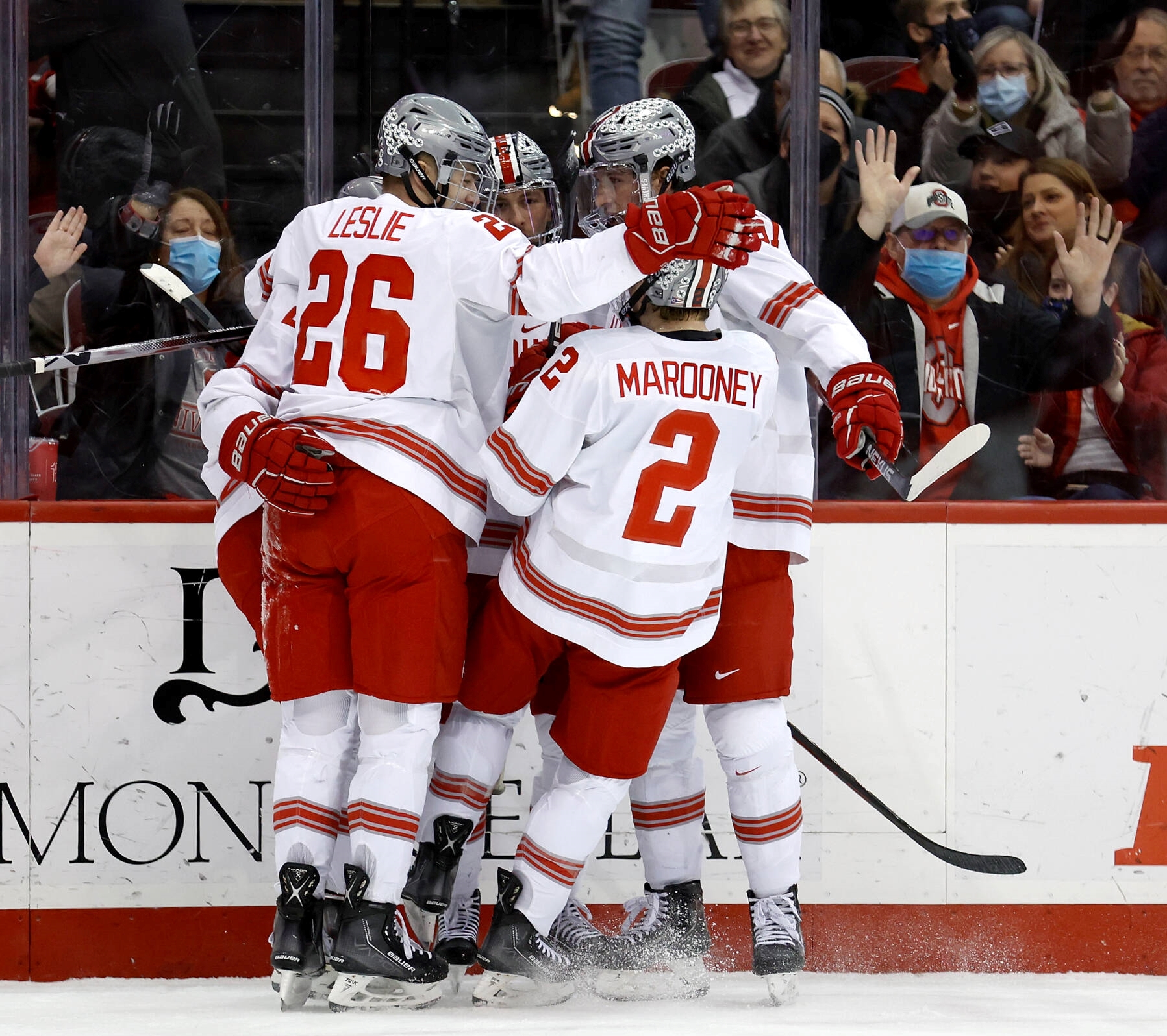 Ohio State took five of six points from visiting Wisconsin on Friday and Saturday to vault atop the Big Ten standings ahead of idle Michigan.
The Buckeyes per usual did it the hard way by overcoming a two-goal, third-period deficit to defeat and deflate the Badgers 4-3 in overtime thanks to a spectacular winning goal from freshman sensation Georgii Merkulov.
In a somewhat different tact the following night at Value City Arena, the Buckeyes did indeed fall behind again, but being down 1-0 in the first period was no sweat as they scored five unanswered goals, three in the middle period, for a 6-2 victory.
The Buckeyes (21-7-2, 13-5-2-1-1-1 Big Ten) have reached 20 wins for the fifth time in six seasons and are moving to closer to earning a bid to the NCAA tournament if they don't get the automatic qualifier that goes with winning the conference tournament.
OSU is tied with St. Cloud State for 10th in the PairWise rankings that attempts to mimic the criteria for the selection committee for the 16-team field.
The Buckeyes will have a chance to move up, but not likely down much, because they end the regular season with two-game series against No. 8 Minnesota and at No. 1 Michigan.
"I'm all in with this group," Ohio State coach Steve Rohlik said. "I love this group. I love that they all come to work every day. I love their belief. They want to do it for one another and no matter what the score is, they'll still believe that we can be there at the end if we continue to play a 60-minute game."
Where They Stand
Ohio State has 42 points through 20 of 24 league games. Michigan (39 points), Minnesota (37) and Notre Dame (32) have each played two fewer games.
The Buckeyes will try to pad their lead going into the final weekend of Feb. 25-26 because they will not play, a victim of being in a seven-team conference.
OSU has already clinched a top-four spot and will host a best-of-three quarterfinal series March 3-5.
Up Next
Can you say big?
The Golden Gophers come to Value City Arena Friday (6:30 p.m.) and Saturday (6 p.m.) with both games on the Big Ten Network.
Then it's off to Ann Arbor to complete the regular season Feb. 18 and 19.
Badgers Bite But Bucks Battle Back
Merkulov had three goals in the series, including two Saturday, but the scoring depth was still on display.
Sophomore Michael Gildon, who entered the weekend with one goal in 35 career games, scored in each game. Graduate Eric Cooley doubled his season output by scoring on Friday and Saturday and a pair of freshmen defenseman – Cole McWard and Mason Lohrei – each had a goal in the second game.
Of course, freshman Jakub Dobeš was good, although not quite to the unworldly standard of the previous weekend when he stopped 97 of 99 Penn State shots.
Wisconsin had 46 shots in the opener, marking the fourth straight game that Dobeš made 40-plus saves and the ninth game in a row he faced at least 30.
There was progress as the Badgers had one shot the final 8:47 of regulation and one in OT.
The next night Wisconsin's last shot, its 28th, came with just over seven minutes left in the game. Reducing the number of shots was a focus going into the second game of the series.
"We talked about it," Rohlik said postgame. "We've kind of maybe gotten away from that a little bit and you can't get away from your identity. You can't get away from your structure. Good defense always leads to good offense. You start giving up shots in the 30s and 40s certainly at some point bad things will happen, but I thought tonight was a good response."
Third Degree
In the opener before 4,763 fans, the Buckeyes could not get untracked against the pesky Badgers (8-19-3, 5-14-1-1-1-2), who have been beaten down by injuries.
It didn't help that their top defenseman and first-round pick by the Columbus Blue Jackets in the 2021 NHL draft, Corson Ceulemans got himself ejected for a contact-to-the head penalty at 15;46 of the second period. He had scored one of Wisconsin's two power-play goals to counter a score by Cooley to give the 3-1 lead they carried into the third period.
"Give them credit," Rohlik said of the Badgers. "I mean, they showed up at the drop of the puck and they were outworking us and it was pretty clear and we're just fortunate to be within striking distance when the third period."
Gildon made it 3-2 at 3:31 of the third, taking a pass from Grant Gabriele from behind the net for his first goal since Nov. 19, 2019, vs. Michigan.
"Grant Gabriele gave me a beautiful pass and I just tried to bury it," Gildon said. "It's a great feeling. It's been a long process to get back into the lineup and it feels really good."
The Buckeyes tied it at 13:48 with a power-play goal. Cam Thiesing drive the net and Jake Wise put in the rebound for his 10th goal.
It was left to Merkulov to send the folks home happy, taking a pass from Gabriele and putting a move on goalie Jared Moe to score into the open net at 3:12.
"If you give number 10 (Merkulov) some space out there he's going to make some things happen and we're fortunate he got a little space at the end," Rohlik said.
The Buckeyes have outscored opponents 53-17 in the third period and 3-1 in overtime.
No Doubter
After spotting the Badgers a 1-0 lead on another power-play goal just 2:08 into the rematch, the Buckeyes stormed their way to five straight goals before a late Wisconsin tally made it 5-2 through two periods.
"It's always better to play with the lead," Rohlik said. "You score a goal and it forces them to score too and once the game gets going and you get up by one or two, it might change them and they might start getting out of what they want to do."
Merkulov made it 1-1 at 4:01 of the first period with a rocket from the left circle. Lohrei who had three assists in the opener, had the helper.
Cooley's goal at 15:06 of the first put the Buckeyes ahead 2-1 and it stayed that way until OSU scored three times in a 5:24 span. Merkulov from Gabriele scored on a breakaway at 10:09 and 28 seconds later Gildon put in a rebound of a Wise shot to make it 4-1. McWard's blast at 15:33 pushed the lead to 5-1 with Ryan O'Connell getting his second assist of the game.
"I think every single day we're getting more confident," O'Connell said. "As every weekend goes on, we've proved that we can really do successful things and get the job done."
Lohrei got the final marker at 1:23 of the third as the Buckeyes improve to 12-1-2 in the past 15 games.
Numbers
Merkulov's 18 goals are fifth nationally. There are four players with 19. He had two game-winning goals vs. the Badgers and his five for the season are tops in the nation. … Merkulov is also second in the nation in freshmen scoring with 31 points. Lohrei has 29 points to rank third among freshmen. He is the third nationally overall with 25 assists. … Cam Thiesing's 24 points (eight goals, 16 assists) put him 10th among freshmen and McWard is 50th (2-11-13). … Dobeš is 20-6-2. His 2.01 goals-against average is 10th national and his .938 save percentage is third.