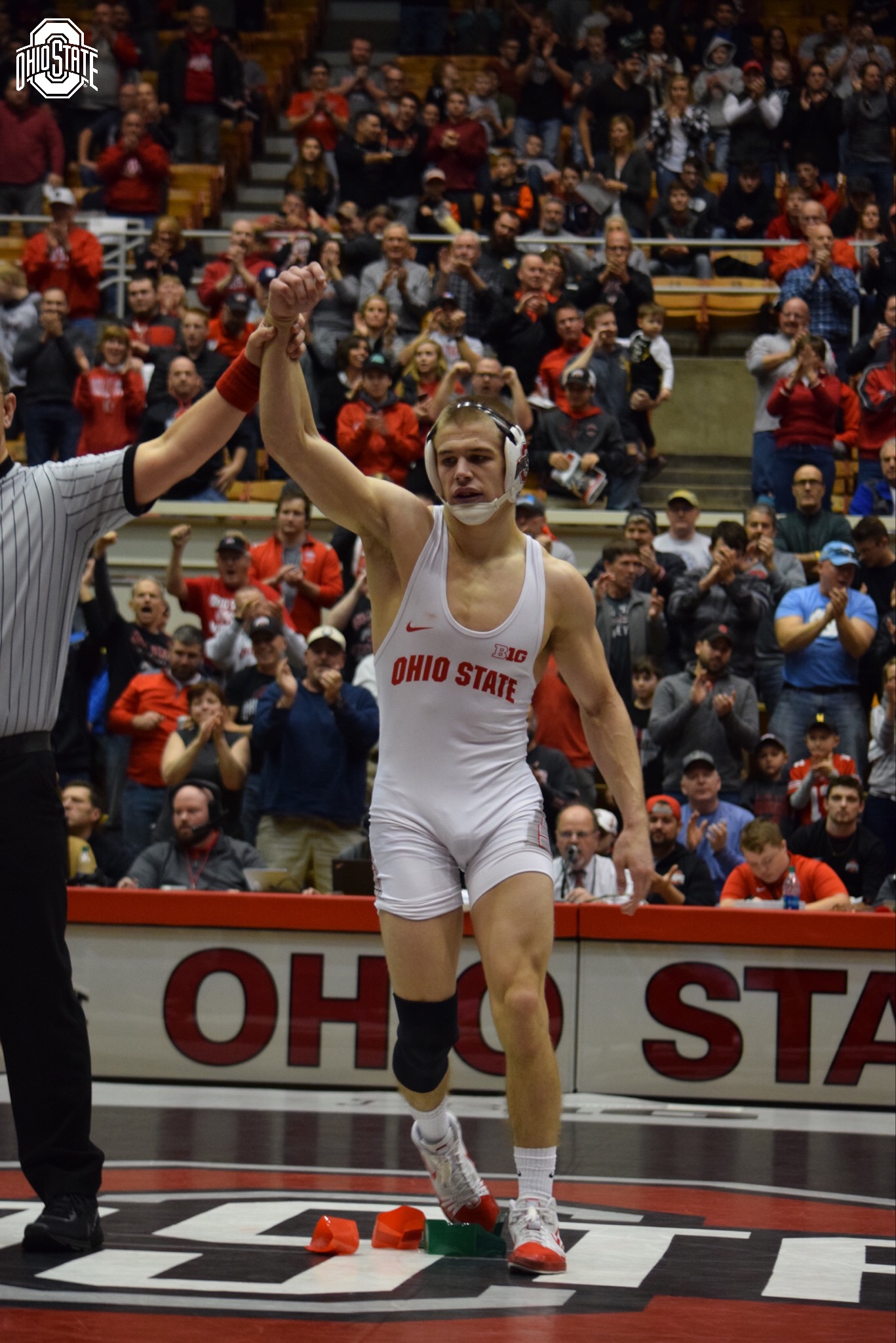 While most students spent their final weekend of Winter break relaxing, Ohio State's student athletes began 2019 in the spirit of competition.
WRESTLING
The No. 2 Ohio State wrestling team defeated No. 4 North Carolina State, 26-10, at St. John Arena, improving to 5-0. Senior Micah Jordan electrified the home crowd on a go-ahead takedown with six seconds left, giving fourth-ranked Justin Oliver his first loss of the season.
Joey McKenna (141 pounds), Micah Jordan (149 pounds), Te'Shan Campbell (174 pounds), Myles Martin (184 pounds), Kollin Moore (197 pounds), Chase Singletary (285 pounds), and Luke Pletcher (133 pounds) won their matchups for the Scarlet and Gray.
WOMEN'S ICE HOCKEY
The No. 8 Ohio State women's hockey team lost to the Minnesota Whitecaps in an exhibition series to open the new year. Despite 50 saves from freshman Andrea Braendli and a pair of goals by sophomore Emma Maltais, the Buckeyes fell 3-2 in overtime in the series opener. Sophomore goaltender Lynsey Wallace made her first appearance in net as a Buckeye, finishing with 27 saves in two periods. However, the Scarlet and Gray fell 3-1 with senior Madison Field scoring the team's only goal.
MEN'S VOLLEYBALL
The No. 8 Ohio State men's volleyball team (2-0) defeated Penn State in four sets, (25-13, 20-25, 25-21, 26-24). Senior setter Sanil Thomas helped guide the Buckeye offense to a .380 hitting percentage with 46 assists. Sophomore Jake Hanes received the majority of Thomas' sets, swinging 46 times and connecting on 24 kills compared to five errors.
SWIMMING & DIVING
The No. 14 Ohio State men's swimming and diving team kicked off the new year with a meet against Top-25 opponents at the Stephen C. O'Connell Center in Gainesville, Fla. The Buckeyes claimed nine of the 15 event wins, securing a victory against No. 25 Kentucky 336-245, but falling 317.50-263.50 to No. 5 Florida. Junior Andrew Loy won the 100-meter freestyle and 100-meter backstroke, while also helping Ohio State win the 400-meter and 200-meter freestyle relays.
The No. 22 Ohio State women's swimming and diving team came up short against No. 10 Florida, 403-178, and No. 13 Kentucky, 375-206. Sophomore Genevieve Angerame earned top honors in diving, sophomore Molly Kowal won the 1650 freestyle and sophomore Freya Rayner won the 50-meter freestyle.
WOMEN'S GYMNASTICS
The No. 18 Ohio State women's gymnastics team opened the 2019 season with a challenging dual meet match-up in No. 7 Georgia. The Buckeyes narrowly lost to the Bulldogs, 196.600-194.900 at the Stegeman Coliseum in Athens, Ga.