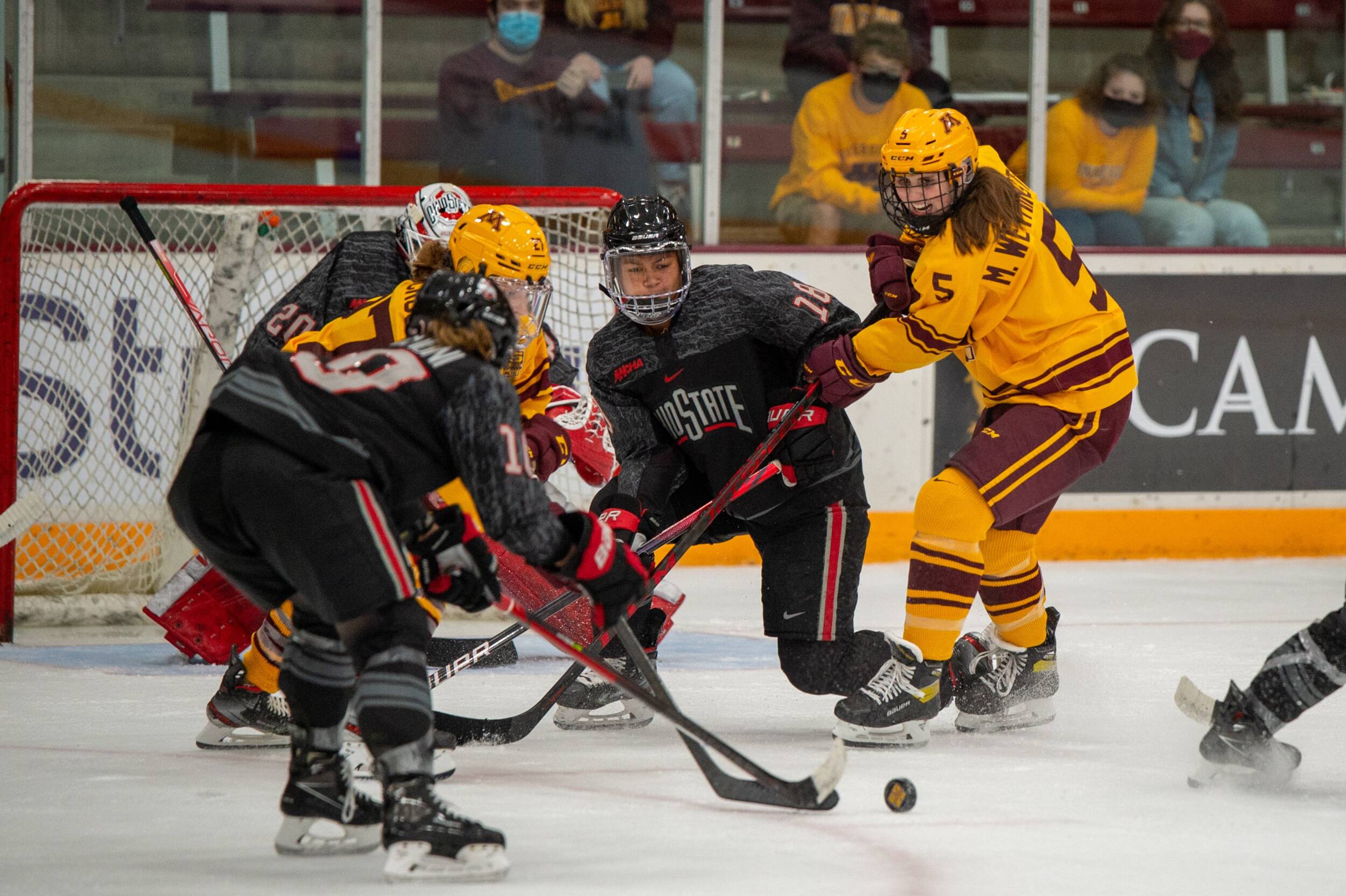 Ohio State women's ice hockey flexed its muscles while visiting WCHA-opponent Minnesota in Minneapolis over the weekend.
The No. 3 Buckeyes defeated the No. 4 Golden Gophers 4-2 on Friday behind solid performances from graduate forward Clair DeGeorge and senior goaltender Andrea Braendli. DeGeorge scored Ohio State's first power-play goal of the season and collected her second goal in a scarlet and gray uniform while Braendli stopped 34 of Minnesota's shots.
Ohio State (4-0) brought out the brooms for the second weekend in a row, sweeping Minnesota with a 4-1 win on Saturday. Senior defenseman Sophie Jaques scored a career-high two goals against the Gophers and became the first Ohio State player to score two power-play goals in a single game since Tatum Skaggs scored two against Robert Morris on Nov. 24, 2017.
Sophomore forward Jenna Buglioni extended her points streak to four games, having scored a goal in every contest this year. She has recorded two points on one goal and one helper in three of the team's four games this season.
Ohio State has a bye week before hosting Bemidji State the weekend of Oct. 15. The games are set to start at 6 p.m. and 3 p.m. on Oct. 15 and Oct. 16, respectively.
Men's Soccer
Ohio State Senior Devyn Etling made his first start of the season count for the Buckeyes by scoring a game-tying goal in the 88th minute against No. 17 Bowling Green at Jesse Owens Memorial Stadium on Wednesday.
Etling's goal sent the game into overtime, where neither team scored in the first session. Senior defender Xavier Green committed a penalty in the box in the second session, setting up a Bowling Green penalty kick. Ohio State goalkeeper Keagan McLaughlin made a game-saving stop on Jacob Erlandson's PK attempt.
Green earned his redemption after he took a 105th-minute cross from Channing Chasten in the box and scored the game-winning goal.
Ohio State (4-5-1) followed up their thrilling victory with a tough one-goal loss to Northwestern on Sunday. The Buckeyes played the Wildcats hard for 89 minutes but allowed Northwestern forward Miha Miskovic to send a free shot on the net and score the game-winning goal with 47 seconds left in the contest.
Women's Tennis
Four Ohio State women's tennis team members traveled to Ann Arbor, Mich., for the Michigan Invitational last week. The individual event included singles and doubles.
Madeline Atway led the Buckeyes with a 3-1 singles record on the weekend. She also paired with Lina Ali for two doubles wins.
On the first day, Lucia Marzal and Shelly Bereznyak posted straight-set wins in singles against South Carolina. Then they teamed up for a doubles victory against Michigan State. Atway and Ali also notched a doubles victory over the Spartans.
Atway led the Buckeyes with two singles wins, and Ali also notched a victory on Saturday. On Sunday, the duo of Atway and Ali posted a win over Notre Dame, while Atway picked up a straight-set singles victory.
Women's Volleyball
Jen Flynn Oldenberg got her team back on track this week against two Big Ten opponents.
After dropping its first two conference games on the season, No. 8 Ohio State (12-2, 2-2) swept Indiana and Maryland at the Covelli Center, repositioning itself in the middle of the Big Ten title race.
In Wednesday night's Big Ten home opener with the Hoosiers, the Buckeyes cruised to a 25-10, 27-25, 25-20 win behind a six-block performance from Arica Davis — the fifth time she has recorded at least five blocks in a game this season.
On Sunday, Ohio State jumped out to an early lead against Maryland and claimed the first-set victory. The Buckeyes went on to do the same in the next two sets, allowing the Terrapins to keep the game close on a few occasions, but never losing control of the game.
Ohio State won all three sets, 25-21, 25-18, 25-19. During the game, Mac Podraza moved up to 13th in program history in career assists with 1,983.
Men's and Women's Cross Country
The Ohio State men's and women's cross country programs raced in Notre Dame, Ind., Friday, taking part in the Joe Piane Invitational hosted by the Fighting Irish.
The men's team finished sixth in the 5-mile Gold race. Zubin Jha was first for the Buckeyes, placing 32nd, with Mikey Zedan (35th) and Nick Regas (38th). Kevin Agnew and Giovanni Copploe rounded out the top five.
Akemi Von Scherr led the women, finishing 15th with a personal best time of 17:44.9 — topping her mark from the season opener by more than 20 seconds. Emma Bucher finished second for Ohio State, with Erica Francesconi, Sophia Spencer and Suzanne Stein rounding out the top five.
Along with Von Scherr, Francesconi and Stein also ran personal bests. The women finished ninth in the Gold 5k race.
Joe Piane Invitational — Notre Dame, Ind.
Women's Gold 5K
15 – Akemi Von Scherr (17:44.9)
40 – Emma Bucher (18:18.5)
41 – Erica Francesconi (18:19.7)
75 – Sophia Spencer (18:47.4)
91 – Suzanne Stein (18:54.4)
104 – Ellie Weber (19:02.5)
141 – Emma Hoellrich (19:49.0)
160 – Juliana Metz (21:02.1)
Women's Open 5K
103 – Dina Gigandet (19:39.0)
109 – Gia Napoleon (19:44.7)
131 – Alexa Jankowsky (20:15.4)
136 – Kathleen Shay (20:25.9)
141 – Annie Allen (20:38.7)
Men's Gold 5 Mile
32 – Zubin Jha (25:21.8)
35 – Mikey Zedan (25:29.8)
38 – Nick Regas (25:32.0)
47 – Kevin Agnew (25:45.7)
48 – Giovanni Copploe (25:46.4)
59 – Kaleb Martin (25:57.4)
67 – Sean Carney (26:13.4)
95 – Ivan Slyepkan (26:43.0)
Men's Open 5 Mile
20 – Jake Wickert (25:39.0)
52 – John Cuozzo (26:26.1)
96 – Zach Plotkin (27:38.1)
Field Hockey
The annual Ohio State-Louisville field hockey game followed the same script as many in the past – tough defense, high intensity and a one-goal win. Unfortunately for Ohio State, the Buckeyes lost a 2-1 double-overtime decision.
Louisville forward Julie Kouijzer scored with less than five minutes remaining in the second overtime after collecting a ball that came off Ohio State goalie Aaliyah Hernandez's pads. She sent her shot into the lower-left corner of the cage.
The game marked the sixth straight time that one goal decided an Ohio State and Louisville game. Four of those contests have gone to overtime.
On Saturday, Ohio State went to the wire with second-ranked Michigan but dropped a 1-0 decision in front of a season-high 516 fans at Buckeye Varsity Field.
The Wolverines improved to 9-0 while Ohio State fell is 6-4. Aaliyah Hernandez registered double-digit saves for the second time this season. Her first — she had 10 saves in a 2-1 win over Wake Forest earlier in the year.
Fencing
The Buckeye fencing programs won each match inside French Field House Sunday, as Ohio State's men's and women's teams each picked up five dual wins.
Ohio State defeated Purdue, Cleveland State, Wayne State, Michigan and Clemson, outscoring its opponents 113-22, with the women holding a 116-19 margin. The Buckeyes only dropped one squad matchup on the day.
Eight Buckeyes collected double-digit wins Sunday. Nathan Wriedt of men's foil had a team-best 14 wins, while Justin Vogler had 13. For women's foil, Alina Lee led with 12 victories and Miranda Freedman followed with 10.
Katherine Larimer led the women's sabre squad with 12 wins, followed by Zoe Shay-Tannas with 11. In the men's sabre, Shanvanth Arnipalli finished first with 11 victories and Jadon Montgomery had 10.
Eight men competed in epee, with Anitya Kumar ranking first with eight wins. For the women, six Buckeyes were in action in epee and Karina Dyner finished with a squad-best eight victories, while Eva Mazur had seven.
Ohio State Duals — Oct. 3, 2021 — French Field House – Columbus, Ohio
Ohio State Men's Results
Ohio State 21, Purdue 6 (S 7-2, F 9-0, E 5-4)
Ohio State 21, Cleveland State 6 (S 7-2, F 7-2, E 7-2)
Ohio State 22, Wayne State 5 (S 9-0, F 5-4, E 8-1)
Ohio State 23, Michigan 4 (S 8-1, F 9-0, E 6-3)
Ohio State 26, Clemson 1 (S 8-1, F 9-0, Epee 9-0)
Ohio State Women's Results
Ohio State 25, Purdue 2 (S 9-0, F 8-1, E 8-1)
Ohio State 22, Cleveland State 5 (S 7-2, F 7-2, E 8-1)
Ohio State 26, Wayne State 1 (S 9-0, F 9-0, E 8-1)
Ohio State 16, Michigan 11 (S 5-4, F 7-2, E 4-5)
Ohio State 27, Clemson 0 (S 9-0, F 9-0, E 9-0)