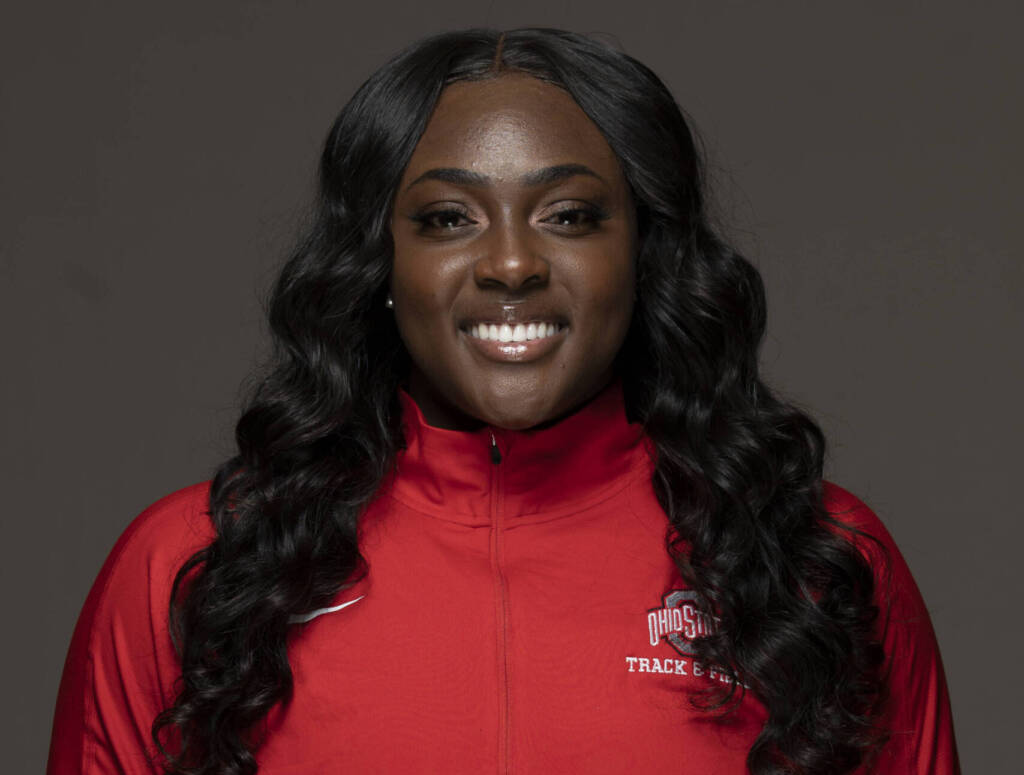 Former Ohio State track and field standout Sade Olatoye was named a 2020 Wayne Duke Award recipient along with Scott Piper of Michigan State. 
Every year, each Big Ten institution nominates one male and one female student, with a scholarship awarded to each winner for achievements in academics, athletics, extracurricular activities and leadership.
In recognition of the Big Ten's leadership in fully integrating athletics into the academic mission of its member institutions, the Indianapolis Big Ten Community Partnership initiated the Wayne Duke Postgraduate Award in 2008. Over the past 13 years, the award has contributed nearly $170,000 in scholarships.
"Wayne Duke made an incredible impact on the Big Ten during his life," said Jerry Semler, chair of Wayne Duke Award Selection Committee. "In the same sense, these student-athletes have made tremendous contributions to their universities and the Big Ten. Their commitment to excellence in the classroom, in their community and in their athletic careers is truly inspiring." 
Olatoye, a four-time Big Ten champion in weight throw and shot put, helped lead Ohio State to two Big Ten titles. Individually, she was the first Buckeye woman field performer to receive two Big Ten Athlete of the Championship awards. 
"She's very, unusually powerful," Olayote's throwing coach Ashley Muffet, who was a four-time All-American, said. "I've trained with Olympians. I've seen the top of the top. And I know that she's different and she's very special."
Olatoye is the NCAA national champion in the weight throw, as well as one of the top-three weight throwers in NCAA history. She has also competed for Team USA at the U-20 World Championships and on the Nigerian Senior National Team. 
Beyond her incredible athletic achievements, Olatoye is a health and rehabilitation major with a minor in Spanish. She holds a 3.63 grade point average and plans to compete in the 2020 Tokyo Olympics for Nigeria. After competing as a professional athlete, she plans to attend graduate or medical school to become an orthopedic physician.
"She's well-rounded, she has a lot going for her and so I think that she's kind of come to the point where she knows that she has to live up to the expectations that she set for herself," Muffet told Buckeye Sports Bulletin. "So I think that's one of the things that makes her pretty special.
In addition to her achievements in the classroom and on the field, Olatoye has shadowed pediatric physicians and volunteered her time assisting in a surgical intensive care unit. Furthermore, she has volunteered at MLK Day- Pay It Forward, Girls on the Run, and at high school track and field meets. She is currently a student-athlete peer educator, SHEROS community outreach chair, and a sexual violence prevention leader at Ohio State.
Olatoye has traveled around the world and enjoyed a wealth of experiences as a track and field standout, but her career started as just another way to compete after school in the spring. 
Sade said she signed up for sports to have after-school activities to do so her parents could pick her up after work. She excelled at volleyball and basketball, but when spring came around it was time to find another sport.
"I just did track because it was a spring sport and I was like, 'Alright I at least have to be competing in some sport every season,'" Olatoye told BSB. 
Olatoye and Piper will be recognized in Indianapolis during the Big Ten Men's Basketball Tournament on Saturday, March 14.
"Indiana Sports Corp is humbled to have the opportunity to present the Wayne Duke Scholarship to these outstanding student-athletes," said Ryan Vaughn, Indiana Sports Corp president. "Both of the honorees have demonstrated impressive academic and athletic performance and serve as role models for the youth in their communities."
The Wayne Duke Postgraduate Award is named for the late Big Ten Conference commissioner who served from 1971 to 1989. While leading the Big Ten, Duke spent much of his time working to improve academic standards and graduation rates for students competing in conference athletics.
The award is made possible by donations from local corporations and individuals supporting intercollegiate athletics. The Indianapolis Big Ten Community Partnership is comprised of the State of Indiana, City of Indianapolis, Indiana Sports Corp, Pacers Sports & Entertainment, and Visit Indy.
2020 Wayne Duke Postgraduate Award Nominees:
University of Illinois: Vik Budic, Men's Tennis; Lauren Smitherman, Women's Soccer
Indiana University: Sean Caulfield, Men's Soccer; Brenna Wise, Women's Basketball
University of Iowa: Aaron Meyer, Wrestling; Elizabeth DeShields, Softball
University of Maryland: Travis Valmon, Men's Basketball/Track and Field; Darby Moore, Women's Soccer
University of Michigan: Thomas Cope, Men's Swimming and Diving; Elliot Brooks, Volleyball
Michigan State University: Scott Piper, Men's Swimming and Diving
University of Minnesota: Jonathan Tharaldsen, Men's Track and Field; Nicole Albrecht, Women's Soccer
University of Nebraska: Luke Siedhoff, Men's Track and Field; Sinclaire Miramontez, Women's Soccer
Northwestern University: Charles Maxwell, Baseball; Saar De Breij, Women's Field Hockey
Ohio State University: Kyle Seelig, Men's Tennis; Sade Olatoye, Women's Track and Field
Penn State University: Mason Nadeau, Baseball; Jade Rowland, Women's Fencing
Purdue University: William Schrensky Jr., Men's Swimming and Diving; Alexa Binckes, Softball
Rutgers University: Kieran Mullins, Men's Lacrosse; Rebecca Chanin, Women's Rowing
University of Wisconsin: Cole Martin, Wrestling; Kendall Smith, Women's Swimming and Diving
Previous Wayne Duke Postgraduate Award Recipients:
2019: Anton Stephenson, Nebraska, Men's Gymnastics; Olivia Rosendahl, Northwestern, Women's Swimming and Diving
2018: Chris Weber, Nebraska, Football; Emily Mills, Rutgers, Women's Golf
2017: Geno Morelli, Penn State, Wrestling; Lindsay Agnew, Ohio State, Women's Soccer
2016: Cody Rush, Nebraska, Men's Track and Field; Lindsay Mable, Minnesota, Women's Gymnastics
2015: Campbell Sode, Rutgers, Men's Lacrosse; Jessica Plant, Minnesota, Women's Swimming and Diving
2014: Spencer Long, Nebraska, Football; Emily Wong, Nebraska, Women's Gymnastics
2013: Sean Fisher, Nebraska, Football; Katelyn White, Nebraska, Women's Cross Country and Track and Field
2012: Miguel Pineda, Penn State, Men's Gymnastics; Margaux Farrell, Indiana, Women's Swimming and Diving
2011: Mike Torchia, Minnesota, Men's Cross Country and Track and Field; Allie Smith, Purdue, Women's Swimming and Diving
2010: Mark Ison, Northwestern, Football; Chelsea Davis, Ohio State, Women's Swimming and Diving
2009: Drew Ratner, Northwestern, Men's Soccer; Lauren Mioton, Purdue, Women's Basketball
2008: Kevin Trulock, Indiana, Football; Molly Crispell, Penn State, Women's Swimming and Diving
For four free issues of the weekly print edition of Buckeye Sports Bulletin, no card required, sign up at the link here: http://www.buckeyesports.com/subscribe-4issue-trial/