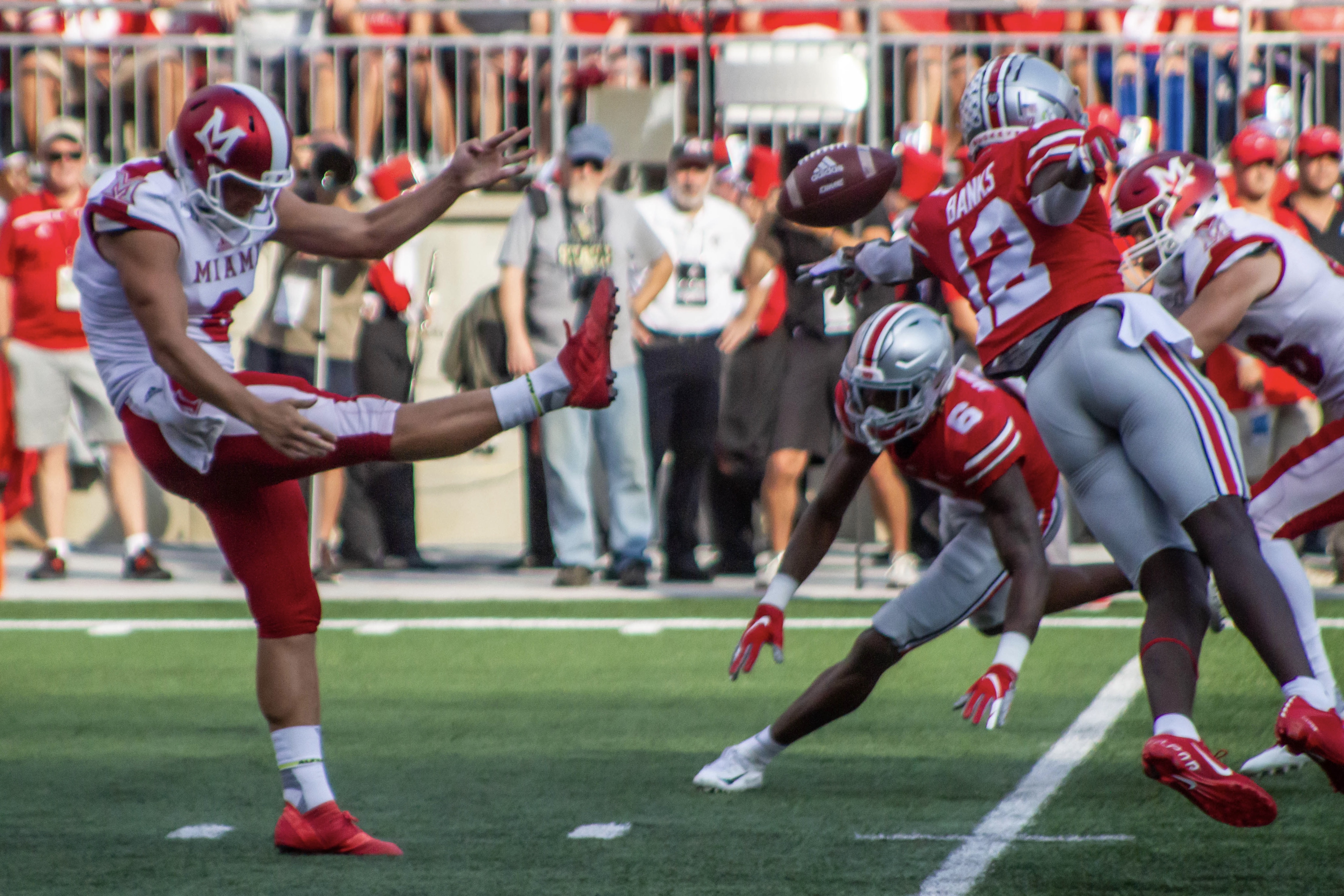 For the first time since week one, Ohio State is on the move in the AP Poll. Following the Buckeyes' 76-5 blowout victory over Miami (Ohio) on Saturday, Ohio State has moved up one spot in the latest poll, from sixth to fifth. The Buckeyes jumped over Oklahoma, who was on a bye.
The top four ahead of Ohio State remains the same, with Clemson number one, Alabama at two, Georgia at three and LSU rounding out the top four. Behind the Sooners at six, Auburn is up one spot to seven, Wisconsin is up five spots to eight after its 35-21 win over Michigan, Florida remains at nine, and Notre Dame drops from seven to 10. Utah was the only team to fall out of the top 10, all the way to 19th after its loss to USC, while Washington State (19), Arizona State(24) and TCU(25) dropped out of the polls.
In the Big Ten, Ohio State remains number one, Wisconsin is up to second, at eighth in the polls, Penn State moves to third and sits at 12th, Iowa is 14th, Michigan dropped to 20th, and Michigan State moved back in, at 25th. Minnesota is the only team receiving votes, with five.
Rank
Team
PV Rank
Conference
Points
1
Clemson (4-0)
1
ACC
1,543
2
Alabama (4-0)
2
SEC
1,485
3
Georgia (4-0)
3
SEC
1,400
4
LSU (4-0)
4
SEC
1,344
5
Ohio State (4-0)
6
Big Ten
1,288
6
Oklahoma (3-0)
5
Big 12
1,283
7
Auburn (4-0)
8
SEC
1,169
8
Wisconsin (3-0)
13
Big Ten
1,071
9
Florida (4-0)
9
SEC
1,022
10
Notre Dame (2-1)
7
IA Independents
989
11
Texas (3-1)
12
Big 12
968
12
Penn State (3-0)
13
Big Ten
848
13
Oregon (3-1)
16
Pac-12
839
14
Iowa (3-0)
18
Big Ten
714
15
California (4-0)
23
Pac-12
547
16
Boise State (4-0)
20
Mountain West
524
17
Washington (3-1)
22
Pac-12
498
18
Virginia (4-0)
21
ACC
430
19
Utah (3-1)
10
Pac-12
426
20
Michigan (2-1)
11
Big Ten
287
21
USC (3-1)
Pac-12
257
22
UCF (3-1)
15
American Athletic
252
23
Texas A&M (2-2)
17
SEC
233
24
Kansas State (3-0)
Big 12
230
25
Michigan State (3-1)
Big Ten
104