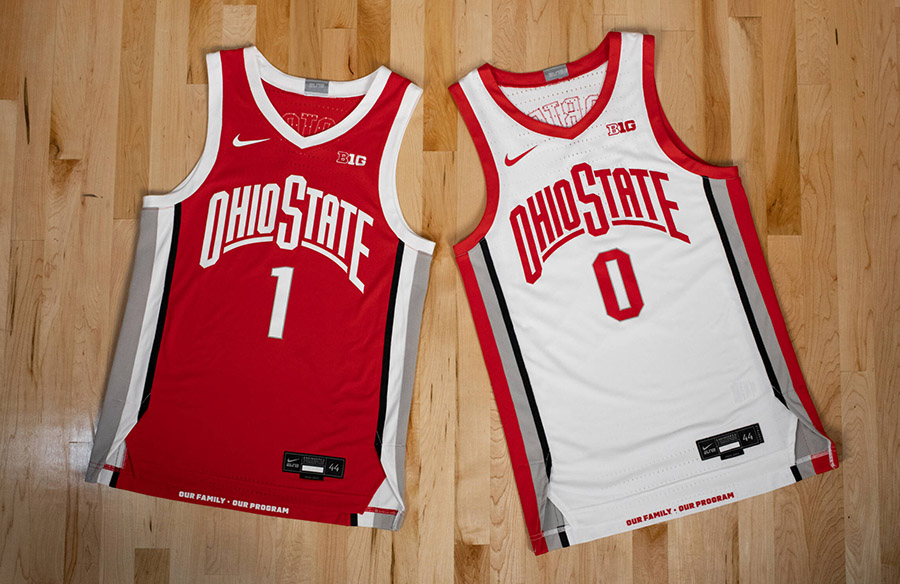 The Ohio State men's and women's basketball programs will wear identical uniforms for the first time in school history after both unveiled a new look on Friday evening.
Both the white home and scarlet road uniforms have the wordmark from Ohio State's athletics logo prominently displayed across the chest and the Buckeyes' iconic stripes down the sides. A Buckeye Leaf sticker sits on the waistband, while the athletics logo is on the right leg.
This marks the first significant uniform change for Ohio State since midway through the 2010-11 season, although the Buckeyes have made some small modifications in recent years due to using different templates. The only thing that remains from that set is the number font and the silver tab on the back collar indicating a Final Four appearance as a Nike school.
The men's basketball team will have six possible uniform combinations this season, including the new home and away set, their 1980s scarlet throwback uniform, their 1990s gray throwback uniform and two unreleased alternates. Sources have indicated one of those alternates will be the home version of the 1980s throwback, while the other will be a gray version of the two uniforms unveiled on Friday.
The women's team will have names on the back of their uniforms for the first time ever, as well. The names are arched, though they were horizontal on the previous men's set.