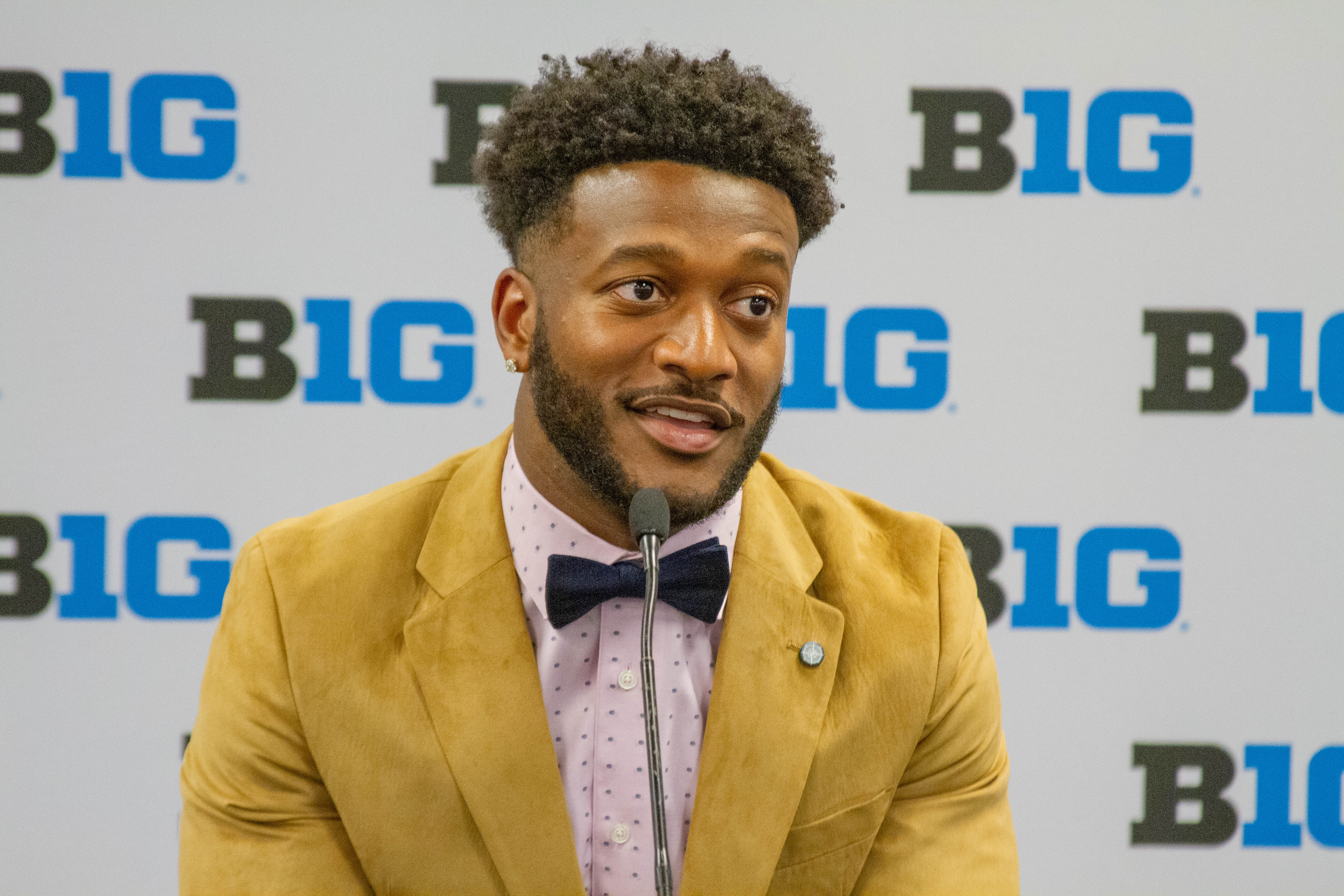 A total of 231 current or former student-athletes earned degrees in 2018-19
Twenty-two current and former Ohio State student-athletes will receive their degrees at Summer Commencement in the Schottenstein Center on Sunday. The ceremony is scheduled to begin at 2 p.m. and will be streamed online here.
The 22 student-athletes graduating this summer join 209 current and former student-athletes who earned their Ohio State degrees at winter and spring commencement during the 2018-19 school year.
At the annual Scholar-Athlete Dinner in April, 674 Buckeyes were recognized. A record 461 Buckeyes earned Academic All-Big Ten accolades, with 131 named Big Ten Distinguished Scholars.
The student-athletes graduating this summer include national and conference champions, All-Americans, academic standouts and professional athletes, who completed their degrees through the degree completion program.
Damon Arnette and K.J. Hill highlight the list of names of current Ohio State football players, and both will earn their degrees in communications.
Arnette, a fifth-year senior from Fort Lauderdale, Fla., started at cornerback for Buckeyes in 2017 and 2018, bringing home honorable mention All-Big Ten honors both seasons. Arnette recorded 105 tackles (77 solo), three tackles for loss, three interceptions, one forced fumble and one fumble recovery across his first three seasons.
A fifth-year senior from Little Rock, Ark., Hill, excelled at the H-back position in 2018, building off his solid sophomore campaign. Overall, Hill has totaled 144 catches for 1,696 yards and 10 touchdowns. With a reception in 34 straight games, he is within reach of Gary Williams' program record of 48 consecutive contests with a catch.
Hill also has an opportunity to break David Boston's 20-year school record for career receptions. The 6-foot, 195-pound North Little Rock product needs 48 more catches to surpass Boston's mark of 191 receptions.
Eric Brunner, a captain for the men's soccer team that reached the NCAA championship game, is also among the summer graduates. Brunner spent seven years playing in Major League Soccer and was the first Ohio State men's soccer player to be chosen for the U.S. national team. Brunner, who finished his degree through the athletics department's degree completion program, was a First Team All-American with the Buckeyes in 2007.
Marrita Porter, a team captain for the Ohio State women's basketball team in 1998-99, also finished her bachelor's degree through the degree completion program. A two-time First Team All-Big Ten selection, Porter ranks in the Top 20 in Ohio State history in scoring, rebounding, free throws made and field goal percentage.
Dakota Joshua helped the men's hockey team win the program's first Big Ten regular-season title in 2019 and reach the Frozen Four in 2018. An NCAA All-Regional Team selection and member of the Buckeyes' Century Club with 100 career points, Joshua signed an NHL entry-level contract with the Stanley Cup Champion St. Louis Blues this summer, before concluding his degree in sport industry.
Stephanie Thielemann is an All-American synchronized swimmer who was a member of three straight national championship squads. Thielmann helped lead the U.S. Collegiate Trio national championship team in 2019, and will graduate with a degree in psychology.
Mossimo Chavez is a 2019 First Team All-American in the 200 free relay. Chavez, who was also a 2017 Big Ten champion in the 200 free relay, also earned Honorable Mention All-American honors in the 400 free relay in 2017 and '18. He will graduate with a degree in sport industry.
2019 Summer Commencement Student-Athlete Graduates
Sport             Name                                         Major
CHEER          Reinhardt, Maggie               Human Nutrition
BASE              Jourdan, Dustin                   Sport Industry
FB                   Alexander, Aramis               Sport Industry
FB                   Arnette, Damon                    Communication
FB                   Barrow, Malik                       Communication
FB                   Fragel, Reid                           Communication
FB                   Hill, Reneard (KJ)               Communication
MHKY           Joshua, Dakota                     Sport Industry
MSOC           Brunner, Eric                         Communication
MSOC           Fitzpatrick, Benjamin          Sport Industry
MSWIM       Chavez, Mossimo                  Sport Industry
MSWIM       Mortimer, Austin                  Economics
MVB              Leeson, Blake                        Kinesiology (master's)
MVB              Samarin, Aaron                     Kinesiology (master's)
WBB              Miller, Adreana                     Kinesiology (master's)
WBB              Porter, Marrita                     Sport Industry
WBB              Queenland, Najah                Pharmacology (master's)
WCC/WTR   Wiles, Claire                          Operations Management
WLAX            Conti, McKayla                     Sport Industry
WLAX            Postalwait, Gwendolyn       Hospitality Management
SYNCH          Thielemann, Stephanie       Psychology
WTEN            Dieters, Kelsey                      Pharmaceutical Sciences