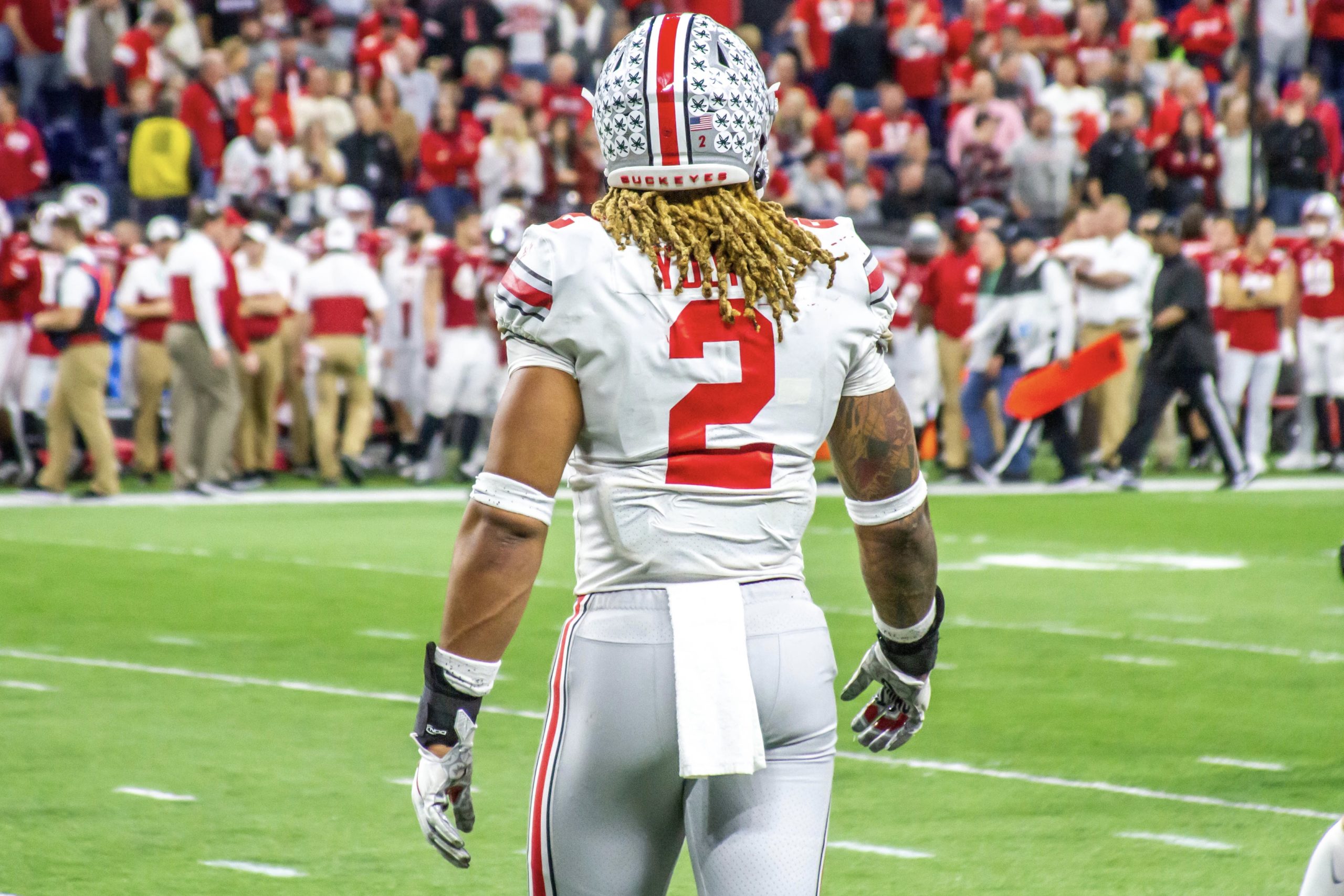 Ohio State's 34-21 victory over Wisconsin in the Big Ten championship game may have been enough to secure a playoff spot for the Buckeyes, but it wasn't enough to launch them to No. 1 in either of the major polls. For the fifth straight week Ohio State sits at No. 2 behind LSU in the AP Poll, with that same streak extending to four weeks in the Coaches Poll.
Behind the Buckeyes in the AP sits Clemson, Oklahoma, Georgia, Florida, Oregon, Baylor, Alabama and Auburn. The coaches see it similarly, placing Clemson, Oklahoma, Georgia, Oregon, Florida, Baylor, Alabama and Utah in to round out the top 10.
Ohio State obviously leads the Big Ten in both, followed by Wisconsin (No. 11 in both), Penn State (No. 13 in AP Poll, No. 12 in Coaches Poll), Minnesota (No. 16 in both), Michigan (No. 17 in both) and Iowa (No. 19 in both).
Even with a second straight loss to No. 15 Memphis, Cincinnati remained in the top 25 at No. 23 and No. 22 respectively, meaning that Ohio State finished the season with five ranked wins.
AP POLL
Rank Team PV Rank Conference Points
1 LSU ( 13-0 ) 1 SEC 1,535
2 Ohio State ( 13-0 ) 2 Big Ten 1,488
3 Clemson ( 13-0 ) 3 ACC 1,441
4 Oklahoma ( 12-1 ) 6 Big 12 1,364
5 Georgia ( 11-2 ) 4 SEC 1,241
6 Florida ( 10-2 ) 7 SEC 1,167
7 Oregon ( 11-2 ) 13 Pac-12 1,141
8 Baylor ( 11-2 ) 8 Big 12 1,039
9 Alabama ( 10-2 ) 9 SEC 1,011
9 Auburn ( 9-3 ) 11 SEC 1,011
11 Wisconsin ( 10-3 ) 10 Big Ten 944
12 Utah ( 11-2 ) 5 Pac-12 909
13 Penn State ( 10-2 ) 12 Big Ten 888
14 Notre Dame ( 10-2 ) 14 IA Independents 709
15 Memphis ( 12-1 ) 16 American Athletic 675
16 Minnesota ( 10-2 ) 15 Big Ten 645
17 Michigan ( 9-3 ) 17 Big Ten 597
18 Boise State ( 12-1 ) 19 Mountain West 500
19 Iowa ( 9-3 ) 18 Big Ten 494
20 Appalachian State ( 12-1 ) 20 Sun Belt 355
21 Navy ( 9-2 ) 23 American Athletic 246
22 USC ( 8-4 ) 24 Pac-12 195
23 Cincinnati ( 10-3 ) 21 American Athletic 183
24 Air Force ( 10-2 ) 25 Mountain West 97
25 Oklahoma State ( 8-4 ) Big 12 70
COACHES POLL
Rank Team Record PTS 1st Prev Chg Hi/Lo
1 Louisiana State 13-0 1605 46 1 — 1/6
2 Ohio State 13-0 1562 14 2 — 2/6
3 Clemson 13-0 1513 5 3 — 1/3
4 Oklahoma 12-1 1430 0 6 2 4/9
5 Georgia 11-2 1294 0 4 -1 3/10
6 Oregon 11-2 1189 0 13 7 6/18
7 Florida 10-2 1172 0 7 — 6/12
8 Baylor 11-2 1161 0 8 — 8/NR
9 Alabama 10-2 1092 0 9 — 1/9
10 Utah 11-2 1005 0 5 -5 5/19
11 Wisconsin 10-3 988 0 10 -1 6/17
12 Penn State 10-2 967 0 11 -1 5/14
13 Auburn 9-3 962 0 12 -1 7/16
14 Notre Dame 10-2 771 0 14 — 7/16
15 Memphis 12-1 667 0 16 1 15/NR
16 Minnesota 10-2 654 0 15 -1 7/NR
17 Michigan 9-3 592 0 18 1 7/20
18 Boise State 12-1 566 0 17 -1 13/NR
19 Iowa 9-3 485 0 19 — 14/22
20 Appalachian State 12-1 375 0 20 — 20/NR
21 Navy 9-2 234 0 23 2 21/NR
22 Cincinnati 10-3 233 0 21 -1 17/NR
23 Southern California 8-4 189 0 24 1 23/NR
24 Air Force 10-2 151 0 25 1 24/NR
25 Virginia 9-4 73 0 22 -3 18/NR