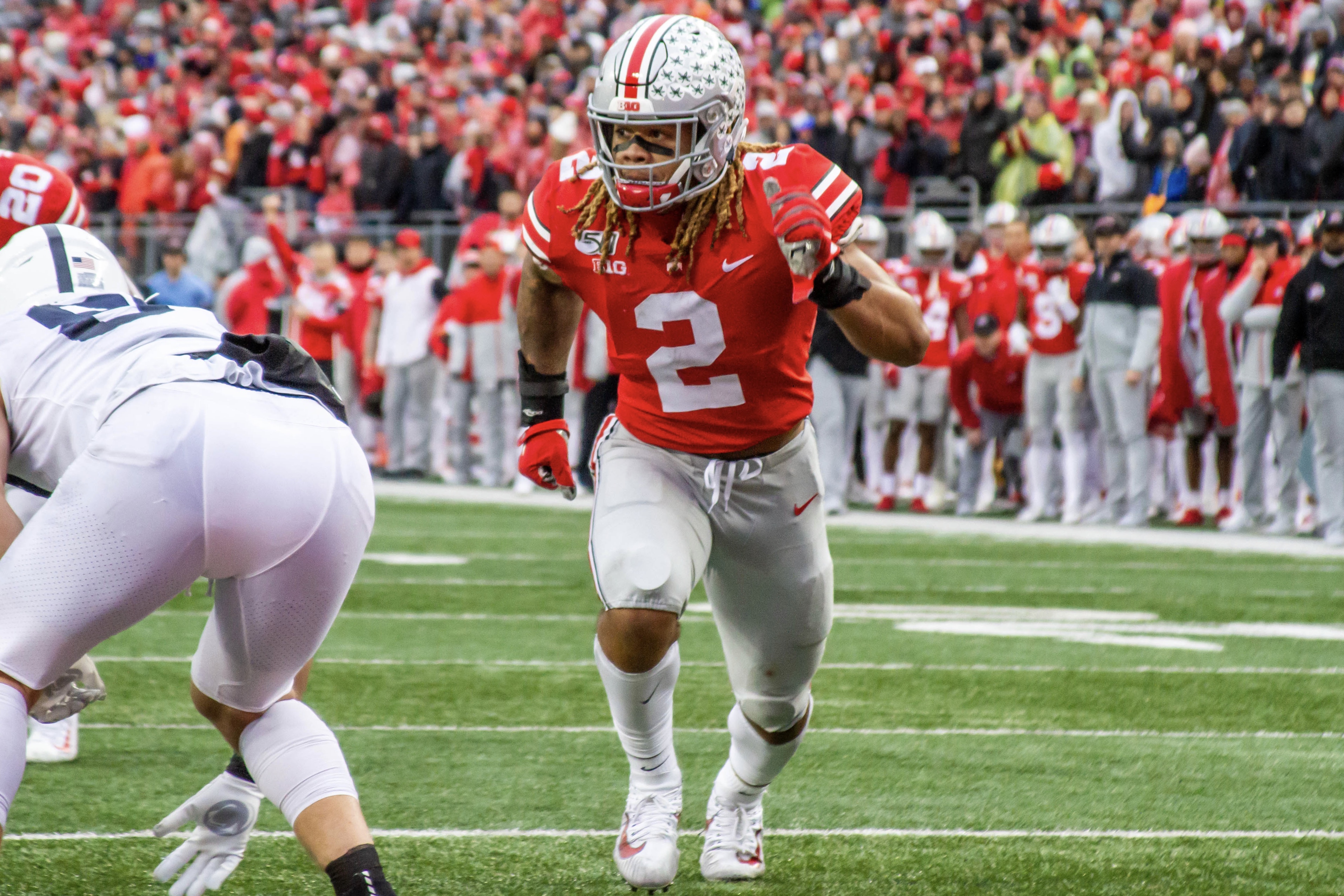 A win over then top-10 ranked Penn State on Saturday, 28-17, wasn't enough to leapfrog Ohio State over LSU and into the top spot in the newest AP Poll, as the Buckeyes still remain 87 points behind the Tigers in the rankings.
Behind the Buckeyes, Clemson remains at No. 3, followed by Georgia and Alabama, rounding out an unchanged top five. There are a few changes behind the Crimson Tide. Utah moved to No. 6 after a blowout win against Arizona, 35-7, Oklahoma moved up a spot to No. 7, while Florida, Minnesota and Michigan all jumped two spot to fill out the top 10. Penn State and Oregon fell out of the top 10 after losses to Ohio State and Arizona State respectively, from No. 9 to No. 12 and No. 6 to 14.
The Big Ten has six representatives, as per usual and three in the top 10 this week. The Buckeyes, Golden Gophers and Wolverines lead the way, followed by Penn State, No. 13 Wisconsin and No. 19 Iowa. There are two top 25 battles in the conference on Nov. 30, with Ohio State and Michigan clashing in Ann Arbor, while Wisconsin travels to Saint Paul to play Minnesota.
| Rank | | Team | PV Rank | Conference | Points | |
| --- | --- | --- | --- | --- | --- | --- |
| 1 | | LSU (11-0) | 1 | SEC | 1,537 | |
| 2 | | Ohio State (11-0) | 2 | Big Ten | 1,486 | |
| 3 | | Clemson (11-0) | 3 | ACC | 1,440 | |
| 4 | | Georgia (10-1) | 4 | SEC | 1,347 | |
| 5 | | Alabama (10-1) | 5 | SEC | 1,283 | |
| 6 | | Utah (10-1) | 7 | Pac-12 | 1,231 | |
| 7 | | Oklahoma (10-1) | 8 | Big 12 | 1,189 | |
| 8 | | Florida (9-2) | 10 | SEC | 1,058 | |
| 9 | | Minnesota (10-1) | 11 | Big Ten | 996 | |
| 10 | | Michigan (9-2) | 12 | Big Ten | 913 | |
| 11 | | Baylor (10-1) | 13 | Big 12 | 910 | |
| 12 | | Penn State (9-2) | 9 | Big Ten | 903 | |
| 13 | | Wisconsin (9-2) | 14 | Big Ten | 791 | |
| 14 | | Oregon (9-2) | 6 | Pac-12 | 784 | |
| 15 | | Notre Dame (9-2) | 15 | IA Independents | 701 | |
| 16 | | Auburn (8-3) | 16 | SEC | 635 | |
| 17 | | Memphis (10-1) | 18 | American Athletic | 535 | |
| 18 | | Cincinnati (10-1) | 17 | American Athletic | 518 | |
| 19 | | Iowa (8-3) | 19 | Big Ten | 510 | |
| 20 | | Boise State (10-1) | 20 | Mountain West | 410 | |
| 21 | | Oklahoma State (8-3) | 22 | Big 12 | 266 | |
| 22 | | Appalachian State (10-1) | 23 | Sun Belt | 206 | |
| 23 | | Virginia Tech (8-3) | 25 | ACC | 147 | |
| 24 | | Navy (8-2) | | American Athletic | 99 | |
| 25 | | USC (8-4) | | Pac-12 | 79 | |