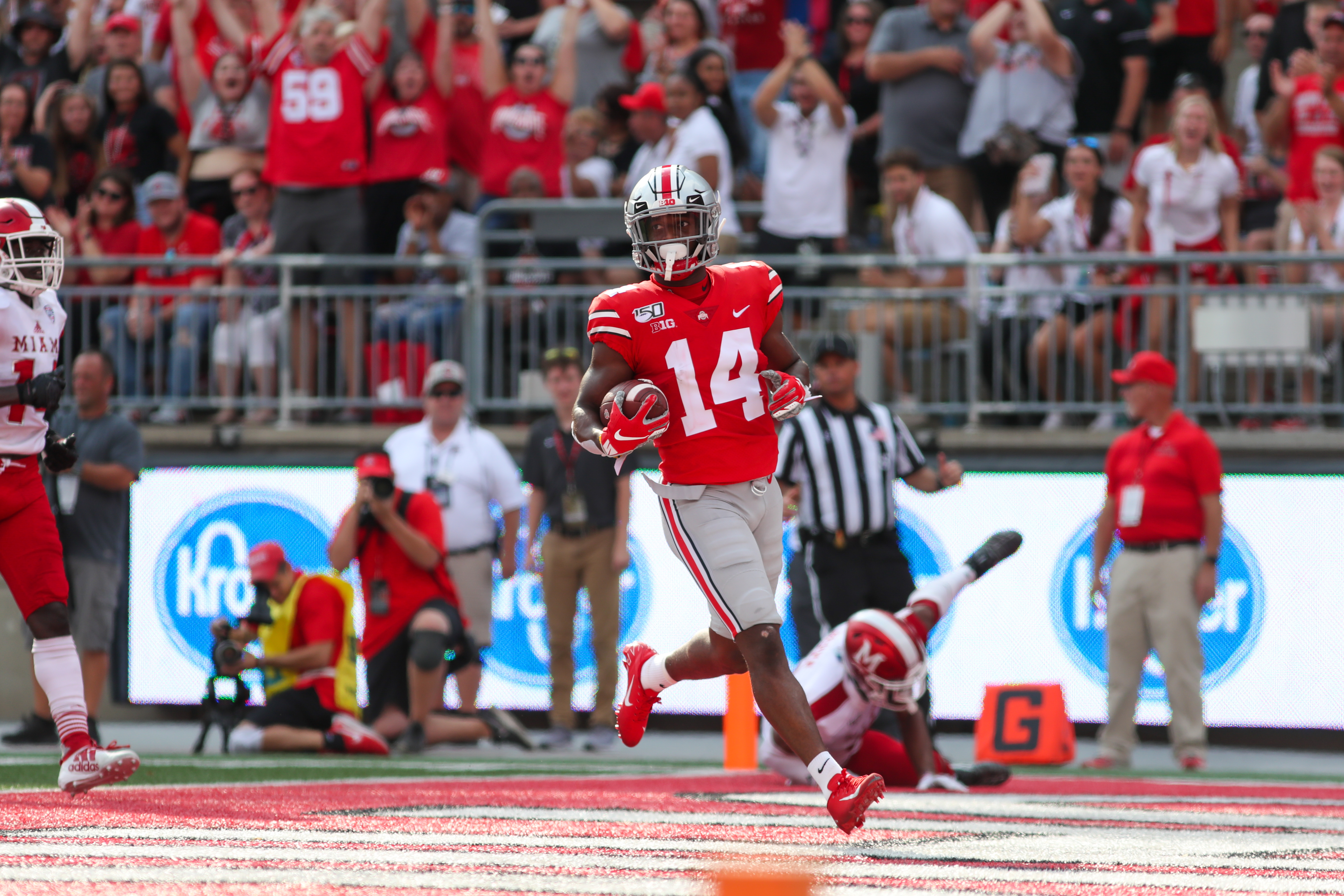 Regardless of a 71-point win, Ohio State could not move up in the Amway Coaches Poll, sticking  at the No. 6 spot behind Clemson, Alabama, Georgia, Oklahoma and LSU, who each also stayed in their respective positions.
The Buckeyes continue to show a large gap between the top six teams and the rest of the field, with Ohio State earning 137 more points than seventh-place Auburn.
Wisconsin climbed up to No. 9 this week after a dominant victory against Michigan, who dropped 10 places to No. 20. Penn State and Iowa also jumped to No. 11 and No. 14, respectively.
Here is the entirety of the Coaches Poll:
| Rank | Team | Record | Points | 1st Place Votes | Previous | Change | Hi/Lo |
| --- | --- | --- | --- | --- | --- | --- | --- |
| 1 | Clemson | 4-0 | 1622 | 62 | 1 | — | 1/1 |
| 2 | Alabama | 4-0 | 1558 | 2 | 2 | — | 2/2 |
| 3 | Georgia | 4-0 | 1475 | 1 | 3 | — | 3/3 |
| 4 | Oklahoma | 3-0 | 1388 | 0 | 4 | — | 4/4 |
| 5 | LSU | 4-0 | 1378 | 0 | 5 | — | 5/6 |
| 6 | Ohio State | 4-0 | 1335 | 0 | 6 | — | 5/6 |
| 7 | Auburn | 4-0 | 1198 | 0 | 9 | 2 | 7/16 |
| 8 | Florida | 4-0 | 1138 | 0 | 8 | — | 8/10 |
| 9 | Wisconsin | 3-0 | 1100 | 0 | 14 | 5 | 9/17 |
| 10 | Notre Dame | 2-1 | 980 | 0 | 7 | -3 | 7/10 |
| 11 | Penn State | 3-0 | 964 | 0 | 12 | 1 | 11/14 |
| 12 | Texas | 3-1 | 959 | 0 | 13 | 1 | 9/13 |
| 13 | Oregon | 3-1 | 816 | 0 | 17 | 4 | 13/18 |
| 14 | Iowa | 3-0 | 778 | 0 | 18 | 4 | 14/19 |
| 15 | Boise State | 4-0 | 558 | 0 | 20 | 5 | 15/NR |
| 16 | California | 4-0 | 505 | 0 | 23 | 7 | 16/NR |
| 17 | Washington | 3-1 | 485 | 0 | 21 | 4 | 12/21 |
| 18 | Virginia | 4-0 | 450 | 0 | 22 | 4 | 18/NR |
| 19 | Utah | 3-1 | 445 | 0 | 11 | -8 | 11/19 |
| 20 | Michigan | 2-1 | 389 | 0 | 10 | -10 | 7/20 |
| 21 | Texas A&M | 2-2 | 270 | 0 | 15 | -6 | 11/21 |
| 22 | Kansas State | 3-0 | 262 | 0 | 25 | 3 | 22/25 |
| 23 | UCF | 3-1 | 233 | 0 | 16 | -7 | 16/23 |
| 24 | Wake Forest | 4-0 | 143 | 0 | NR | 6 | 24/NR |
| 25 | USC | 3-1 | 130 | 0 | NR | — | 24/NR |