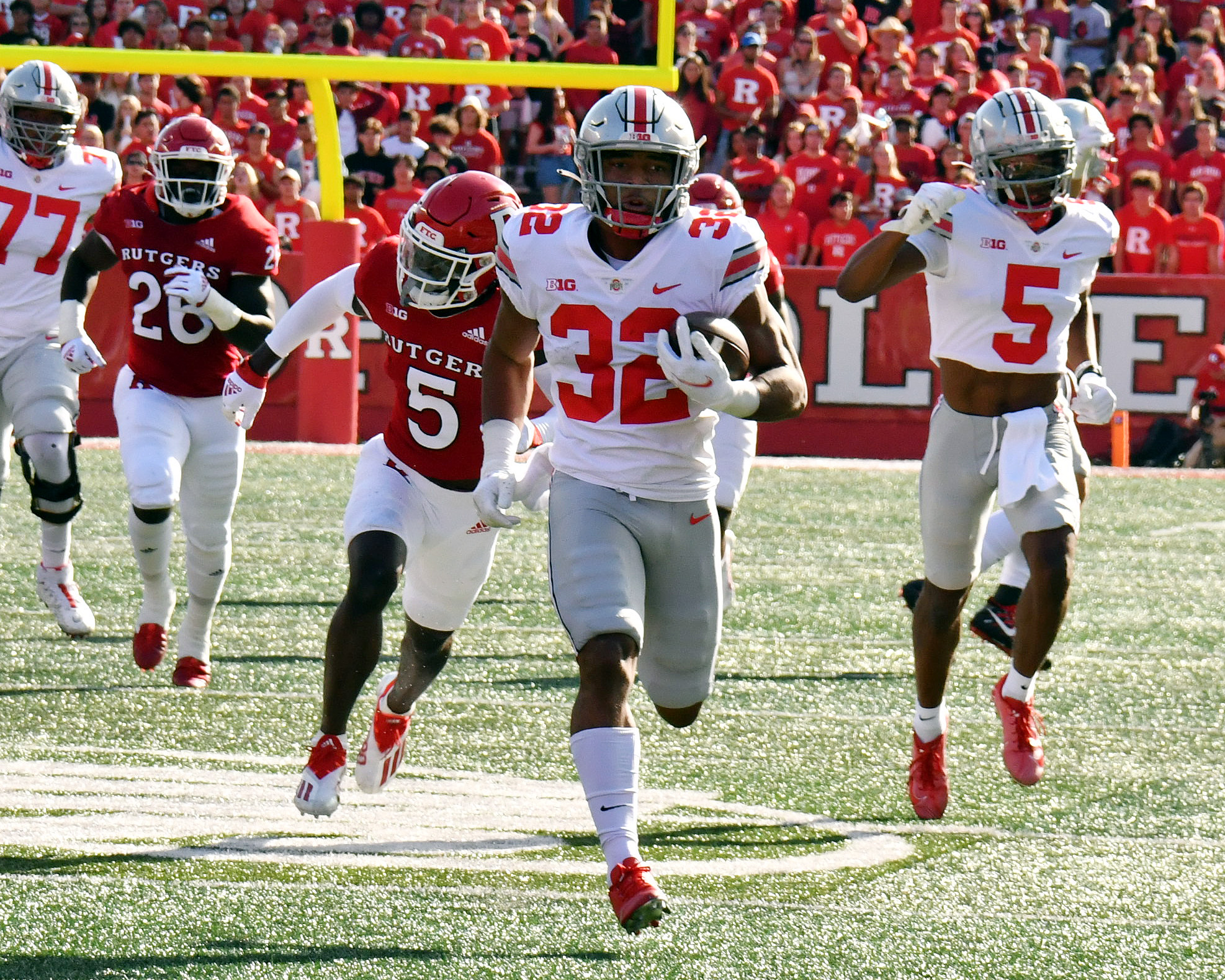 All teams need to do in college football is win games. After a number of highly-ranked programs lost last week, the unpredictable action continued the following weekend.
Ohio State defeated Rutgers 52-13 at SHI Stadium in Piscataway, N.J., improving to 4-1 and ascending four spots to No. 7 in the latest Associated Press Top 25 poll. The Buckeyes collected 530 yards of total offense against the Scarlet Knights, while the defense only allowed only 346 yards.
Redshirt freshman C.J. Stroud returned to action after taking the week off against Akron. He looked poised in the pocket, completing 74 percent of his passed for 330 yards and five touchdowns. Stroud connected with senior wide receiver Chris Olave five times for 119 yards and two scores, and freshman running back TreVeyon Henderson led Ohio State with 71 yards and a touchdown on eight carries.
Ohio State's only loss this season came to Oregon, who fell 31-24 in an overtime loss to Stanford over the weekend. The Ducks dropped from No. 3 to No. 8 in the polls. Outside of Oregon, the top five remained the same, with Alabama holding the top spot, followed by Georgia, Iowa, Penn State and Cincinnati.
Oklahoma, Ohio State, Oregon, Michigan and BYU round out the top 10. On the outside looking in is Michigan State, who sits at No. 11 after a 48-31 win over Western Kentucky, and Oklahoma State, who defeated then-No. 21 Baylor 24-14 at home.
Here are the full rankings:
| | | | | |
| --- | --- | --- | --- | --- |
| 1 | Alabama (53) | 1,541 | 1 | 5-0 |
| 2 | Georgia (9) | 1,497 | 2 | 5-0 |
| 3 | Iowa | 1,381 | 5 | 5-0 |
| 4 | Penn State | 1,360 | 4 | 5-0 |
| 5 | Cincinnati | 1,320 | 7 | 4-0 |
| 6 | Oklahoma | 1,248 | 6 | 5-0 |
| 7 | Ohio State | 1,094 | 11 | 4-1 |
| 8 | Oregon | 1,069 | 3 | 4-1 |
| 9 | Michigan | 1,053 | 14 | 5-0 |
| 10 | BYU | 990 | 13 | 5-0 |
| 11 | Michigan State | 852 | 17 | 5-0 |
| 12 | Oklahoma State | 749 | 19 | 5-0 |
| 13 | Arkansas | 745 | 8 | 4-1 |
| 14 | Notre Dame | 701 | 9 | 4-1 |
| 15 | Coastal Carolina | 694 | 16 | 5-0 |
| 16 | Kentucky | 662 | NR | 5-0 |
| 17 | Ole Miss | 601 | 12 | 3-1 |
| 18 | Auburn | 448 | 22 | 4-1 |
| 19 | Wake Forest | 412 | 24 | 5-0 |
| 20 | Florida | 343 | 10 | 3-2 |
| 21 | Texas | 303 | NR | 4-1 |
| 22 | Arizona State | 297 | NR | 4-1 |
| 23 | North Carolina State | 279 | 23 | 4-1 |
| 24 | SMU | 136 | 21 | 4-1 |
| 25 | San Diego State | 111 | NR | 4-0 |