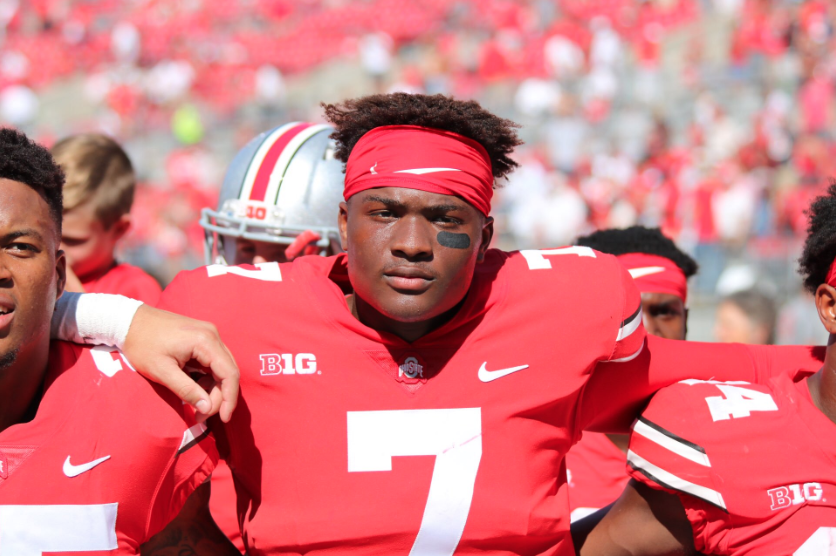 Ohio State enters week four ranked fourth in both national polls, which tops the Big Ten for the second straight Sunday. After the No. 4 Buckeyes (3-0, 1-0 Big Ten) beat TCU by 12 points in a 40-28 final week three at AT&T Stadium in Arlington, Texas, the Horned Frogs (2-1) fell two spots to No. 17 in each poll.
Head coach Urban Meyer makes his return to the Ohio Stadium sideline against Tulane (1-2) Saturday at 3:30 p.m. on Big Ten Network. He comes back from the three-game suspension with an undefeated team after offensive coordinator and quarterbacks coach Ryan Day navigated OSU to its 3-0 start with wins over Oregon State, Rutgers and TCU as the acting head coach.
Ohio State follows No. 3 Clemson, No. 2 Georgia and No. 1 Alabama in the AP Top 25. The Tigers traded places with the Bulldogs, while the Crimson Tide maintained the top spot for the fourth straight week.
A brutal day in the Big Ten resulted in embarrassing losses around the conference, but none bigger than Wisconsin's 24-21 home loss to BYU. The Badgers tumbled 12 spots down to No. 18, while the Cougars snuck into the rankings at No. 25.
No. 10 Penn State, No. 19 Michigan and No. 24 Michigan State round out the Big Ten while Iowa (64) just missed the cut atop the teams receiving votes. The entire AP Top 25 can be seen below.
AP Poll

| RANK | TEAM | RECORD | PTS | 1st VOTES | PREV |
| --- | --- | --- | --- | --- | --- |
| 1 | ALABAMA | 3-0 | 1,521 | 58 | 1 |
| 2 | GEORGIA | 3-0 | 1,416 | – | 3 |
| 3 | CLEMSON | 3-0 | 1,405 | 3 | 2 |
| 4 | OHIO STATE | 3-0 | 1,357 | – | 4 |
| 5 | OKLAHOMA | 3-0 | 1,283 | – | 5 |
| 6 | LSU | 3-0 | 1,241 | – | 12 |
| 7 | STANFORD | 3-0 | 1,055 | – | 9 |
| 8 | NOTRE DAME | 3-0 | 1,034 | – | 8 |
| 9 | AUBURN | 2-1 | 958 | – | 7 |
| 10 | WASHINGTON | 2-1 | 947 | – | 10 |
| 10 | PENN STATE | 3-0 | 947 | – | 11 |
| 12 | WEST VIRGINIA | 2-0 | 841 | – | 14 |
| 13 | VIRGINIA TECH | 2-0 | 816 | – | 13 |
| 14 | MISSISSIPPI STATE | 3-0 | 790 | – | 16 |
| 15 | OKLAHOMA STATE | 3-0 | 587 | – | 24 |
| 16 | UCF | 2-0 | 556 | – | 18 |
| 17 | TCU | 2-1 | 502 | – | 15 |
| 18 | WISCONSIN | 2-1 | 486 | – | 6 |
| 19 | MICHIGAN | 2-1 | 448 | – | 19 |
| 20 | OREGON | 3-0 | 399 | – | 20 |
| 21 | MIAMI (FL) | 2-1 | 362 | – | 21 |
| 22 | TEXAS A&M | 2-1 | 193 | – | – |
| 23 | BOSTON COLLEGE | 3-0 | 130 | – | – |
| 24 | MICHIGAN STATE | 1-1 | 86 | – | 25 |
| 25 | BRIGHAM YOUNG | 2-1 | 75 | – | – |