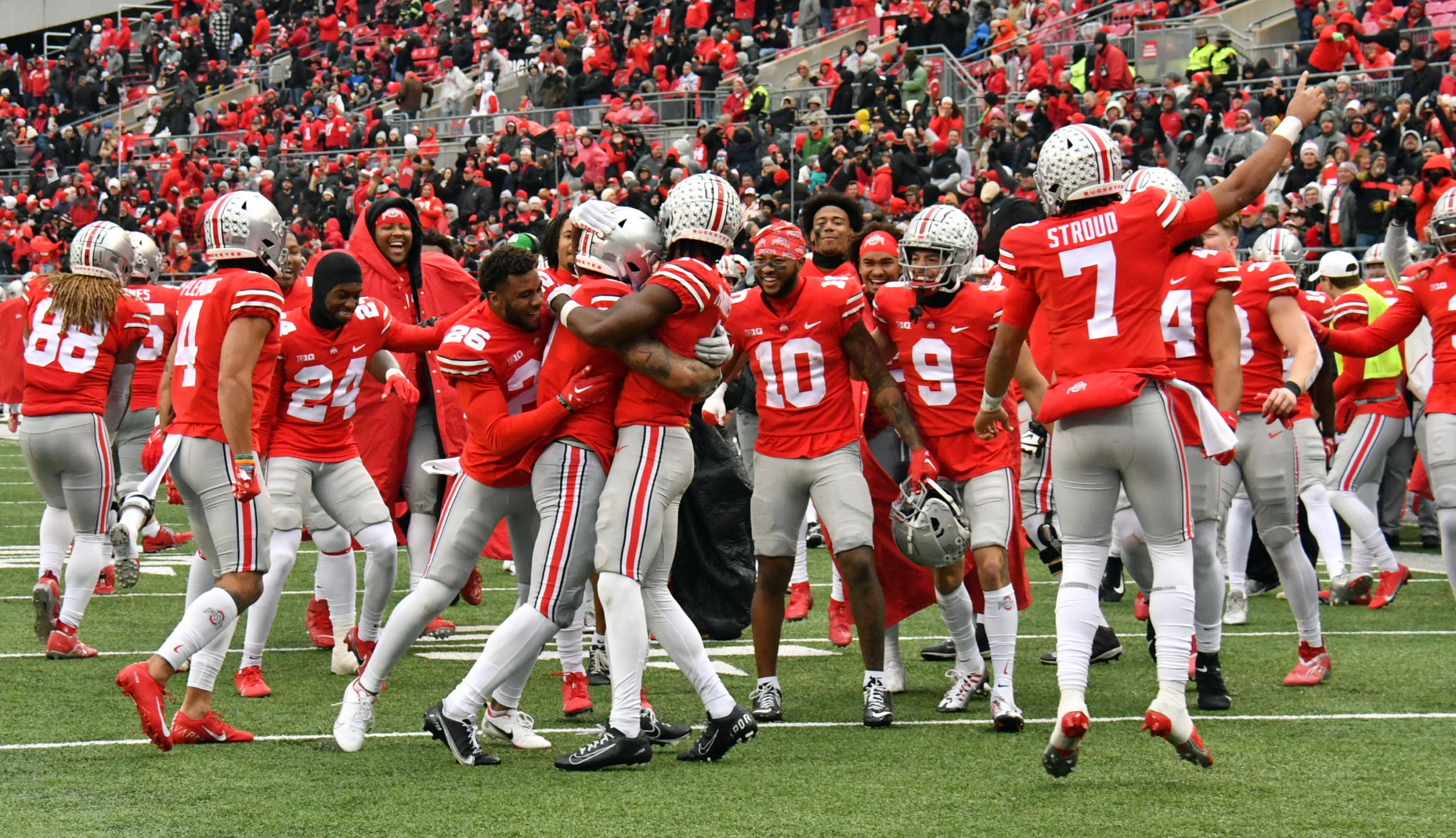 After running away with a 56-14 victory over Indiana on Saturday, Ohio State remained at No. 2 in the most recent AP Poll. The Buckeyes have held the No. 2 spot since Oct. 16.
The top five was unchanged as No. 1 Georgia, No. 2 Ohio State, No. 3 Michigan, No. 4 TCU and No. 5 Tennessee all emerged victorious, however, the Horned Frogs were tested by then-No. 18 Texas — winning 17-10. The top 10 was rounded out by No. 6 LSU, No. 7 USC, No. 8 Alabama, No. 9 Clemson and No. 10 Utah, as Oregon and UCLA each fell out of the top 10 as a result of upset losses to Washington and Arizona, respectively.
The Big Ten was only represented by three teams — Ohio State, Michigan and No. 11 Penn State — however Illinois (7) and Minnesota (6) received votes. All of three of the Big Ten's ranked teams make their home in the conference's East Division.
UCLA endured the largest fall of any team, dropping seven spots from No. 9 to No. 16 after the previously mentioned loss to 3-6 Arizona. Washington saw the biggest rise, jumping from No. 24 to No. 15 after a back-and-forth upset of then-No. 6 Oregon. The several stunning results in the Pac-12 have severely dampened any hopes that the conference would send a representative to the College Football Playoff — as USC remains as the only one-loss team in the conference.
| | | | |
| --- | --- | --- | --- |
| Ranking | Team | Points | Change |
| No. 1 | Georgia (10-0) | 1,574 (62) | N/A |
| No. 2 | Ohio State (10-0) | 1,501 (1) | N/A |
| No. 3 | Michigan (10-0) | 1,453 | N/A |
| No. 4 | TCU (10-0) | 1,374 | N/A |
| No. 5 | Tennessee (9-1) | 1,341 | N/A |
| No. 6 | LSU (8-2) | 1,218 | +1 |
| No. 7 | USC (9-1) | 1,152 | +1 |
| No. 8 | Alabama (8-2) | 1,140 | +2 |
| No. 9 | Clemson (9-1) | 1,055 | +3 |
| No. 10 | Utah (8-2) | 965 | +3 |
| No. 11 | Penn State (8-2) | 882 | +3 |
| No. 12 | Oregon (8-2) | 856 | -6 |
| No. 13 | North Carolina (9-1) | 843 | +2 |
| No. 14 | Mississippi (8-2) | 797 | -3 |
| No. 15 | Washington (8-2) | 693 | +9 |
| No. 16 | UCLA (8-2) | 648 | -7 |
| No. 17 | UCF (8-2) | 537 | +5 |
| No. 18 | Notre Dame (7-3) | 495 | +2 |
| No. 19 | Kansas State (7-3) | 468 | +4 |
| No. 20 | Florida State (7-3) | 386 | +5 |
| No. 21 | Tulane (8-2) | 273 | -5 |
| No. 22 | Cincinnati (8-2) | 237 | N/A |
| No. 23 | Coastal Carolina (9-1) | 143 | N/A |
| No. 24 | Oklahoma State (7-3) | 85 | N/A |
| No. 25 | Oregon State (7-3) | 81 | N/A |