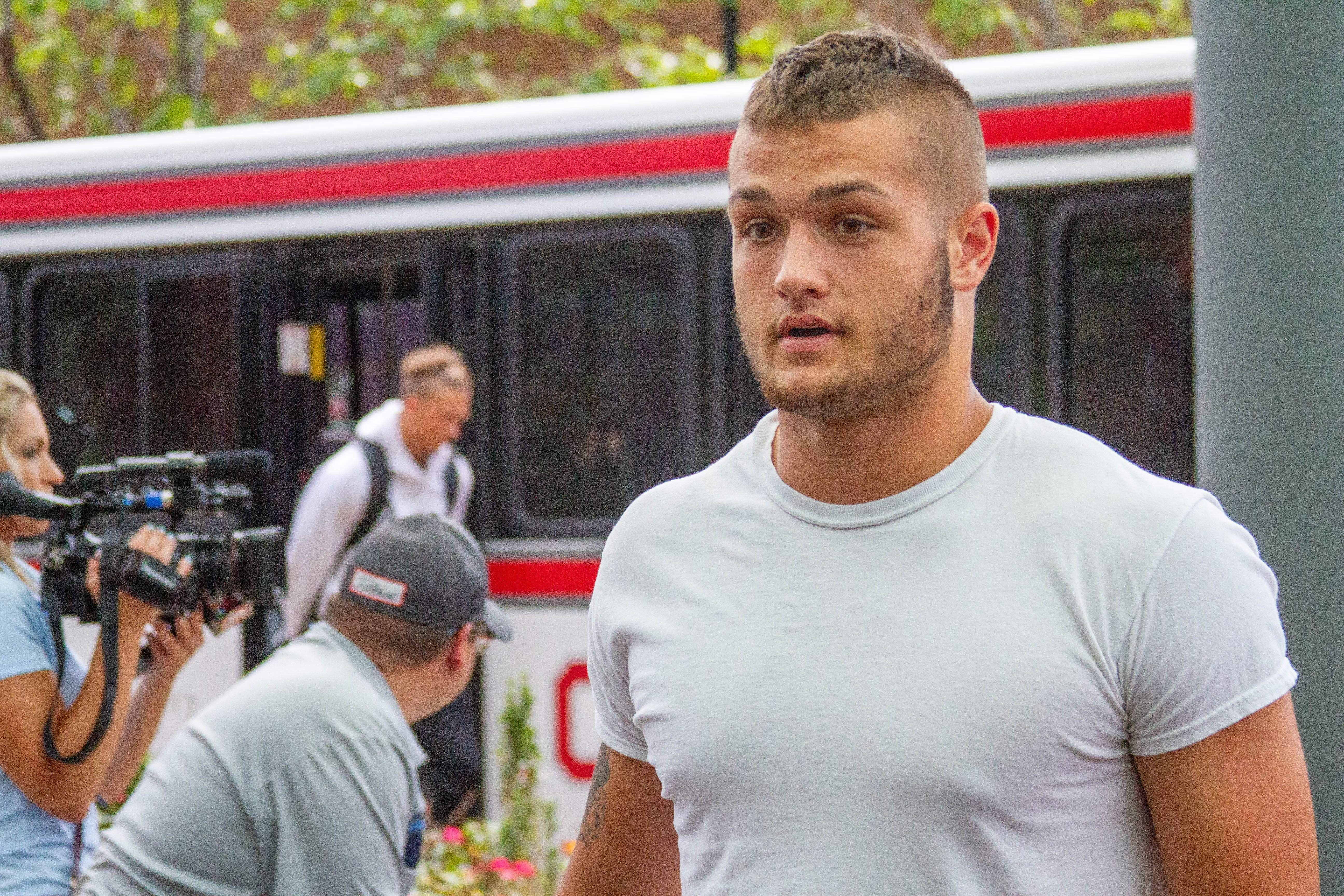 Freshman linebacker Cade Stover on Tuesday afternoon became the seventh member of Ohio State's 2019 recruiting class to shed his black stripe.
🚫▪️ He's been a playmaker during fall camp. @cstov8 got his stripe off today‼️#GoBucks #ToughLove pic.twitter.com/nur4vpfWaD

— Ohio State Football (@OhioStateFB) August 13, 2019
The 6-4, 225-pound Stover is a native of Lexington, Ohio. He was named Ohio's Mr. Football by the Ohio Prep Sportswriters Association and the state's Gatorade Player of the Year after he recorded 163 tackles and four interceptions and led the Minutemen to the playoffs last fall.
Wide receiver Garrett Wilson, defensive end Zach Harrison, center Harry Miller, wide receiver Jameson Williams, offensive lineman Ryan Jacoby and running back Marcus Crowley are the other true freshmen to shed their stripes thus far.
| NAME | POSITION | YEAR | DATE OF BLACK STRIPE REMOVAL |
| --- | --- | --- | --- |
| LOGAN HITTLE | LB | JR* | 3/21 |
| CADE KACHERSKI | LB | FR* | 3/21 |
| BEN SCHMIESING | LB | FR | 3/21 |
| JUSTIN FIELDS | QB | SO | 3/ 25 |
| DARRYL SINCLAIR | CB | SO* | 3/25 |
| MAX WRAY | OL | FR* | 4/1 |
| RYAN BATSCH | SAF | FR* | 4/1 |
| GARRETT WILSON | WR | FR | 4/8 |
| AUSTIN KUTSCHER | WR | FR* | 4/8 |
| ZACH HARRISON | DE | FR | 4/12 |
| JONAH JACKSON | OL | SR* | 8/6 |
| HARRY MILLER | C | FR | 8/8 |
| JAMESON WILLIAMS | WR | FR | 8/8 |
| RYAN JACOBY | OL | FR | 8/12 |
| MARCUS CROWLEY | RB | FR | 8/12 |
| CADE STOVER | LB | FR | 8/13 |
*Redshirt