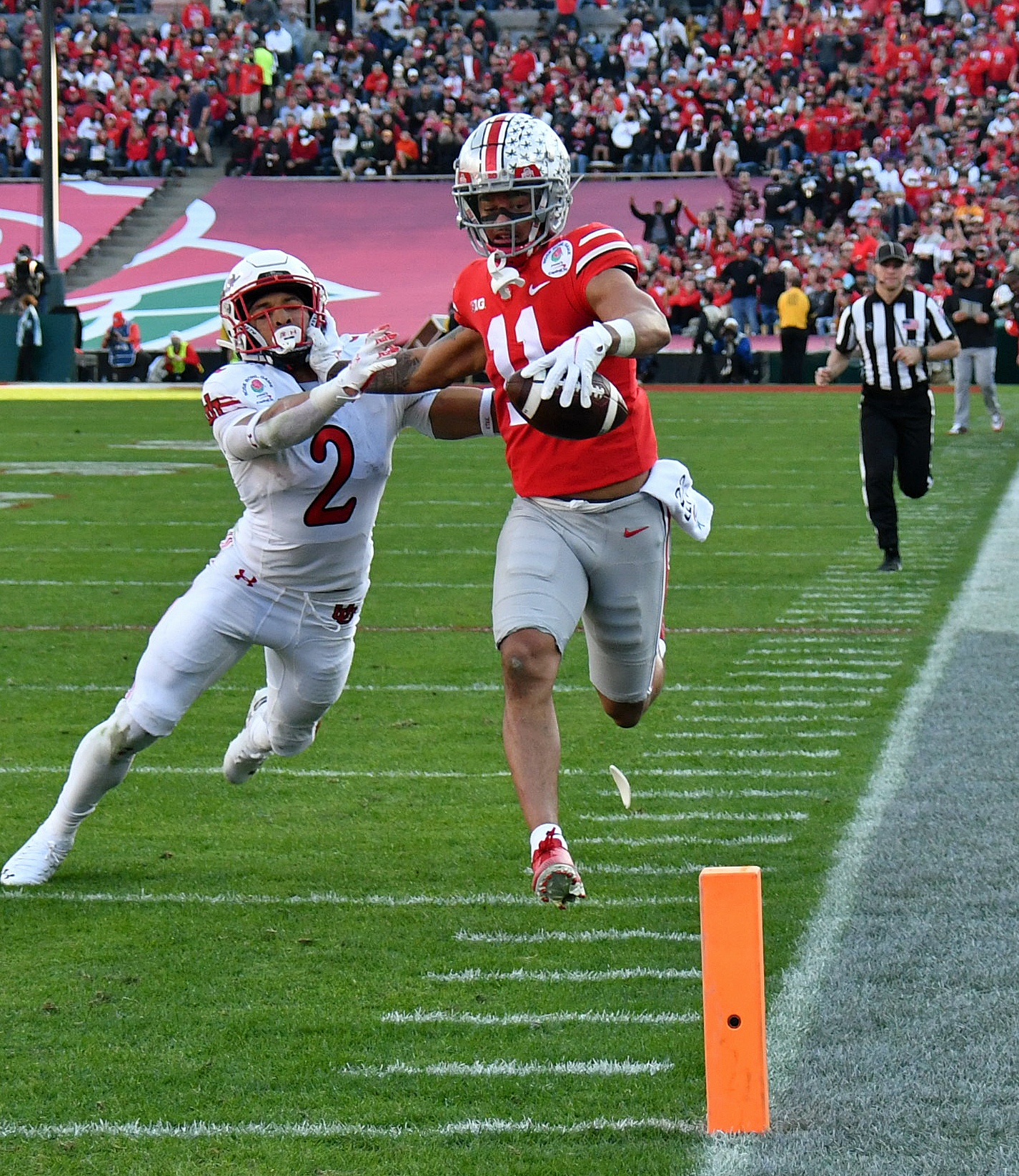 After Ohio State's stunning 14-point comeback against Utah in the Rose Bowl, the Buckeyes check in at No. 6 in the final AP Top 25 poll of the season.
Ohio State moved up one spot from the last poll, jumping Notre Dome, who fell to Oklahoma State in the Fiesta Bowl. The Buckeyes trail Baylor, Cincinnati, Michigan, Alabama and Georgia, who upset the Crimson Tide with a 33-18 victory in Monday evening's national championship game.
Head coach Ryan Day's previous teams finished third in 2019 and second in 2020. This is Ohio State's lowest finish in the final AP Top 25 poll since 2016, in which the Buckeyes finished 11-2 following their 31-0 loss to Clemson in the Fiesta Bowl.
The full poll can be viewed below:
| | | | |
| --- | --- | --- | --- |
| Rank | Team | Previous Rank | Points |
| 1 | Georgia (14-1) | 3 | 1,525 (61) |
| 2 | Alabama (13-2) | 1 | 1,464 |
| 3 | Michigan (12-2) | 2 | 1,361 |
| 4 | Cincinnati (13-1) | 4 | 1,349 |
| 5 | Baylor (12-2) | 6 | 1,259 |
| 6 | Ohio State (11-2) | 7 | 1,247 |
| 7 | Oklahoma State (12-2) | 9 | 1,177 |
| 8 | Notre Dame (11-2) | 5 | 1,039 |
| 9 | Michigan State (11-2) | 11 | 1,026 |
| 10 | Oklahoma (11-2) | 14 | 966 |
| 11 | Ole Miss (10-3) | 8 | 926 |
| 12 | Utah (10-4) | 10 | 851 |
| 13 | Pitt (11-3) | 13 | 741 |
| 14 | Clemson (10-3) | 19 | 538 |
| 15 | Wake Forest (11-3) | 20 | 533 |
| 16 | Louisiana (13-1) | 16 | 517 |
| 17 | Houston (12-2) | 21 | 513 |
| 18 | Kentucky (10-3) | 25 | 446 |
| 19 | BYU (10-3) | 12 | 435 |
| 20 | NC State (9-3) | 18 | 382 |
| 21 | Arkansas (9-4) | 22 | 371 |
| 22 | Oregon (10-4) | 15 | 364 |
| 23 | Iowa (10-4) | 17 | 171 |
| 24 | Utah State (11-3) | – | 163 |
| 25 | San Diego State (12-2) | – | 137 |