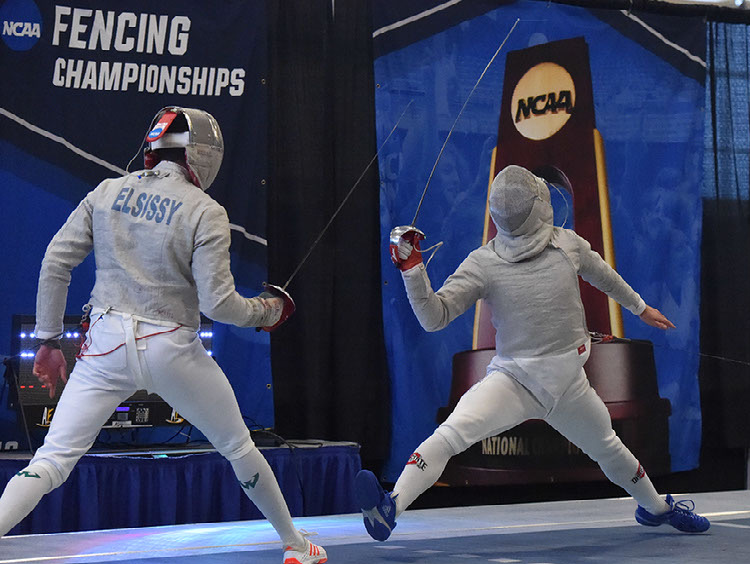 The Ohio State fencing program earned national recognition with 12 student-athletes being named All-Americans by the United States Fencing Coaches Association (USFCA).
Every year, the USFCA awards All-America honors based on student-athletes' achievements in the national championship, but there were no championships in 2020 because of COVID-19. 
Instead, All-America accolades were awarded in regard to the fencers' overall body of work throughout the season and at NCAA Regionals.
The Scarlet and Gray tied for No. 1 in the country with 12 All-America recipients.
Senior Sarah Merza became a four-time All-American and the ninth women's fencer to achieve that feat in Ohio State history. Fellow senior Domenik Koch also earned his fourth All-America selection, becoming the eighth four-time winner in the history of Buckeye men's fencing. 
Senior Gabriella Cecchini concluded a stellar Ohio State career with her third All-America nod, while junior Camilla Rivano  received her third honor in as many years.
Despite losing some talented fencers, the Buckeyes will be in good shape moving forward, with three freshmen and two sophomores representing their five first-team All-Americans.
Freshman fencers Bence Bende, Julieta Toledo and Montserrat Viveros represented Ohio State on the first team along with second-year fencers Henry Lange and Roscoe Swartz. 
Additionally, the USFCA honored fencers with all-region awards for the first time based on how they finished and the size of the field at their respective NCAA Regional tournaments. The Midwest All-Region Team featured 15 Ohio State fencers. 
Each of Ohio State's  12 All-America performers qualified for the 2020 NCAA Championships.
Ohio State Fencing 2020 All-Americans
First Team
Bence Bende (Fr., Epee)
Henry Lange (So., Epee)
Julieta Toledo (Fr., Saber)
Roscoe Swartz (So., Saber)
Montserrat Viveros (Fr., Epee)
 Second Team
Gabriela Cecchini (Sr., Foil)
Domenik Koch (Sr., Saber)
Sarah Merza (Sr., Saber)
Camilla Rivano (Jr., Foil)
Alexanne Verret (Jr., Epee)
Honorable Mention
Diego Cervantes (Fr., Foil)
Nathan Wriedt (So., Foil)
2020 Midwest All-Region Teams
First Team
Henry Lange (So., Epee)
Camilla Rivano (Jr., Foil)
Roscoe Swartz (So., Saber)
Julieta Toledo (Fr., Saber)
Alexanne Verret (Jr., Epee)
 Second Team
Gabriela Cecchini (Sr., Foil)
Diego Cervantes (Fr., Foil)
Matthew Comes (Jr., Epee)
Domenik Koch (Sr., Saber)
Sarah Merza (Sr., Saber)
Montserrat Viveros (Fr., Epee)
Nathan Wriedt (So., Foil)
Honorable Mention
Bence Bende (Fr., Epee)
Kaiden Crotchett (Jr., Epee)
Aleksandra Kolmykova (Sr., Saber)
For four free issues of the now-monthly print edition of Buckeye Sports Bulletin, no card required, sign up at the link here: http://www.buckeyesports.com/subscribe-4issue-trial/