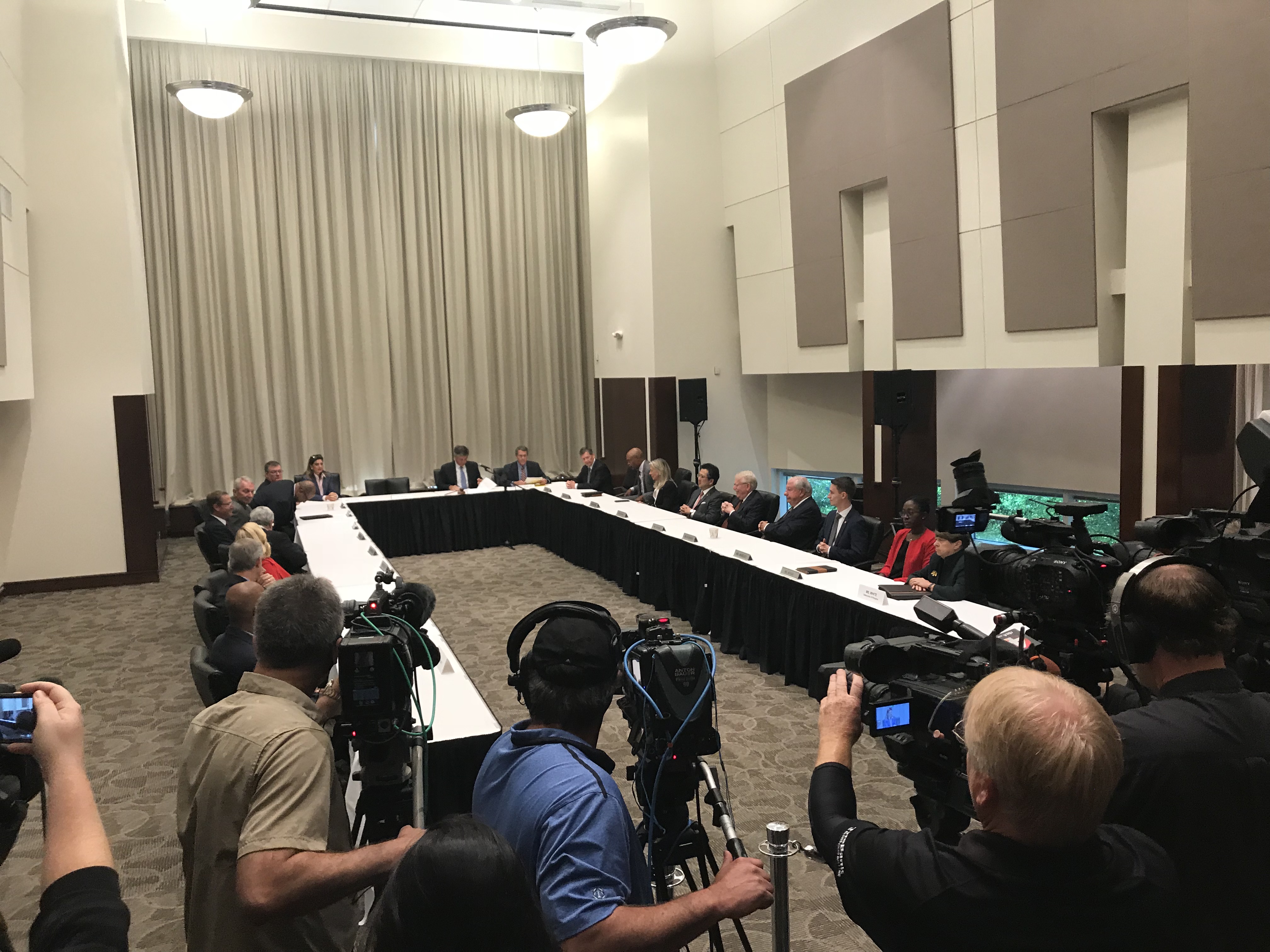 The Ohio State board of trustees moved into an executive session Wednesday morning to discuss the investigation regarding head football coach Urban Meyer. The board convened its meeting at 9 a.m. and spent about 2 minutes in front of a throng of media members gathered at the Longaberger Alumni House in Columbus before moving behind closed doors.
"Before we move to an executive session, I'd like to start this morning by acknowledging the many people who have worked tirelessly in the past few weeks," board chair Michael J. Gasser said. "Countless hours have gone into conducting and supporting this comprehensive review."
Meyer has been on paid administrative leave since Aug. 1, at which point the university launched an external investigation surrounding his handling of domestic abuse allegations against a now-former assistant coach.
The investigation was overseen by a working group, chaired by former Ohio House Speaker Jo Ann Davidson. The working group engaged an investigative team out of New York to handle the investigation, which was led by Chair of the U.S. Securities and Exchange Commission Mary Jo White. Davidson and White were both present, along with Ohio State's board members, at the Wednesday meeting.
Gasser individually thanked the members of the working group as well as the investigators before moving to have the meeting recessed to an executive session.
"We will move into executive sessions momentarily … with that, it's time for us to get started," Gasser said. "I hereby move that the board recess into an executive session to discuss personnel matters regarding the employment, compensation and discipline of public officials."
Meyer was seen entering the building by media members of the meeting was underway.
JUST IN: #OhioState Coach Urban Meyer is in the building where the trustees are deliberating his future. He was seen entering a short time ago https://t.co/kinC9NvFbx pic.twitter.com/4c46tSuOl6

— WTTE FOX 28 (@fox28columbus) August 22, 2018

After the board completes its meeting, the next step will be a decision on Meyer's future. The Columbus Dispatch reported this that a suspension, or a time-served suspension, would be the likely recommendation. There is no timetable for an announcement regarding Meyer's future yet. The decision will be made by university president Michael V. Drake in consultation with the board.
MORE ON THE STORY