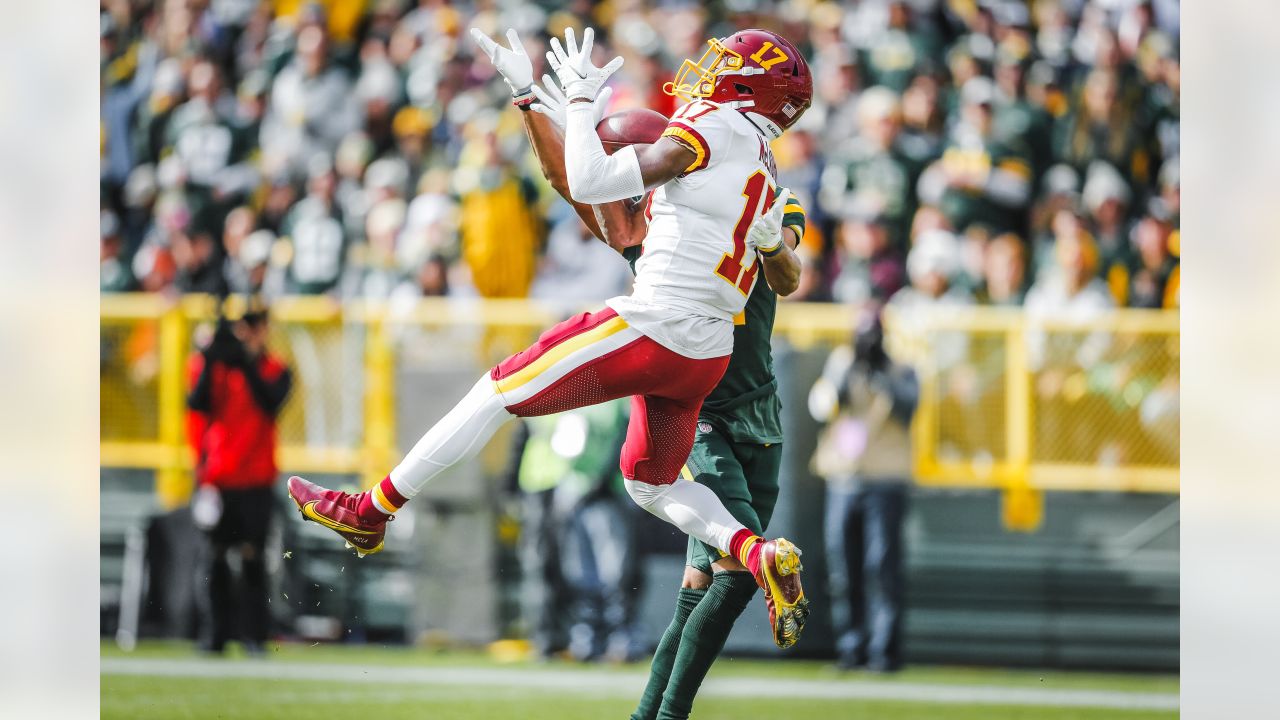 After each week, Buckeye Sports Bulletin will look at how former Ohio State football players performed in their NFL games over the previous weekend. From Justin Fields to Malcolm Jenkins, there are quite a few Buckeyes around the league. We offer updates on all of them.
WASHINGTON FOOTBALL TEAM vs. GREEN BAY PACKERS
After a few lackluster performances for the Football Team — which may or may not be his fault — Terry McLaurin had one of his best games of the season on Sunday. The third-year wideout caught seven passes (12 targets) for 122 yards and a touchdown against the Packers.
The former Buckeye continues to live up to his "Scary Terry" nickname. He strikes fear into opposing defenses because of his quickness and polished route-running ability.
Chase Young and the rest of the Football Team's defensive line performed well on Sunday. Young didn't stuff the state sheet — he only had two tackles and one pass breakup — but he played a significant role in limiting Aaron Jones and the Packers' run game.
Green Bay defeated Washington, 24-10.
DENVER BRONCOS vs. CLEVELAND BROWNS
Johnathan Cooper, a former Block "O" recipient at The Ohio State University, returned to the Buckeye State for a Thursday night matchup with the Browns.
The seventh-round pick (239th overall) in the 2021 NFL Draft recorded five tackles and three quarterback hurries in Cleveland. He made his presence known in the backfield, with Case Keenum using a few well-timed escapes to keep Cooper out of reach.
While Cooper and the Browns lost the game, 17-14, the defensive end is making a strong case for more playing time in Denver.
For the Browns, cornerback Denzel Ward made two tackles.
CINCINNATI BENGALS vs. BALTIMORE RAVENS
Through the first seven weeks of the season, the Cincinnati Bengals are one of the best teams in the AFC.
Yes, you read that right. The Bengals crushed the Ravens, 41-17, on Sunday afternoon, improving to 5-2 and taking possession of first place in the AFC North.
Cincinnati's improvement is due in large part to stellar play on defense. One player who consistently shows up on that side of the ball for the Bengals is Sam Hubbard. The former Buckeye made that clear on Sunday when he recorded five tackles, three quarterback hurries, 2 1/2 tackles for loss and 2 1/2 sacks.
Vonn Bell also played a significant role in the revitalization of the Bengals' defense. The veteran safety had five tackles on Sunday. Cornerback Eli Apple also added a tackle.
AROUND THE LEAGUE
NICK BOSA, DE, 49ers: 4 tackles, 3 QBH
TREY SERMON, RB, 49ers: Played on special teams
JUSTIN FIELDS, QB, Bears: 22/32 passing, 184 yards, 0 TD, 3 INT; 8 rushes, 38 yards
ELI APPLE, CB, Bengals: 1 tackle
VONN BELL, S, Bengals: 5 tackles
SAM HUBBARD, DE, Bengals: 5 tackles, 2.5 sacks (5.5 yards), 2 TFL, 3 QBH, 1 PBU
ISAIAH PRINCE, OT, Bengals: Played on OL
JONATHON COOPER, LB, Broncos: 5 tackles, 3 QBH
DRE'MONT JONES, OT, Broncos: 2 tackles
DENZEL WARD, CB, Browns: 2 tackles
JOEY BOSA, DE, Chargers: Bye
K.J. HILL, WR, Chargers: Bye
COREY LINSLEY, C, Chargers: Bye
TYQUAN LEWIS, DT, Colts: 1 tackle, 1 TFL, 1 QBH
NOAH BROWN, WR, Cowboys: Bye
EZEKIEL ELLIOTT, RB, Cowboys: Bye
MALIK HOOKER, S, Cowboys: Bye
JAKE McQUAIDE, LS, Cowboys: Bye
JEROME BAKER, LB, Dolphins: 1 tackle
NATE EBNER, DB, Giants: 1 tackle
BILLY PRICE, C, Giants: Started at C
LUKE FARRELL, TE, Jaguars: Bye
DaVON HAMILTON, DT, Jaguars: Bye
CARLOS HYDE, RB, Jaguars: Bye
ANDREW NORWELL, OL, Jaguars: Bye
JONAH JACKSON, OG, Lions: Started at LG
JOSH MYERS, C, Packers: Started at C
JOHNATHAN HANKINS, DT, Raiders: 4 tackles
JORDAN FULLER, S, Rams: 9 tackles
MALIK HARRISON, LB, Ravens: 1 tackle
MALCOLM JENKINS, S, Saints:  6 tackles, 1 sack
MARSHON LATTIMORE, CB, Saints: 2 tackles, 1 PBU
BRADLEY ROBY, CB, Saints: 2 tackles, 1 TFL
PETE WERNER, LB, Saints: 6 tackles
JAMARCO JONES, OT, Seahawks: Played at LT
CAMERON HEYWARD, DT, Steelers: 9 tackles, 1 sack (8 yards), 2 TFL, 1 QBH
CAMERON JOHNSTON, P, Texans: 7 punts, 49.1 avg, 2 inside 20
TERRY McLAURIN, WR, Washington: 7 catches, 122 yards, 1 TD
CHASE YOUNG, DE, Washington: 2 tackles, 1 PBU