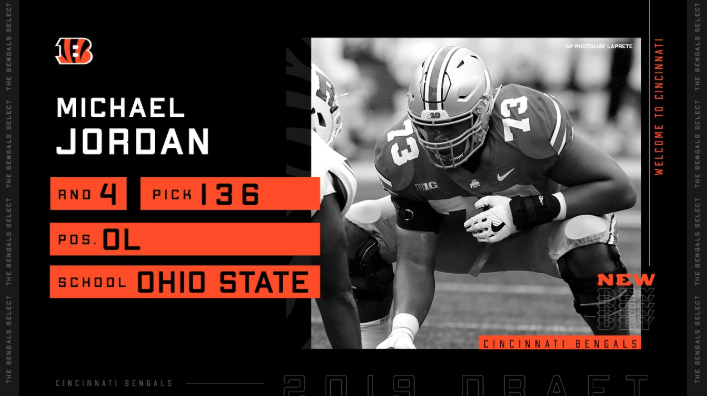 After three years as an anchor on Ohio State's offensive line, Michael Jordan reached his dreams Saturday in Nashville, Tenn., where the the 2019 NFL draft continued and the Cincinnati Bengals selected him with the 136th overall pick in the fourth round.
The 6-5 7/8, 312-pounder originally came to Columbus from Canton (Mich.) Plymouth.
He signed to the Buckeyes' 2016 recruiting class as a four-star offensive tackle, but kicked inside to left guard, starting immediately.
Across the 2016 and '17 seasons, Jordan started 27 straight games at left guard.
He made his move to center for the 2018 campaign after OSU graduated Billy Price, whom the Cincinnati Bengals selected with the 21st overall pick in the first round of the 2018 NFL draft, growing into a leader on the line.
Going to Cincinnati, Jordan reunites with Price. While Price was the starting center in 2017, Jordan started at left guard.
Jordan performed March 1 during the NFL scouting combine at Lucas Oil Stadium in Indianapolis and March 20 during Ohio State pro day at the Woody Hayes Athletic Center in Columbus.
He declared for the NFL draft Jan. 4, with his departure leaving the Buckeyes to replace him at center — OSU's fourth straight year doing so — as sophomore Josh Myers steps in.