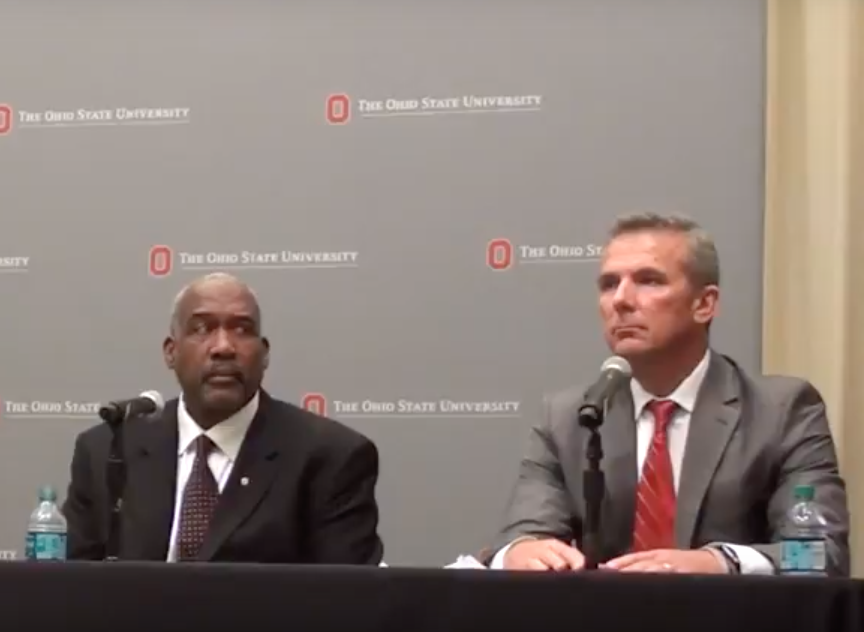 Did the 49-20 loss Saturday at Purdue double as a tipping point for Ohio State?
According to Football Scoop's Monday report of "friction" and "tension" between Urban Meyer and athletic director Gene Smith, as well as the head coach and the coaching staff, the Buckeyes' defeat at the hands of the Boilermakers resurfaced "a tension" that has not been "present in previous years" from the fallout of the university's independent investigation in August to its result with former wide receivers coach Zach Smith's termination.
Asked about those assertions Tuesday on the Big Ten coaches teleconference, Meyer shot them down.
"Yeah, there's no tension between (us)," Meyer said of his relationship with Smith. "I talk and work with Gene darn near on a daily basis and, no, there's no tension there."
Football Scoop's report cited "industry sources" over "the past few weeks" in its assertion of OSU's issues between Meyer and Gene Smith, plus "key lieutenants" for each, resulting in differences across levels of athletics leadership to the football program and the coaching staff with Purdue's beatdown magnifying the discussion.
While he admitted to "urgency" to work with his staff on a daily basis and correct Ohio State's issues going forward, Meyer denied the idea of "tension" brought forth in the report.
"I mean, there's things that need to be fixed," Meyer said. "I wouldn't call it tension. I call it day-to-day going to work and working your weaknesses and get them fixed. So no, there is no tension. There's urgency, I'd call it."