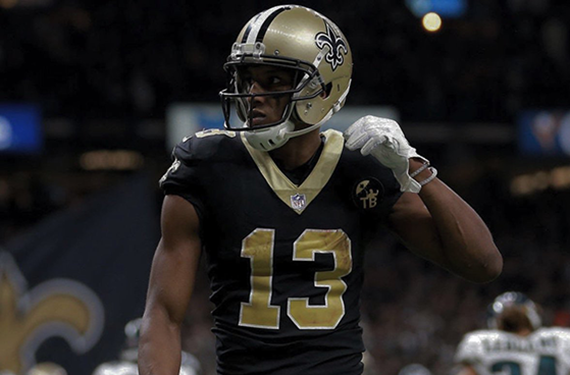 Former Ohio State wide receiver Michael Thomas is now the highest-paid wide receiver in the NFL after agreeing to a five-year, $100 million contract extension with the New Orleans Saints on Wednesday morning.
According to ESPN's Adam Schefter and NFL Network's Ian Rapoport, Thomas' new contract includes $61 million in guaranteed money — the most ever for an offensive player that's not a quarterback. He is now the 22nd-highest-paid player in the league.
The agreement ends Thomas' six-day training camp holdout.
A second-round pick out of Ohio State in 2016, Thomas has caught 321 passes — the most ever by a player in his first three seasons in the league — for 3,787 yards and 23 touchdowns. His 125 catches led the NFL last season, and he was recently named by his peers on NFL Network as the 13th-best player in the league.
Thomas' deal will likely lead to new extensions for Atlanta Falcons wide receiver Julio Jones and Dallas Cowboys wide receiver Amari Cooper, though the latter might be complicated by former Buckeye running back Ezekiel Elliott's holdout and quarterback Dad Prescott's looming free agency. And while Jones' new deal will surely swipe the "highest-paid receiver" tag before the start of the season, it doesn't lessen Thomas' monumental achievement.