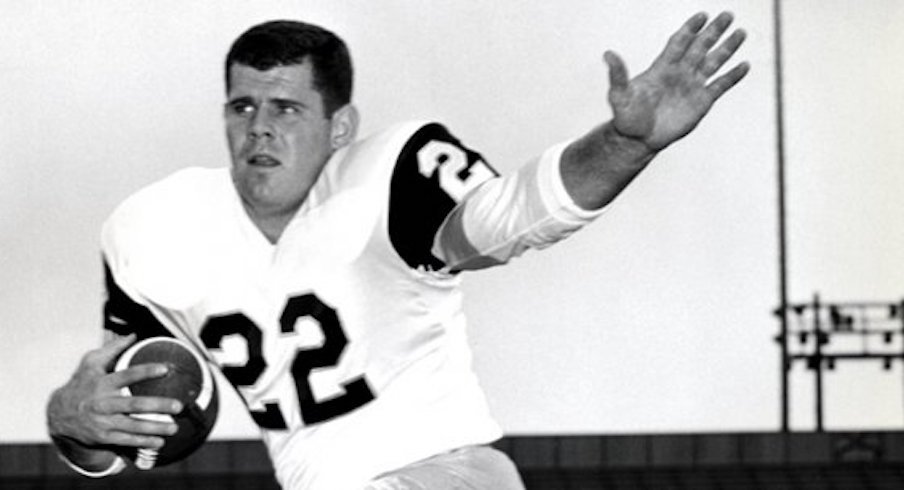 Former Ohio State kicker and defensive back Don Sutherin, who made a game-winning 34-yard field goal for the Buckeyes in the 1958 Rose Bowl win over Oregon, passed away at Mercy Hospital in Canton, Ohio on Tuesday. He was 85-years old.
It's not stretching the truth to say that Sutherin did it all for Ohio State from 1955-57. He was a standout cornerback while also taking over halfback, punter and placekicker. For good measure, he also returned punts. Sutherin played in all 60 minutes of the Buckeyes' 17-0 win over Michigan in 1955.
Sutherin's most memorable moment as a Buckeye was his game-winning kick in Ohio State's 10-7 win over the Ducks in Pasadena, Calif., which led to a split national championship for the Scarlet and Gray. The Buckeyes finished that season with a 9-1 record and ended the year ranked No. 1 in the UPI coaches poll. Auburn was ranked No. 1 in the AP poll, leading to the split title in 1958.
The amount of success Sutherin would experience as a player and coach in the Canadian Football League sounds exaggerated. However, there's a reason he ended up in the CFL Hall of Fame.
The New York Giants selected him in the eighth round of the 1958 NFL Draft, but he abruptly left America to play football in Canada. Sutherin won four Grey Cups with the Hamilton Tiger-Cats and Ottawa Rough Rider. He was a three-time CFL All-Star and six-time CFL East All-Star. Sutherin played 12 seasons in the Canadian league and became a coach for more than two decades, winning three more Grey Cups as an assistant. He was inducted into the Canadian Football Hall of Fame in 1992.