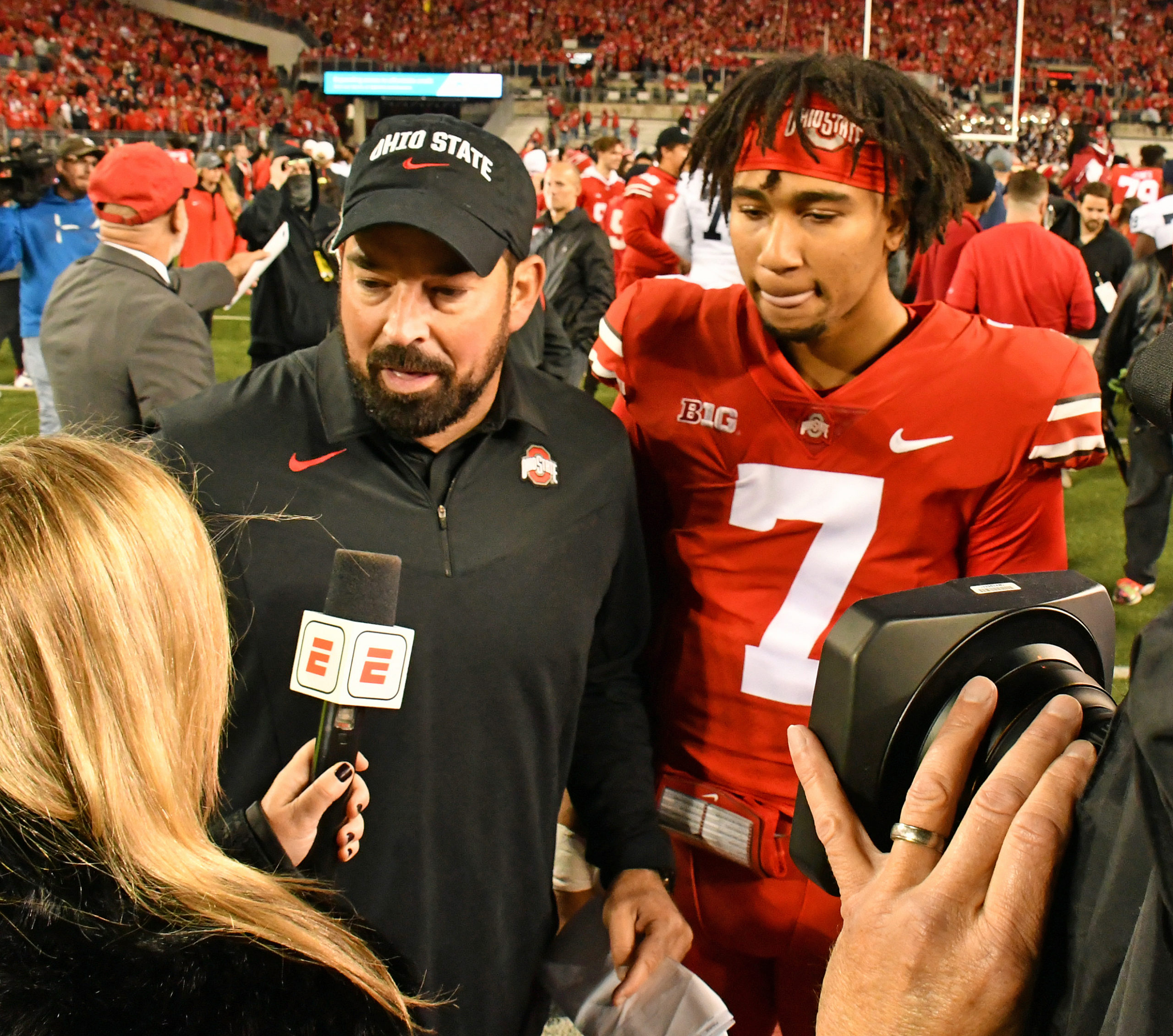 Ohio State has been known to turn out talent at almost every position on the field, but the one deficiency – at least until recent years – had been at quarterback, where the Buckeyes struggled to successfully recruit those four- and five-star prospects and send them on to the NFL.
Now? It appears Ohio State could be turning into a factory for signal-callers, because once Dylan Raiola – who committed to Ohio State on Monday – steps on campus as a member of the 2024 recruiting class, he will be the sixth five-star quarterback brought to the Buckeyes by head coach Ryan Day since he took the helm in 2019.
This includes four in the last three recruiting cycles with Devin Brown, Quinn Ewers, Kyle McCord and C.J. Stroud, as well as transfer quarterback Justin Fields, who Day brought in prior to his first season as coach of the Buckeyes. This does not even include Dwayne Haskins, who Day did not recruit but did help coach up for one of the best seasons of quarterback play in Ohio State history in 2018.
Though Ewers obviously didn't work out – it is not clear, however, if Ohio State could have done anything to hold on to him – Fields is set to start this season for the Chicago Bears and Stroud, as a redshirt freshman last season, turned in one of the finest quarterbacking performances in team history en route to being named a finalist for the Heisman trophy.
Once Stroud moves on following this season – with serious candidacy for the No. 1 overall pick in 2023 NFL Draft and perhaps with a Heisman under his belt – it will be anyone's game between Brown and McCord to start in 2023, but regardless of who wins the job, Ohio State should be in good hands.
"I think he's had a good spring," Day said of McCord. "You guys were out there, you saw some of the balls that he threw and having a whole year under his belt now he's that much better. And he's competitive."
With the commitment of Raiola, this not only makes clear the line of succession for the starting quarterback job for the Buckeyes, but it goes further to establish Ohio State as a premier school for quarterbacks under Day's tutelage.
Dating back to the work Day did with J.T. Barrett and Haskins in his first seasons with Ohio State, quarterbacks for the Buckeyes are breaking records seemingly every season as more and more highly touted prospects commit to and play for Day. It certainly does not hurt, either, the work that wide receivers coach Brian Hartline is doing to bring in talented prospects at skill positions for these quarterbacks to throw to.
"It's an exciting time to be a quarterback at Ohio State," Day said on Friday.
As more high-profile prospects like Raiola commit to Ohio State, more eyes will be drawn to the program as a developmental leader for quarterbacks in the college football landscape. Schools like Alabama, Clemson and Oklahoma certainly have a claim to 'quarterback university,' or QBU, with several alumni signal-callers starting in the NFL, but Ohio State could look to eventually take the lead with the current run on quarterbacks spearheaded by Day.