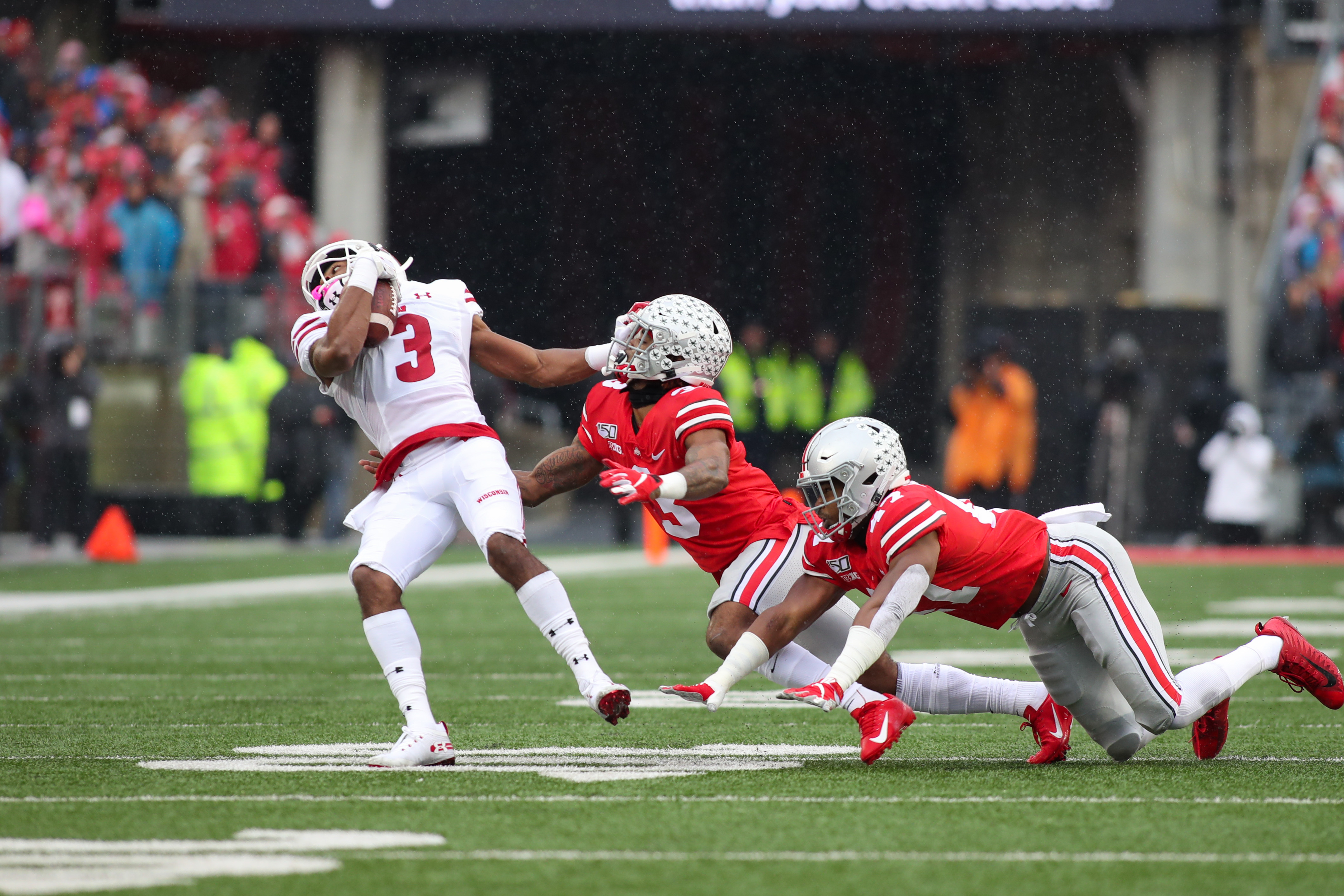 Ohio State is in a holding pattern in the newest AP Poll, despite a 38-7 blowout win over Wisconsin on Oct. 26. The Buckeyes remain at third in the poll, although they did see a significant rise in points, from 1,429 to 1,468, closing the gap between third and first from 57 last week to just eight this week.
Speaking of first place, there's a new No. 1, with LSU jumping Alabama after a 23-20 win over No. 11 Auburn. The Tigers have three ranked (at the time) wins over Texas, Florida and Auburn, making it pretty difficult to argue their resume. If these rankings hold, which they likely will, given that the top three is all on open weeks this upcoming weekend, LSU and Alabama will be a No. 1 versus No. 2 matchup on Nov. 9 in Tuscaloosa.
Behind the top three, Clemson remains at No. 4, followed by Penn State and Florida, both up one spot, Oregon, Georgia, Utah and Oklahoma. The Sooners are the biggest dropper in the top 10 after a 48-41 loss to Kansas State. Notre Dame fell out of the top 10 and down to No. 16 after a 45-14 loss to Michigan.
The Big Ten has six representatives this week, led by the Buckeyes and Nittany Lions and followed by No. 13 Minnesota, No. 14 Michigan, No. 18 Wisconsin and No. 19 Iowa. Indiana received four votes.
| Rank | | Team | PV Rank | Conference | Points | |
| --- | --- | --- | --- | --- | --- | --- |
| 1 | | LSU (8-0) | 2 | SEC | 1,476 | |
| 2 | | Alabama (8-0) | 1 | SEC | 1,474 | |
| 3 | | Ohio State (8-0) | 3 | Big Ten | 1,468 | |
| 4 | | Clemson (8-0) | 4 | ACC | 1,406 | |
| 5 | | Penn State (8-0) | 6 | Big Ten | 1,302 | |
| 6 | | Florida (7-1) | 7 | SEC | 1,226 | |
| 7 | | Oregon (7-1) | 11 | Pac-12 | 1,108 | |
| 8 | | Georgia (6-1) | 10 | SEC | 1,093 | |
| 9 | | Utah (7-1) | 12 | Pac-12 | 1,032 | |
| 10 | | Oklahoma (7-1) | 5 | Big 12 | 1,017 | |
| 11 | | Auburn (6-2) | 9 | SEC | 910 | |
| 12 | | Baylor (7-0) | 14 | Big 12 | 882 | |
| 13 | | Minnesota (8-0) | 17 | Big Ten | 778 | |
| 14 | | Michigan (6-2) | 19 | Big Ten | 744 | |
| 15 | | SMU (8-0) | 16 | American Athletic | 666 | |
| 16 | | Notre Dame (5-2) | 8 | IA Independents | 563 | |
| 17 | | Cincinnati (6-1) | 18 | American Athletic | 524 | |
| 18 | | Wisconsin (6-2) | 13 | Big Ten | 513 | |
| 19 | | Iowa (6-2) | 20 | Big Ten | 456 | |
| 20 | | Appalachian State (7-0) | 21 | Sun Belt | 393 | |
| 21 | | Boise State (6-1) | 22 | Mountain West | 280 | |
| 22 | | Kansas State (5-2) | | Big 12 | 218 | |
| 23 | | Wake Forest (6-1) | 25 | ACC | 200 | |
| 24 | | Memphis (7-1) | | American Athletic | 188 | |
| 25 | | San Diego State (7-1) | | Mountain West | 50 | |