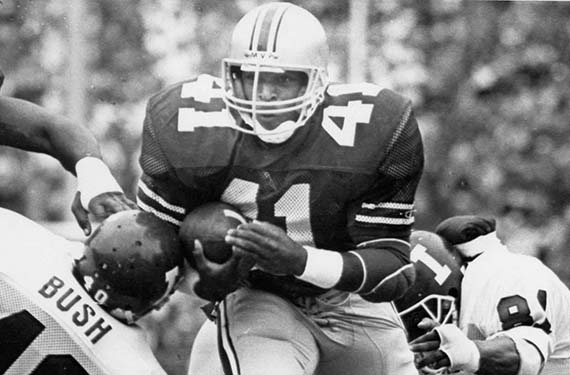 Thirty-five years ago, Ohio State running back Keith Byars led the Buckeyes to an exhilarating 45-38 comeback victory against Illinois at Ohio Stadium after trailing 24-0.
Not only did Byars help the Scarlet and Gray erase a 24-point deficit, the talented tailback broke the Ohio State single game rushing record held by none other than two-time Heisman Trophy winner Archie Griffin.
Byars gained 274 rushing yards and five touchdowns on 39 carries, breaking Griffin's record of 246 yards. Byars' record would later be broken by Eddie George's 314-yard outburst against Illinois in 1995. Twenty years later, Ezekiel Elliott tied Byars' second-place mark of 274 yards at Indiana.
Along the way to his record-breaking performance, Byars even scored on a 67-yard scamper, in which he lost his shoe.
"I felt the shoe slip, and it just popped off," Byars explained. "I wasn't about to slow down to go back and get it. I tried to get to the end zone as quick as possible and hope no one would step on my size 14."
This installment of BSB Reprints travels back to mid-October 1984 when Byars put the Buckeyes on his back and carried them to one of the greatest comeback victories in program history.
.
Download PDF