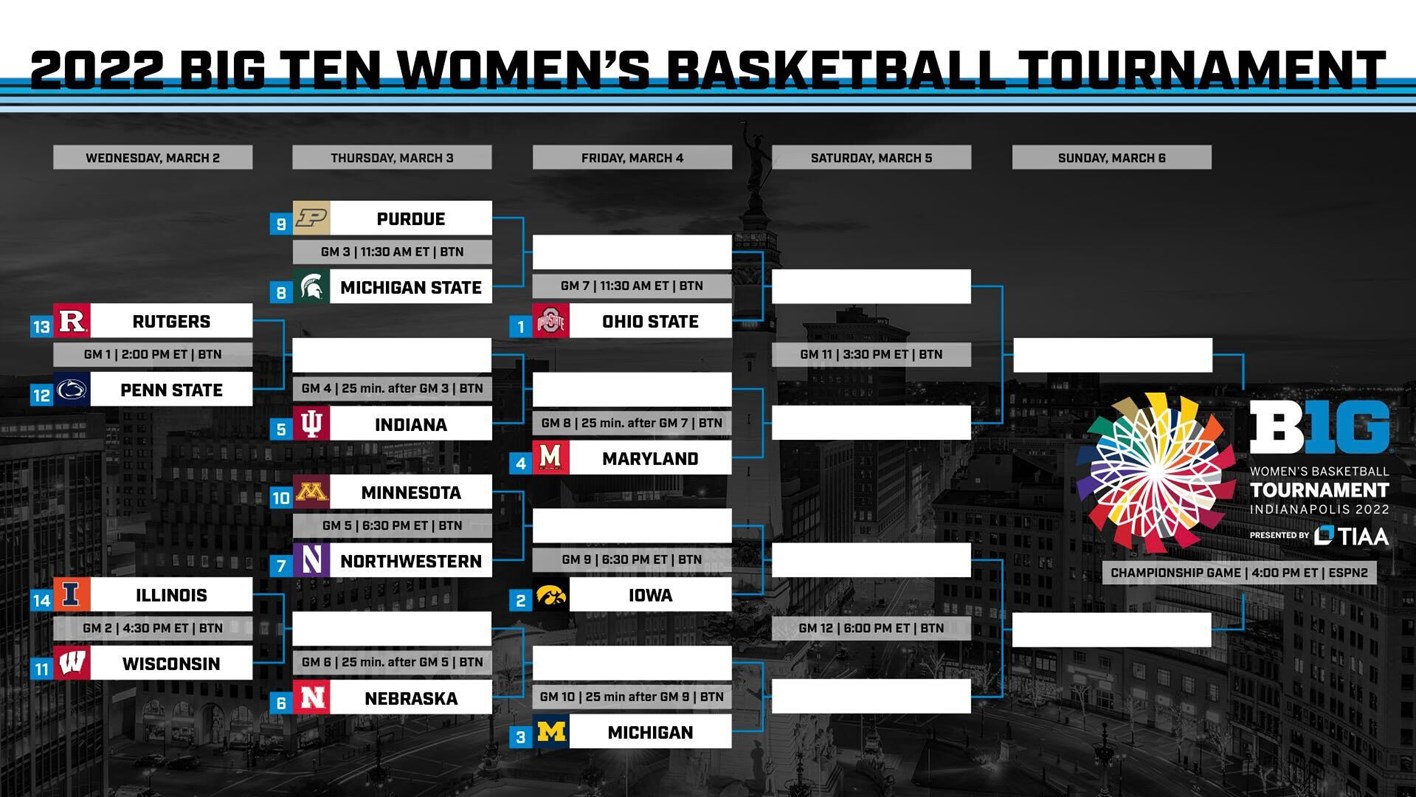 Sunday was the final day of the Big Ten's regular season, and the bracket is now set for the Big Ten Women's Basketball Tournament, set to begin on Wednesday in Indianapolis.
The first pair of games will take place Wednesday, with No. 13 Rutgers (10-19, 3-14 Big Ten) facing No. 12 Penn State (11-17, 5-13), followed by No. 14 Illinois (6-19, 1-13) taking on No. 11 Wisconsin (8-20, 5-13).
Moving to Thursday, the winner of Rutgers-Penn State will play No. 5 Indiana (19-7, 11-5), who shockingly fell out of the double-bye after a 1-4 finish to the regular season. The winner of Illinois-Wisconsin, meanwhile, will go on to face No. 6 Nebraska (22-7, 11-7).
Also on Thursday, No. 8 Purdue (16-13, 7-11) will face No. 9 Michigan State (14-14, 8-9), with the winner set to face No. 1 Ohio State (22-5, 14-4) on Friday. No. 10 Minnesota (14-16, 7-11) will face No. 7 Northwestern (16-11, 8-8), and the winner will take on No. 2 Iowa (20-7, 14-4) on Friday.
On Friday, No. 4 Maryland (21-7, 13-4) will get either Indiana, Penn State or Rutgers, and No. 3 Michigan (22-5, 13-4) will face either Illinois, Nebraska or Wisconsin. If all the top seeds win, the quarterfinals would feature Ohio State taking on Maryland, who split two games in the regular season, and Iowa facing Michigan, who also split the season series.
All games through the semifinals will be broadcast on Big Ten Network, and the championship game will be on ESPN2.