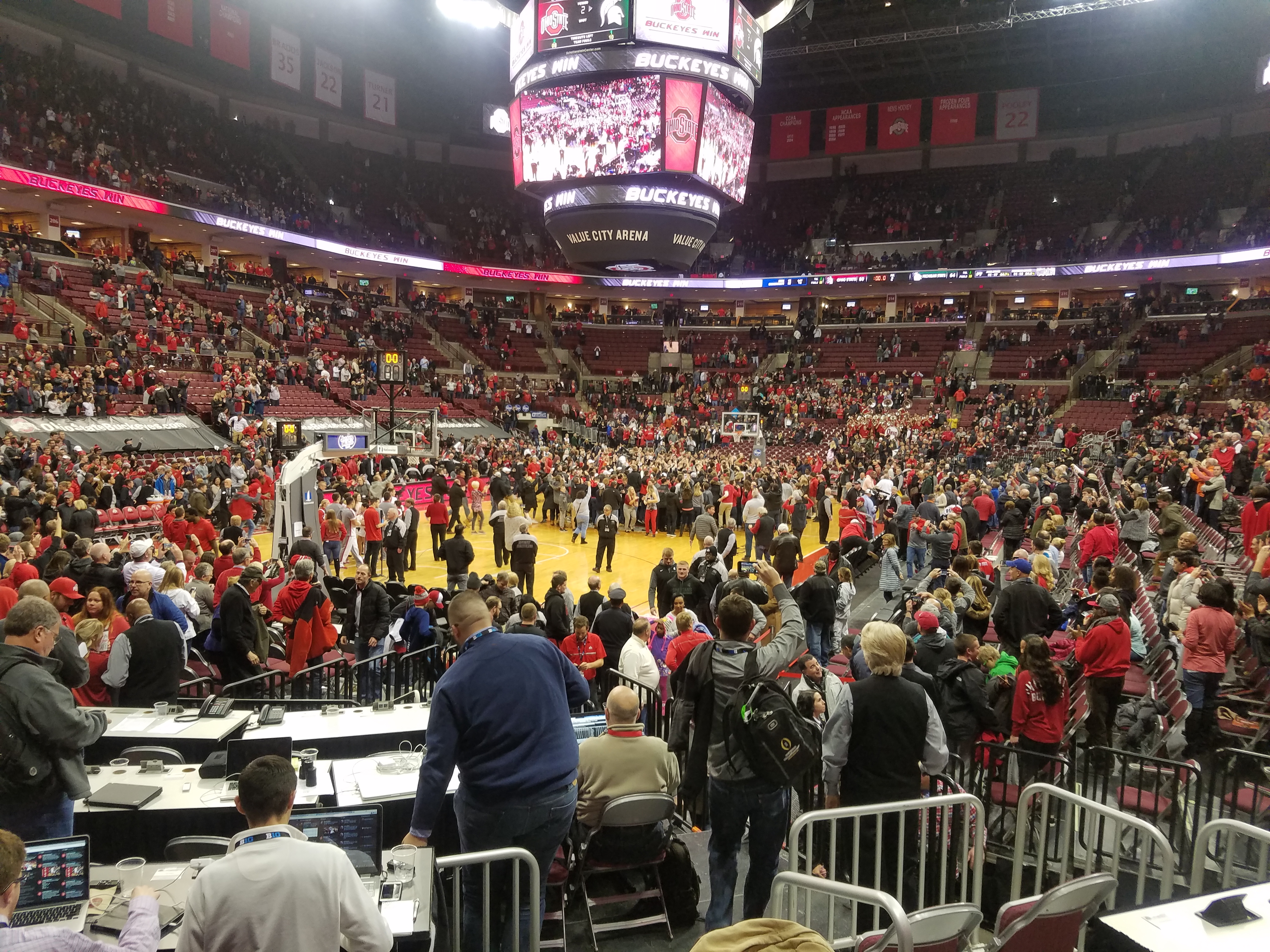 The Big Ten announced the men's basketball conference schedule for the 2018-19 season on Tuesday.
Ohio State, led by second-year head coach Chris Holtmann, opens league play by hosting Minnesota on Dec. 2. The Buckeyes then have a neutral-site game vs. Illinois at the United Center in Chicago on Dec. 5.
OSU spends the rest of December wrapping up nonconference action before resuming the Big Ten season on Jan. 5 at home against Michigan State, last year's regular-season conference champion.
Holtmann's club then goes on the road for games at Rutgers (Jan. 9) and at Iowa (Jan. 12) prior to returning to Columbus to face Maryland on Jan. 18 and Purdue five days later.
OSU closes out the month of January at Nebraska (Jan. 26) and at Michigan (Jan. 29).
The Buckeyes are then at home for three of the next four games – Rutgers (Feb. 2), Penn State (Feb. 7) and Illinois (Feb. 14). They play at Indiana on Feb. 10.
Following that four-game stretch, Ohio State heads up to East Lansing to play Michigan State a second time on Feb. 17. A game in Columbus vs. Northwestern three days later precedes a contest at Maryland on Feb. 23.
OSU's final game in February is at the friendly confines of Value City Arena against Iowa on Feb. 26.
Ohio State closes out the regular season at Purdue (March 2), at Northwestern (March 6) and at home against Wisconsin (March 10).
The 2018-19 campaign marks the first time in which the regular-season league title will be determined following a 20-game schedule.
The Buckeyes finished second last year in the Big Ten with a 15-3 conference record. Purdue had an identical league mark, but OSU had the head-to-head tiebreaker advantage.
2018-19 Ohio State Schedule
Thursday, Nov. 1                    UNC Pembroke (Exhibition)
Wednesday, Nov. 7                at Cincinnati
Sunday, Nov. 11                      Purdue Fort Wayne
Thursday, Nov. 15                  at Creighton (Gavitt Games)
Sunday, Nov. 18                      South Carolina State
Tuesday, Nov. 20                    Samford
Friday, Nov. 23                       Cleveland State (at St. John Arena)
Wednesday, Nov. 28              Syracuse
Sunday, Dec. 2                        Minnesota
Wednesday, Dec. 5                 vs. Illinois (at the United Center in Chicago)
Saturday, Dec. 15                   Bucknell
Tuesday, Dec. 18                    Youngstown State
Saturday, Dec. 22                   vs. UCLA (CBS Sports Classic at the United Center in Chicago)
Saturday, Dec. 29                   High Point
Saturday, Jan. 5                      Michigan State
Wednesday, Jan. 9                 at Rutgers
Saturday, Jan. 12                    at Iowa
Friday, Jan. 18                        Maryland
Wednesday, Jan. 23               Purdue
Saturday, Jan. 26                   at Nebraska
Tuesday, Jan. 29                    at Michigan
Saturday, Feb. 2                     Rutgers
Thursday, Feb. 7                    Penn State
Sunday, Feb. 10                     at Indiana
Thursday, Feb. 14                  Illinois
Sunday, Feb. 17                      at Michigan State
Wednesday, Feb. 20              Northwestern
Saturday, Feb. 23                   at Maryland
Tuesday, Feb. 26                    Iowa
Saturday, March 2                 at Purdue
Wednesday, March 6            at Northwestern
Sunday, March 10                 Wisconsin
March 13-17                            Big Ten Tournament (at the United Center in Chicago)