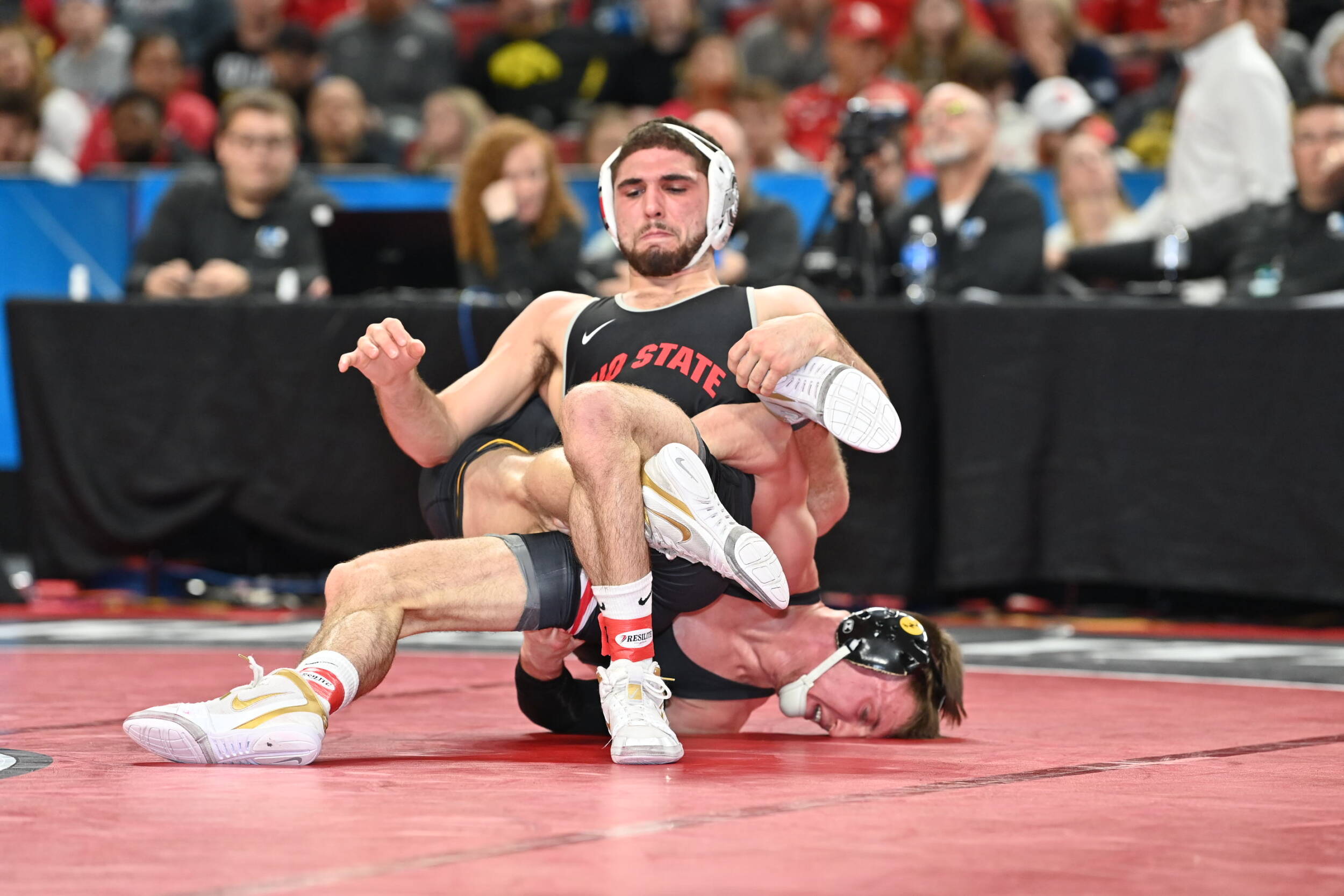 Sammy Sasso will defend his individual Big Ten title at 149 pounds against Wisconsin's Austin Gomez this afternoon after winning two matches on Saturday.
Sasso is the No. 1 seed in his weight class. He took a first-round "bye" before defeating Indiana's Graham Rooks in a 6-3 decision and Iowa's Max Murin in a 3-1 decision. Sasso and Murin were tied at one-all with 20 seconds remaining when the Ohio State wrestler secured a late-round takedown and awarded himself a two-point victory.
Gomez earned the No. 2 seed at the Big Ten Championships. He also took a first-round "bye" and cruised to the 149-pound finals, beating Penn State's Beau Bartlett in a 12-4 major decision and pinning Nebraska's No. 3-seeded Ridge Lovett in 20 seconds.
Though Sasso and Gomez are both redshirt juniors, they have never faced each other on the mat. In Ohio State and Wisconsin's most recent dual, Sasso defeated Drew Scharenbrock, 12-5. The Buckeyes and Badgers did not meet in the Big Ten regular season.
KHARCHLA AND ROMERO REACH THE SEMIFINALS
Carson Kharchla and Kaleb Romero reached the semifinals at 165 and 184 pounds. Both wrestlers lost their matches, which sends them to the consolation brackets for a run at third place.
Kharchla took a first-round "bye" as the No. 1 seed at 165. In the quarterfinals, he made quick work of Nebraska's Clayton Wilson and claimed a 7-2 decision to earn a matchup with Michigan's Cameron Amine in the semifinals. Kharchla and Amine were tied at one-all when the final-regulation buzzer sounded. The wrestlers went to sudden victory, where Amine secured a two-point takedown that sent him to the championship round.
With the loss, Kharchla heads to the consolation rounds to face Northwestern's David Ferrante. He will need to win two matches to take their place, with his lowest possible finish being eighth.
Romero had a busier Saturday than Sasso and Kharchla, entering the Big Ten Championships as the No. 3 seed at 184 pounds. He defeated Northwestern's Jack Jessen and Wisconsin's Christophe Weiler in major decisions to reach the semifinals, where he faced Michigan's Myles Amine.
When Ohio State faced Michigan in the regular season, Romero lost to Amine, 3-1, in a hard-fought bout at the Covelli Center. The Buckeye wrestler suffered a similar fate in the Big Ten Championship semifinals. Amine scored the match's only takedown in the second period and tacked on a riding time bonus for a 4-2 decision.
Romero will look to bounce back in the consolation bracket against Maryland's Kyle Cochran, who lost to No. 1 seed Aaron Brooks of Penn State in the quarterfinals before beating Rutger's John Pozanski of Rutgers and Iowa's Abe Assad in the wrestlebacks.
FOUR BUCKEYES BATTLE THROUGH WRESTLEBACKS
125 – No. 4 Malik Heinselman
Round 1: Heinselman major decision over No. 13 Jerimiah Reno (Nebraska), 10-1
Quarterfinals: No. 5 Devin Schroder (Purdue) decision over Heinselman, 3-1
Consolation Rd. 2: Heinselman major decision over No. 11 Tristan Lujan (Michigan State), 14-4
Consolation Rd. 3: Heinselman decision over No. 9 Dylan Shawver (Rutgers), 8-3
141 – No. 7 Dylan D'Emilio
Round 1: D'Emilio decision over No. 10 Frankie Tal Shahar (Northwestern), 7-1
Quarterfinals: No. 2 Jaydin Eierman (Iowa) decision over D'Emilio, 10-3
Consolation Rd. 2: D'Emilio decision over No. 9 Dylan Duncan (Illinois), 5-1
Consolation Rd. 3: D'Emilio fall over Parker Filius (Purdue), PIN 3:51
174 – No. 5 Ethan Smith
Round 1: Smith decision over No. 12 Nick South (Indiana), 6-4
Quarterfinals: No. 4 Michael Kemerer (Iowa) decision over Smith, 5-4
Consolation Rd. 2: Smith major decision over Andrew McNally (Wisconsin), 14-3
Consolation Rd. 3: Smith decision over No. 9 Dominic Solis (Maryland), 8-5
285 – No. 8 Tate Orndorff
Round 1: Orndorff decision over No. 9 Luke Luffman (Illinois), 3-2
Quarterfinals: No. 1 Gabe Steveson (Minnesota) technical fall over Orndorff 20-5
Consolation Rd. 2: Orndorff decision over Jacob Bullock (Indiana), 7-4
TEAM STANDINGS
Team Standings
1. Michigan – 116 points
2. Penn State – 111.5 points
3. Iowa – 109.0 points
4. Ohio State – 72.0 points
5. Northwestern – 70.5 points
6. Nebraska – 65.0 points
7. Wisconsin – 58.5 points
8. Minnesota – 47.5 points
9. Rutgers – 37.0 points
10. Purdue – 34.5 points
11. Michigan State – 33.0 points
12. Illinois – 26.5 points
13. Maryland – 14.5 points
14. Indiana – 4.0 points