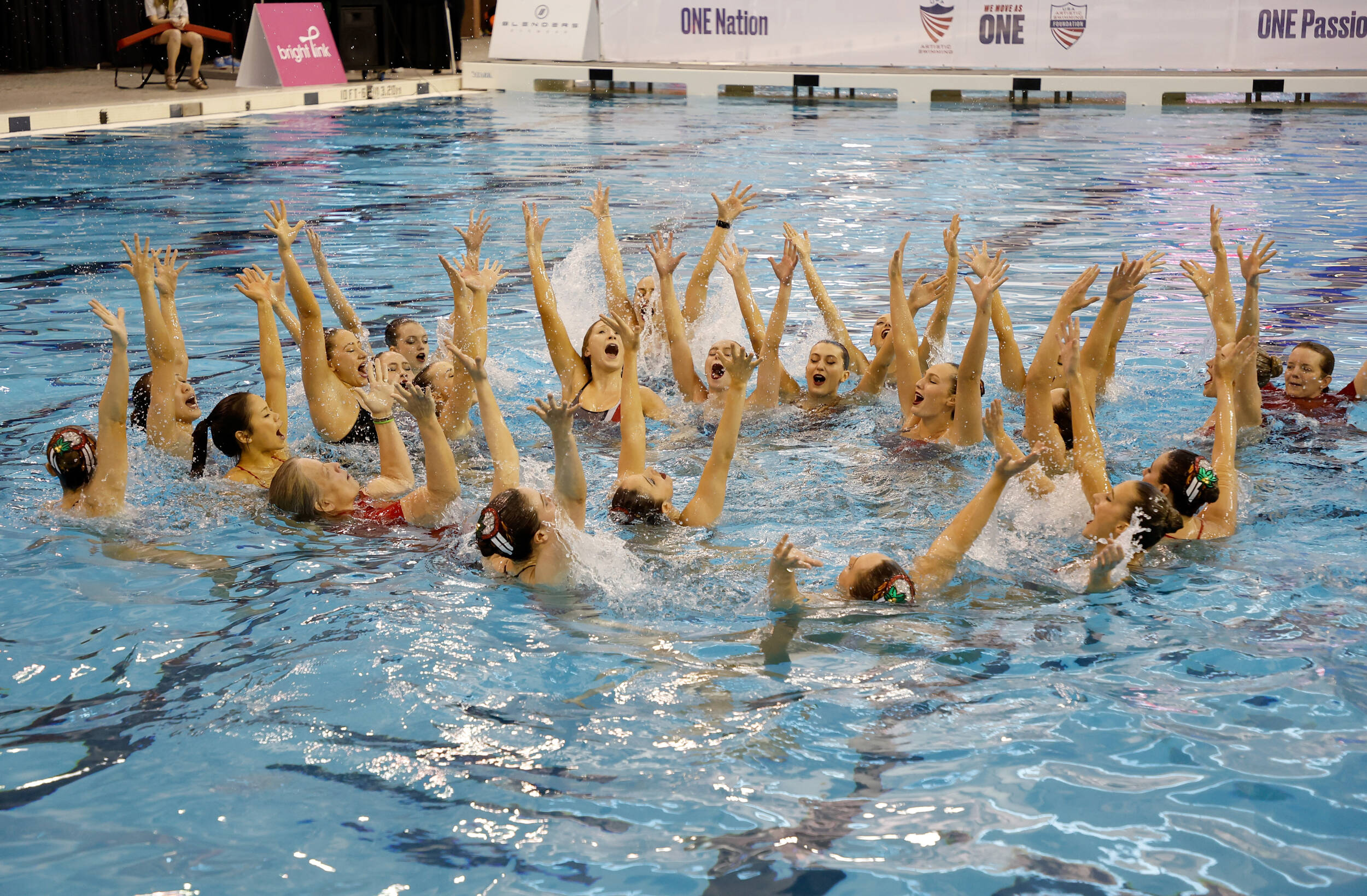 Ohio State synchronized swimming won its 33rd program title on Sunday at the U.S. Collegiate National Championships in Columbus, sweeping each category to earn 102.0 overall points.
Holly Vargo-Brown won her eighth national championship as the Buckeyes' head coach. She also claimed her sixth U.S. Collegiate Coach of the Year award.
"I am so proud of the resilience of this family, because it really is a family," Vargo-Brown said. "The love and the care that these student-athletes feel for each other and for Ohio State is something that I have never felt before. This team has been very special all year. I think the couple years of roughness really pulled us together in a very exciting way."
Ohio State started the final day of competition with a trio win from Emily Armstrong, Cassie Neeley and Ruby Remati. Their routine earned a score of 83.7667 from the judges and cleared Stanford's performance by a third of a point.
Laila Huric and Nikki Dzurko brought their duo routine to the pool for the first time in two seasons after Dzurko spent last season with the United States national team. The pairing looked dominant in an 85.2000-point swim to claim first place. Armstrong and Remati were Ohio State's second duo performers and took second with 84.1667 points.
In the solo routine, Dzurko won her second career national title with a score of 85.3333. She also won the event as a freshman in 2019 — the last time Ohio State stood on top of the championship podium.
The Buckeyes brought out the brooms in the team category when the Scarlet Team won first place. Armstrong, Dzurko, Hannah Heffernan, Huric, Rachel Jager, Neeley and Remati brought in a score of 85.2667 to win the category.
Stanford's team performance earned second place, while Ohio State's Gray Team of Camryn Carrasco, Rose Homoelle, Ava Lichter, Paula Luis, Olivia Malloy, Reverie Nedde, Olivia Schafer and Haley Watson rounded out the top three with a score of 82.6667.
At the event's award ceremony, the judges compiled scores revealed the Buckeyes scored 102.0 team points across the three days of competition. Stanford finished second with 86.0 points and Incarnate Word took third with 72.0.
Armstrong also received hardware in the post-competition festivities, winning the Individual High Point Award for her three-gold medal and silver-medal swims at the U.S. Collegiate Championships.
Overall, 13 teams swam in the event, including Ohio State, Stanford, Incarnate Word, Texas Woman's University, Florida, UCLA, Arizona, Wheaton College, Minnesota, Michigan, Boston University, Penn and Richmond.
2022 U.S. Collegiate National Championships Results (Top 3)
McCorkle Aquatic Pavillion in Columbus, Ohio
Overall Team
Ohio State – 102.0
Stanford – 86.0
Incarnate Word – 72.0
Solo
Nikki Dzurko (OSU) – 85.333
Lindi Schroeder (SUS) – 83.5000
Nour Shamala (IUW) – 79.9667
Duet
Nikki Dzurko, Laila Huric (OSU) – 85.2000
Emily Armstrong, Ruby Remati (OSU) – 84.1667
Emmanuella Tchakmakjian, Jacklyn Luu (SUS) – 83.0667
Trio
Emily Armstrong, Ruby Remati, Cassie Neeley (OSU) – 83.7667
Ava Jih-Schiff, Lindi Schroeder, Nicole Goot – 83.4333
Jacklyn Luu, Emannuella Tchakmakjia, Audrey Nguyen – 83.1000
Team
Ohio State (Scarlet) – 85.2667
Stanford – 84.533
Ohio State (Gray) – 82.667
A Figures
Emily Armstrong (OSU) – 83.7148
Ruby Remati (OSU) – 83.3013
Nikki Dzurko (OSU) – 82.3654
B Figures
Olivia Malloy (OSU) – 73.2313
Haley Watson (OSU) – 72.5341
Maria Catahan (OSU) – 72.1395
Editor's Note: The author of this story is Chase Brown, Ohio State synchronized swimming head coach Holly Vargo-Brown's son.