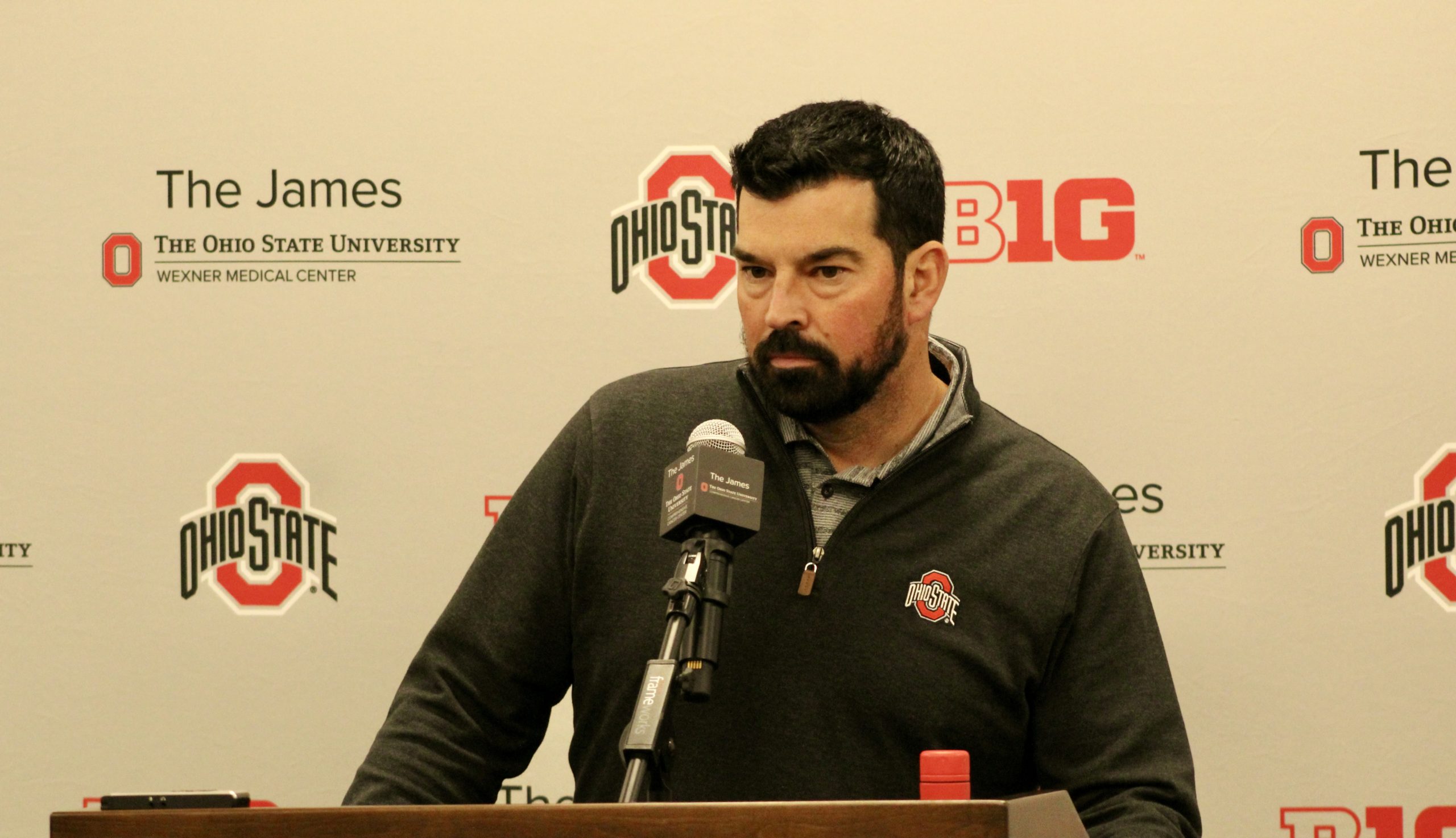 It's officially rivalry week.
The No. 2 Buckeyes will face No. 5 Michigan in The Game on Saturday afternoon. Ohio State coaches joined Jim Lachey and Paul Keels to preview the matchup on 97.1 The Fan.
Ryan Day headlined the program, with linebackers coach Al Washington, quarterbacks coach Corey Dennis and special teams coach Parker Fleming also on the show.
RYAN DAY
ON THE GAME
"We live it every day of the year."
"It's part of the recruiting process. When you come here, the No. 1 goal is to win this game."
"Every year, this is obviously the biggest game on the schedule."
ON WIDE RECEIVER GARRETT WILSON
"He's really turned into a great player."
"Its fun to see him playing his best football."
Day remembers both Garrett Wilson and Chris Olave playing their best games against Michigan.
"Careers are made and Legends are born."
ON THE IMPLICATIONS OF THIS YEAR'S GAME
"Every time you're playing in this game, there's everything on the table."
Day notes that this one does have real implications, though.
"Every time you play this game, it means a ton."
ON MICHIGAN DEFENSIVE COORDINATOR MIKE MCDONALD
"I think because we're 11 games in, we pretty much look at (this year's) film."
"They've done a nice job with the scheme this year."
"They have really good players and they're well-coached."
ON OVERCOMING ADVERSITY
"We've been through a lot this year."
Day notes there have been a lot of times things haven't gone quite their way, and he thinks that's going to help them down the stretch.
"Along the way, we've got some scars. We've got a little bit of an edge to us."
"Because of that, I don't think our guys flinch when things don't quite go their way."
ON THE OSU WIDE RECEIVERS
"The first thing I think of is they're very, very competitive. But the second thing is that they're unselfish."
Day said the receivers all celebrate each other and don't worry about individual statistics.
"That's not quite normal all the time."
ON THE OSU OFFENSIVE LINE
"The communication's been excellent. It's been clean."
"We got to play clean."
Day said they can't afford self-inflicted wounds with penalties and such.
"This is by far the best front we'll see this year."
"They know what they're up against."
ON THE CROWD NOISE IN THE BIG HOUSE
"It's a loud place and certainly it will be a great atmosphere."
"They'll be jacked up."
Day notes that they'll have their silent count ready to go.
AL WASHINGTON
ON SETTLING DOWN ON A ROTATION
"You kind of see what you see, so to speak."
Washington said guys are settling into their roles.
Washington said the unit's focus is "finding a way to help our team."
ON STEELE CHAMBERS' TRANSITION
"It's been an impactful experience for me."
"Very few times does a player embrace (a position change) the way he has."
"It's been a great experience for me as a coach."
"I think him being a running back really helps in terms of anticipation."
"He'd be the first to tell you he's got things he wants to continue to improve on, but he has a bright future."
ON THE GAME
"This rivalry means a lot."
"I'm probably one of the few that's experienced it on both ends of it."
"The ultimate amount of respect for the game."
"The reality is, that team up north is a team that has a lot of pride, just like us."
"The ultimate respect needs to be paid when that ball is snapped."
"You live it day in and day out."
"It's a huge game."
"You live it. It's in the back of your mind every day. And I'm sure it's that way for them."
ON STOPPING THE RUN
"I always say, the run game is a window into the soul of any team."
"Absolutely, you have to stop the run."
"They definitely pose a great challenge that we're all excited for."
ON THE DEFENSIVE LINE
"He's the best in the business. I say it all the time."
"What you have is a group that is capable and deep. And they're all committed."
"From the oldest guy to the youngest guy."
COREY DENNIS
ON C.J. STROUD
"C.J.'s done a great job this year."
"Just being able to continue to grow and continue to elevate his game throughout the year."
"He definitely played well and distributed the ball well."
"If he can just continue to make routine plays routinely, that will be big, for sure."
"He truly is a film junky and really grinds at his craft."
ON OHIO STATE'S OFFENSIVE COACHING STAFF
"Our offensive staff is unbelievable."
"The minds that are in that staff, they're just ridiculous."
Dennis says it's fun to work with so many bright people.
ON THE TRANSITION FROM THE SOUTH TO OHIO STATE
"With this rivalry, the one thing you learn is what it means to the people of Ohio."
"You come to Ohio State for this rivalry and to win this game."
Dennis called it "the greatest rivalry of all sports."
ON PREPARING FOR THIS GAME
"Our guys have done a great job and they're pros about the whole thing."
"We'll continue to have a great practice and try to keep things as normal as we can."
ON THE OTHER QUARTERBACKS
"When you're number's called, are you ready to go?"
Dennis notes that the quarterback position is unique in that only one guy gets to play.
Dennis said Dwayne Haskins is an example of why backups need to be ready to play.
"When your number gets called, you better be ready to go."
ON FANS BACK IN THE STANDS
"That's why the guys come to placed to play games like this."
"We definitely feel the fans and feel the energy."
PARKER FLEMING
ON NOAH RUGGLES' GROZA AWARD NOMINATION
"He's earned it. Done a great job this year."
Fleming said he's glad to see him getting recognized.
"All credit to him."
ON JESSE MIRCO
"He's a great punter. Done a great job."
"Hopefully we don't have a ton of opportunities going forward."
ON MICHIGAN'S SPECIAL TEAMS TRICK PLAYS
"They put a lot on tape on all phases of special teams."
"They're going to keep us on our toes."
Fleming said that's always something they look for against Michigan.