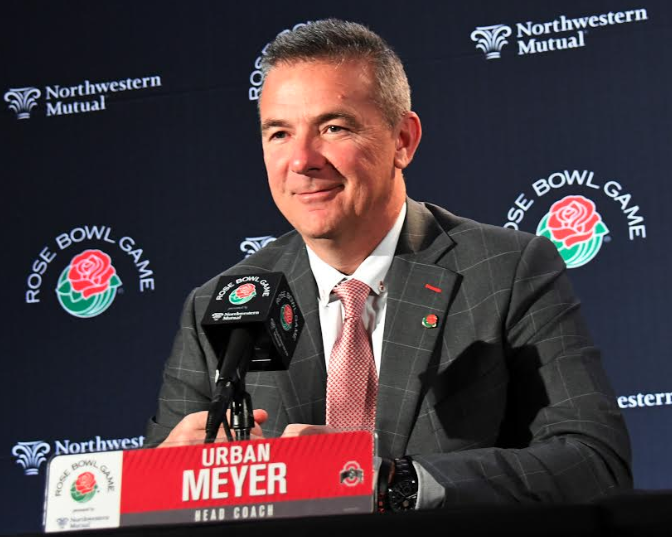 Ohio State didn't make the College Football Playoff, but the Buckeyes still finished ranked ahead of two teams that did.
Coming off a 28-23 win over then-No. 9 Washington (10-4) in the Rose Bowl, Ohio State (13-1) finished No. 3 in the final Associated Press top 25 of the 2018-19 season, behind No. 1 Clemson and No. 2 Alabama. The Tigers clinched the top spot and all 61 first-place votes by dispatching the Crimson Tide, 44-16, in the CFP national title game.
Ohio State's third-place ranking was one ahead of Oklahoma, which was the fourth seed in the playoff, and two ahead of Notre Dame, which had previously been No. 3.
The top 10 was rounded out by No. 6 LSU, No. 7 Florida/Georgia (tie), No. 9 Texas and No. 10 Washington State. Washington finished 13th after losing to the Buckeyes.
From the Big Ten, Michigan finished 14th, Penn State finished 17th, Northwestern was 21st and Iowa was 25th. That gives Ohio State wins over four of the final top 25 for the season.
Cincinnati, the team led by former Buckeye Luke Fickell which Ohio State faces early in the 2019 campaign, finished No. 24 after going 11-2 this year.
The Buckeyes open their 2019 season at home against Florida Atlantic on Aug. 31 before facing Cincinnati Sept. 7. Ohio State also faces Northwestern (Oct. 18, away), Penn State (Nov. 23, home) and Michigan (Nov. 30, away) from the final top 25.