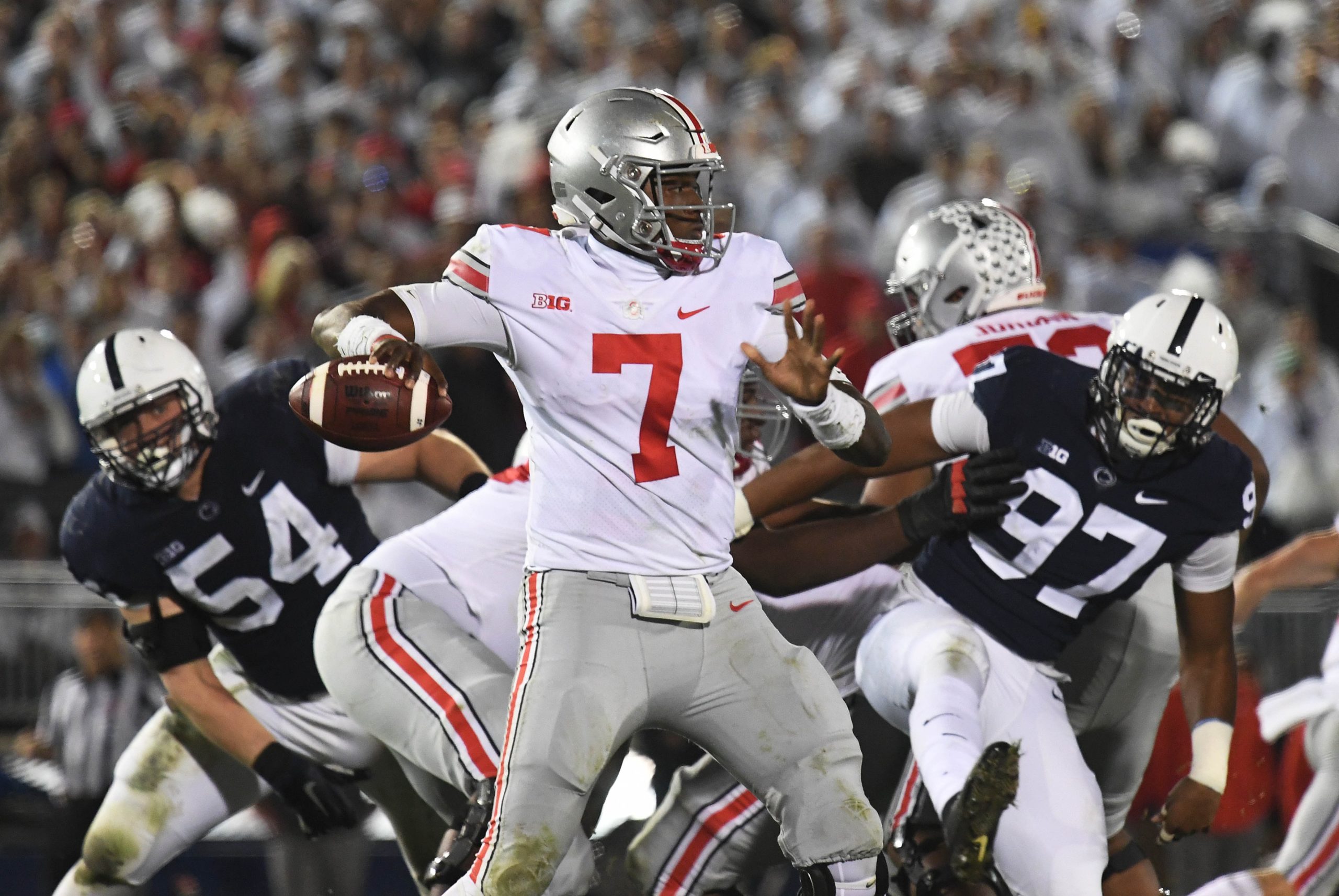 Former Buckeye Dwayne Haskins died in a tragic car accident on Saturday morning. His Ohio State career lasted one season, but he broke almost every possible record for a quarterback. In this article, Buckeye Sports Bulletin looks back to every benchmark the Highland Park, New Jersey, native set in 2018.
OHIO STATE SINGLE-SEASON COMPLETION PERCENTAGE
Haskins completed 373 of 533 passes for a .700 completion percentage in the 2018 season. He surpassed Troy Smith's record of 65.3 percent, which he set during his 2006 campaign.
C.J. Stroud (2021-pres.) broke this record in the 2021 season connecting on 317 of 441 passes for a .719 completion percentage.
OHIO STATE SINGLE-GAME PASSING YARDS RECORD
Haskins broke Art Schlichter's (1978-81) 37-year record of 458 yards twice during the 2018 season. He threw for 470 yards in Ohio State's blowout loss to Purdue and took himself to another level in the Big Ten Championship against Northwestern, where he tossed for 499 yards on the Wildcats' defense.
Stroud broke this record when he threw for 573 yards in the Buckeye's 2022 Rose Bowl win against Utah.
OHIO STATE SINGLE-GAME PASSING TOUCHDOWNS
Haskins tied the program record for single-game passing touchdowns twice in 2018. He collected six scores against Indiana and Michigan that season, matching totals set by Kenny Guiton (2009-13) and J.T. Barrett (2014-2017) during their respective careers.
Stroud and Justin Fields (2019-20) matched Haskins, Guiton and Barrett with six touchdown passes in a game. Fields threw for six scores against Clemson in the 2020 College Football Playoff semifinal, while Stroud had six touchdowns against Michigan State and Utah (at the Rose Bowl).
OHIO STATE + BIG TEN SINGLE-SEASON PASSING YARDAGE
Before Haskins' historic season, every Big Ten passing record belonged to either Drew Brees or Curtis Painter. That changed when Haskins threw for 4,831 yards in 2018.
Haskins surpassed Painter's record of 3,895 yards by 936. He also crushed the former Ohio State single-season record of 3,330 yards set by Joe Germaine in the 1998 season.
Despite a Heisman Trophy level season, Stroud couldn't produce the same level of passing output as Haskins. The current Ohio State signal-caller threw for 4,435 yards in 2021.
OHIO STATE + BIG TEN SINGLE-SEASON PASSING TOUCHDOWNS
Haskins shattered another Big Ten record when he threw for 50 touchdowns in 2018. He became the sixth quarterback in Football Bowl Series history to reach the half-century mark in a single season. That list includes Joe Burrow of LSU (60; 2019), Colt Brennan of Hawai'i (58; 2006), David Klingler of Houston (54; 1990), B.J. Symons of Texas Tech (52; 2003), Derek Carr of Fresno State (50; 2013) and Sam Bradford of Oklahoma (50; 2008).
Bailey Zappe of Washington State joined this list when he threw an NCAA record 62 touchdown passes in 2021.
Haskins also broke Barrett's school record of 35 set in the 2017 season. He threw his 36th touchdown in the Buckeyes' Week 11 overtime win over Maryland and extended his hold on first-place with six touchdowns against Michigan, five against Northwestern and three against Washington.
HASKINS' OTHER OHIO STATE PASSING RECORDS IN 2018
Single-game completions: 49 vs. Purdue
Single-game passing attempts: 73 vs. Purdue
Single-season passing attempts: 533
Single-season 300-yard passing games: 9 (Stroud tied this record with 9 in 2021)
Single-season passing yards per game: 345.1 (Stroud broke this record with 369.5 ypg in 2021)
Single-season passing efficiency (min. 100 completions): 174.1 (Fields broke this record with 175.5 in 2020 and 181.4 in 2019; Stroud surpassed both QBs with 186.6 in 2021)
Career passing yards per game: 245.3 in 22 games
Career passing efficiency (min. 300 completions): 173.9 (Fields broke this record with 179.1; Stroud surpassed both QBs with 186.6 in 2021)
Consecutive 200-yard games: 14