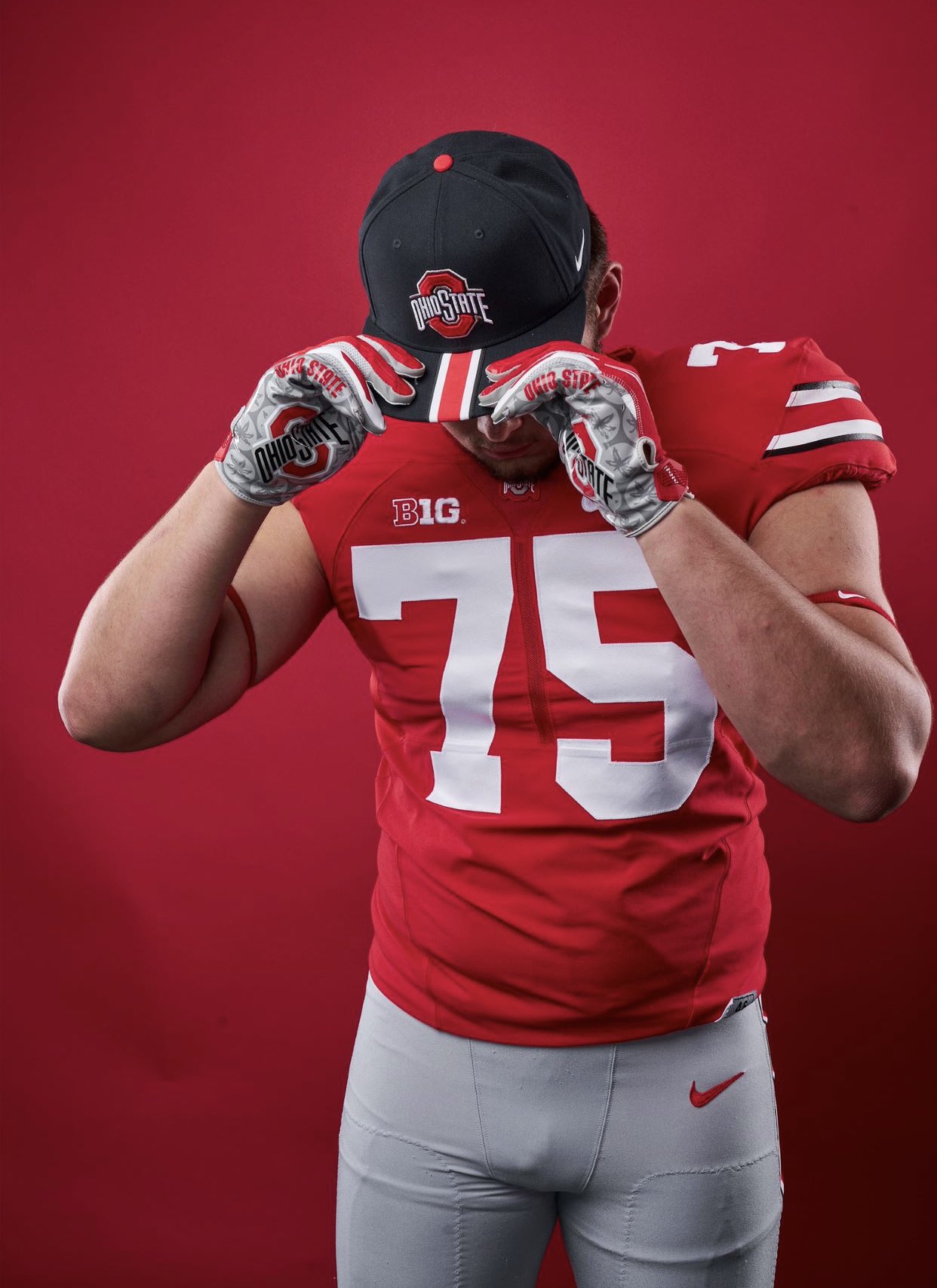 Final recruiting numbers have been released from a number of recruiting services, including Rivals.com, On3 Sports and 247Sports.
Ohio State's 21 members of the class of 2022 – made official once Omari Abor and Carson Hinzman sign on National Signing Day – saw significant change in the final rankings. While quarterback Devin Brown maintained his four-star status with 247 and Rivals, On3 awarded him a fifth star and named him the top player in the class.
Linebacker/safety Sonny Styles maintained his consensus five-star status, while linebacker C.J. Hicks had a star taken away by On3. 247 and Rivals kept Hicks' fifth star.
The other player with a star update was defensive end Kenyatta Jackson Jr., who rose 18 spots in On3's final rankings to receive five stars from the service.
The biggest riser was tight end Bennett Christian, who rose 75 spots on 247 and landed in their final rankings. Wide receiver Caleb Burton saw one of the biggest drops, falling 135 spots in On3's rankings and finishing outside of Rival's final rankings.
Full changes to Ohio State's class can be viewed below:
| | | | |
| --- | --- | --- | --- |
| Player | 247Sports Ranking (Out of 247) | On3 Sports Ranking (Out of 300) | Rivals.com Ranking (Out of 250) |
| Omari Abor | No. 38 (+17), Four Stars | No. 140 (-69), Four Stars | No. 115 (-33), Four Stars |
| Kojo Antwi | No. 100 (+45), Four Stars | UR, Four Stars | No. 189 (+3), Four Stars |
| Devin Brown | No. 49 (-5), Four Stars | No. 1 (+28), Five Stars | No. 36 (+15), Four Stars |
| Jyaire Brown | No. 201 (-17), Four Stars | UR, Four Stars | No. 164 (-16), Four Stars |
| Kaleb Brown | No. 62 (+9), Four Stars | No. 186 (-74), Four Stars | No. 89 (-2), Four Stars |
| Caleb Burton | No. 52 (+75), Four Stars | No. 256 (-135), Four Stars | UR, Four Stars |
| Bennett Christian | No. 228 (+153), Four Stars | UR, Four Stars | UR, Three Stars |
| Caden Curry | No. 139 (-17), Four Stars | No. 184 (-45), Four Stars | No. 75 (-15), Four Stars |
| George Fitzpatrick | UR, Four Stars | No. 279 (-5), Four Stars | UR, Four Stars |
| Kyion Grayes | No. 47 (+37), Four Stars | No. 137 (-28), Four Stars | No. 96 (+62), Four Stars |
| Dallan Hayden | No. 213 (+75), Four Stars | UR, Four Stars | No. 243 (-3), Four Stars |
| Avery Henry | UR, Three Stars | UR, Three Stars | UR, Three Stars |
| C.J. Hicks | No. 12 (-4), Five Stars | No. 65 (-53), Four Stars | No. 18 (+2), Five Stars |
| Carson Hinzman | No. 179 (-7), Four Stars | No. 150 (+21), Four Stars | No. 179 (-96), Four Stars |
| Kenyatta Jackson Jr. | No. 90 (-33), Four Stars | No. 23 (+18), Five Stars | No. 37 (+36), Four Stars |
| Hero Kanu | No. 104 (+13), Four Stars | No. 191 (-78), Four Stars | No. 167 (-33), Four Stars |
| Gabe Powers | No. 98 (-1), Four Stars | No. 161 (-50), Four Stars | No. 128 (-89), Four Stars |
| Kye Stokes | UR, Four Stars | No. 293 (+5), Four Stars | No. 244 (+4), Four Stars |
| Sonny Styles | No. 28 (-16), Five Stars | No. 4 (+6), Five Stars | No. 11 (-3), Five Stars |
| Tegra Tshabola | No. 39 (+68), Four Stars | No. 205 (-89), Four Stars | No. 117 (+18), Four Stars |
| Ryan Turner | UR, Four Stars | UR, Three Stars | No. 183 (-10), Four Stars |