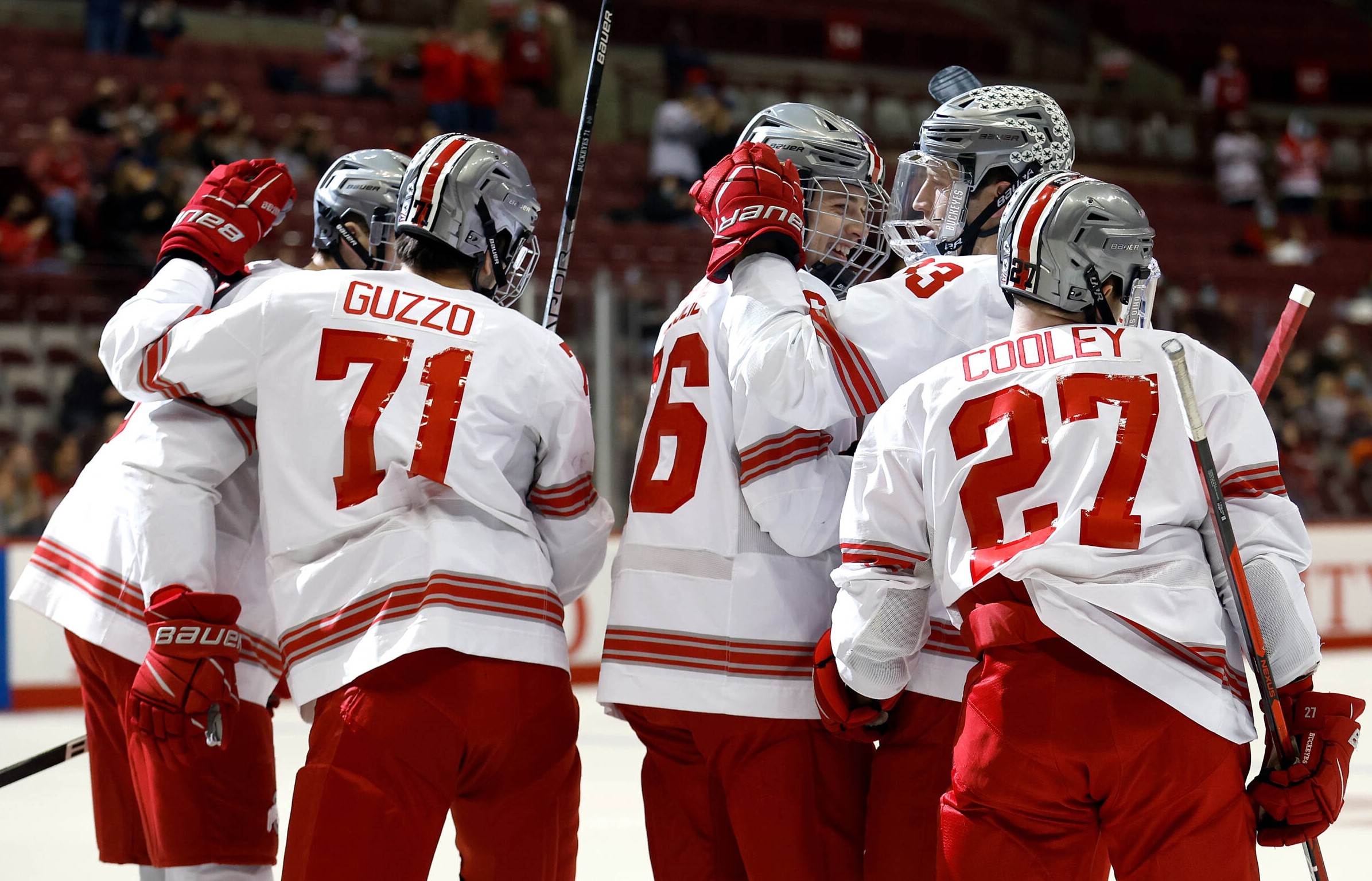 Ohio State did what it needed to do in defeating upstart Long Island University on Friday and Saturday to complete the non-conference portion of the schedule.
The 6-0 and 7-2 wins give the Buckeyes a 14-6-0 overall record and sets them up for another 20-win season with an eye on making the NCAA tournament.
With a 6-4-0 Big Ten record, OSU has 14 games remaining.
The Buckeyes will carry a five-game winning streak into their series at Wisconsin this Friday and Saturday.
Beating LIU, which is playing its second season as a Division I program, did little to help the Buckeyes in the PairWise rankings but avoiding losses was even more important.
Third Gear
The final score of the series opener before a turnout of 2,958 at Value City Arena looked lopsided but it was anything but that for two periods before the Buckeyes exploded for all six goals.
Freshman Georgii Merkulov had two goals, including the first at 2:54, while junior Mark Cheremeta and graduates Eric Cooley and Grant Gabriele each had two assists among the 14 Buckeyes who got on the scoresheet.
Jakub Dobeš made 15 saves for the second shutout of his freshman season.
"It took us a while to get started," senior captain Gustaf Westlund said. "(Dobeš) saved us a couple of times. We are happy for him that he got the shutout, but we need to be ready from the first drop of the puck. If we do that, we can be a really good team and that's what we need here going into the second half."
After Merkulov got the Buckeyes on the board, senior Jake Wise redirected a shot from junior Dominic Vidoli at 4:36 for a 2-0 lead.
A video review resulted in a major penalty for contact to the head to LIU (4-12-3) and Merkulov tallied on the power play at the 11:31 mark. Westlund extended the lead to 4-0 at 14:43 and sophomore Patrick Guzzo netted a goal at 15:26. The final goal came came with eight seconds left as sophomore Joe Dunlap sent freshman Cam Thiesing, just out of the penalty box, on a breakaway on the Buckeyes' last of 44 shots in the game.
"We were a little sluggish to start and it took us a little while to find our stride," coach Steve Rohlik said. "Once we got the first one in the third, we kind of got the jump."
The last time the OSU scored more than five goals in a period was Dec. 12, 2008, vs. Bentley, when they scored seven times in third. The last five-goal period was Feb. 23, 2018, against Wisconsin.
More Of The Same
Junior Ryan Snowden made a rare start in the rematch and made 25 saves as the Buckeyes pulled away from the Sharks with six goals over the final 40 minutes in front of 2,621 for the New Year's Day matinee.
Guzzo made it 1-0 at 10:20 of the first. After Zack Bross scored for LIU at 1:15 of the second, OSU got untracked with goals by junior Kamil Sadlocha (7:41), Cheremeta (12:40) and freshman defenseman Cole McWard (14:57) made it 4-1 after two periods. It was the first college goal for McWard.
Wise made it 5-1 at 3:41 of the third before Bross scored again at 8:38. Junior Tate Singleton (9:32) and Guzzo again (18:10) wrapped up the scoring.
Junior Matthew Cassidy had two assists while McWard, Sadlocha, Cheremeta and Wise each had a goal and a helper.
Buck-Ice
After averaging a program record-low two goals per game last season, the Buckeyes are scoring at a 3.7 per game clip. … They have held opponents to two or less goals in 14 games and are allowing 2.20 goals per game. … The Buckeyes are outscoring opponents 39-13 in the third period and 41-13 in the third period and overtime combined this season.