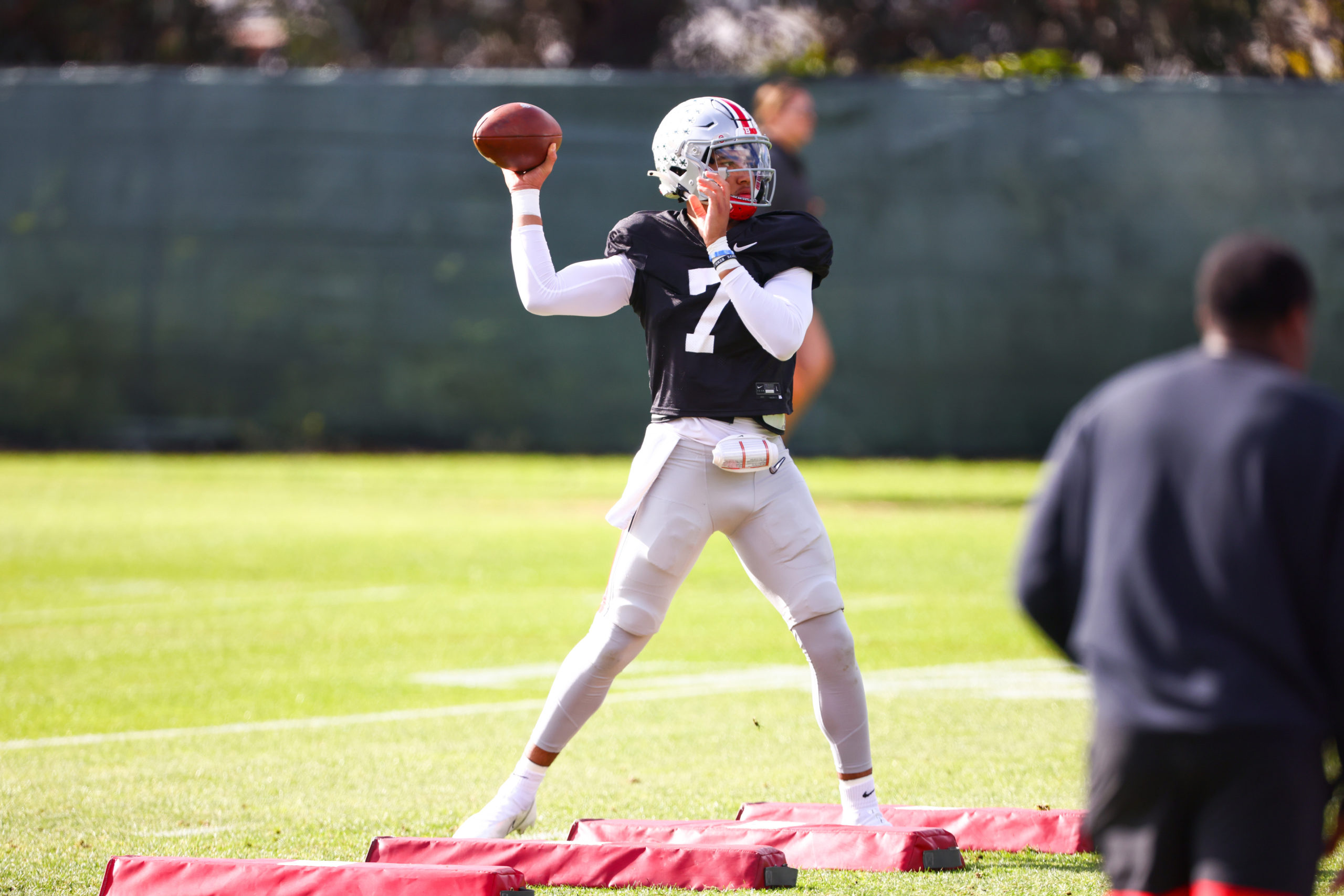 With Ohio State head coach Ryan Day recently wrapping up his third recruiting class as the lead man for the Buckeyes, Buckeye Sports Bulletin is taking a look back to rank his three recruiting hauls. These rankings reflect both what the classes have accomplished and how they're expected to impact the coming years for Ohio State. No. 2 will post Thursday, and No. 1 will post Friday, and today's third-ranked class for Day will focus on Ohio State's class of 2020.
Class: 2020
Signees: 25
Average Player Rating: 0.9179
National/Big Ten Ranking: 5th/1st
Highest Rated Signee: WR Julian Fleming (NA 3, POS 1, PA 1)
When all is set and done, Ohio State head coach Ryan Day's first recruiting class in 2020 may end up being on the lower end of his classes for however long he stays with the Buckeyes.
At the time, the class ranked first in the Big Ten and fifth overall in the country, behind LSU, Clemson, Alabama and Georgia. It featured seven top-100 prospects – Fleming, offensive tackle Paris Johnson Jr., wide receiver Jaxon Smith-Nijigba, quarterback C.J. Stroud, wide receiver Gee Scott Jr., linebacker Cody Simon and wide receiver Mookie Cooper.
The stars in the class were obvious with Stroud, Smith-Njigba and Johnson, all of whom started for the Buckeyes this past season. Stroud finished the season as a Heisman finalist and Smith-Njigba obliterated the majority of single-season receiving records for Ohio State, while Johnson started all 13 games for the Buckeyes as a sophomore. Simon, meanwhile, rotated starts last season alongside linebackers Steele Chambers and Tommy Eichenberg and could be in line to start this season.
Outside of those top-100 prospects, center Luke Wypler (No. 108 overall) and safety Lathan Ransom (No. 167 overall) have been able to provide an impact, with Wypler and Ransom starting at center and cover safety, respectively. Safety Kourt Williams played sparingly behind Ronnie Hickman at the bullet and saw an expanded role in the Rose Bowl.
After playing in just four games in 2020, running back Miyan Willams (No. 627) backed up running back TreVeyon Henderson in 2021 and will do so this upcoming season. He rushed for over 500 yards in his redshirt freshman season.
Unfortunately for Ohio State, the contributions from that class mostly end with those players, and it appears that few are in line to take a step forward this upcoming season.
Fleming has caught just 19 catches in 12 games, but he's dealt with injuries since arriving at Ohio State. He had a promising five-catch, 35-yard performance in the Rose Bowl with former wide receivers Chris Olave and Garrett Wilson sitting out, and it could be a positive sign of things to come for the soon-to-be junior.
Scott has just five career receptions so far after transitioning to tight end, and a number of four-star prospects – defensive tackle Jacolbe Cowan (No. 163 overall), safety Cameron Martinez (No. 323 overall), linebacker Mitchell Melton and cornerback Lejond Cavazos – have yet to significantly break into their respective rotations.
The class has also seen a number of players transfer out, including Cooper (Missouri), defensive tackle Darrion Henry-Young (Kentucky), cornerback Ryan Watts (Texas) and quarterback Jack Miller (Florida).
The Buckeyes relied on the projection of far too many three-star prospects in this class, with just one – Miyan Williams – making an impact thus far. Taking a flyer on a lesser-known recruit isn't a bad thing, but when they make up nearly a third of the class, Ohio State needed hits on more than just Williams.
Players like Smith-Njigba and Stroud can make an entire class, but with so few significant contributors outside of the top players in the 2020 cycle, the effects are beginning to become apparent with a lack of depth for Ohio State in the secondary and on the offensive line for the upcoming season.
| | | | |
| --- | --- | --- | --- |
| Name | Position | Stars | National/Position Rank |
| Julian Fleming | WR | ***** | NA 3, WR 1 |
| Paris Johnson Jr. | OT | ***** | NA 9, OT 1 |
| Jaxon Smith-Njigba | WR | ***** | NA 29, WR 5 |
| C.J. Stroud | QB | **** | NA 42, QB 2 |
| Gee Scott Jr. | WR | **** | NA 66, WR 10 |
| Cody Simon | LB | **** | NA 75, LB 4 |
| Mookie Cooper | WR | **** | NA 93, WR 16 |
| Luke Wypler | OC | **** | NA 108, OC 2 |
| Darrion Henry-Young | DT | **** | NA 154, DT 16 |
| Jacolbe Cowan | DT | **** | NA 163, DT 17 |
| Kourt Williams | LB | **** | NA 166, LB 12 |
| Lathan Ransom | SAF | **** | NA 167, SAF 11 |
| Ryan Watts | SAF | **** | NA 202, SAF 18 |
| Cameron Martinez | ATH | **** | NA 323, ATH 14 |
| Jack Miller | QB | **** | NA 334, QB 13 |
| Mitchel Melton | LB | **** | NA 350, LB 24 |
| Lejond Cavazos | CB | **** | NA 352, CB 26 |
| Joe Royer | TE | *** | NA 413, TE 14 |
| Grant Toutant | OT | *** | NA 463, OT 35 |
| Josh Fryar | OG | *** | NA 510, OG 28 |
| Miyan Williams | RB | *** | NA 627, RB 45 |
| Ty Hamilton | DE | *** | NA 762, DE 33 |
| Jakob James | OG | *** | NA 852, OG 55 |
| Trey Leroux | OT | *** | NA UR, OT 91 |
| Jake Seibert | K | *** | NA UR, K 2 |
Stars/Ratings courtesy of the 247Sports compsite