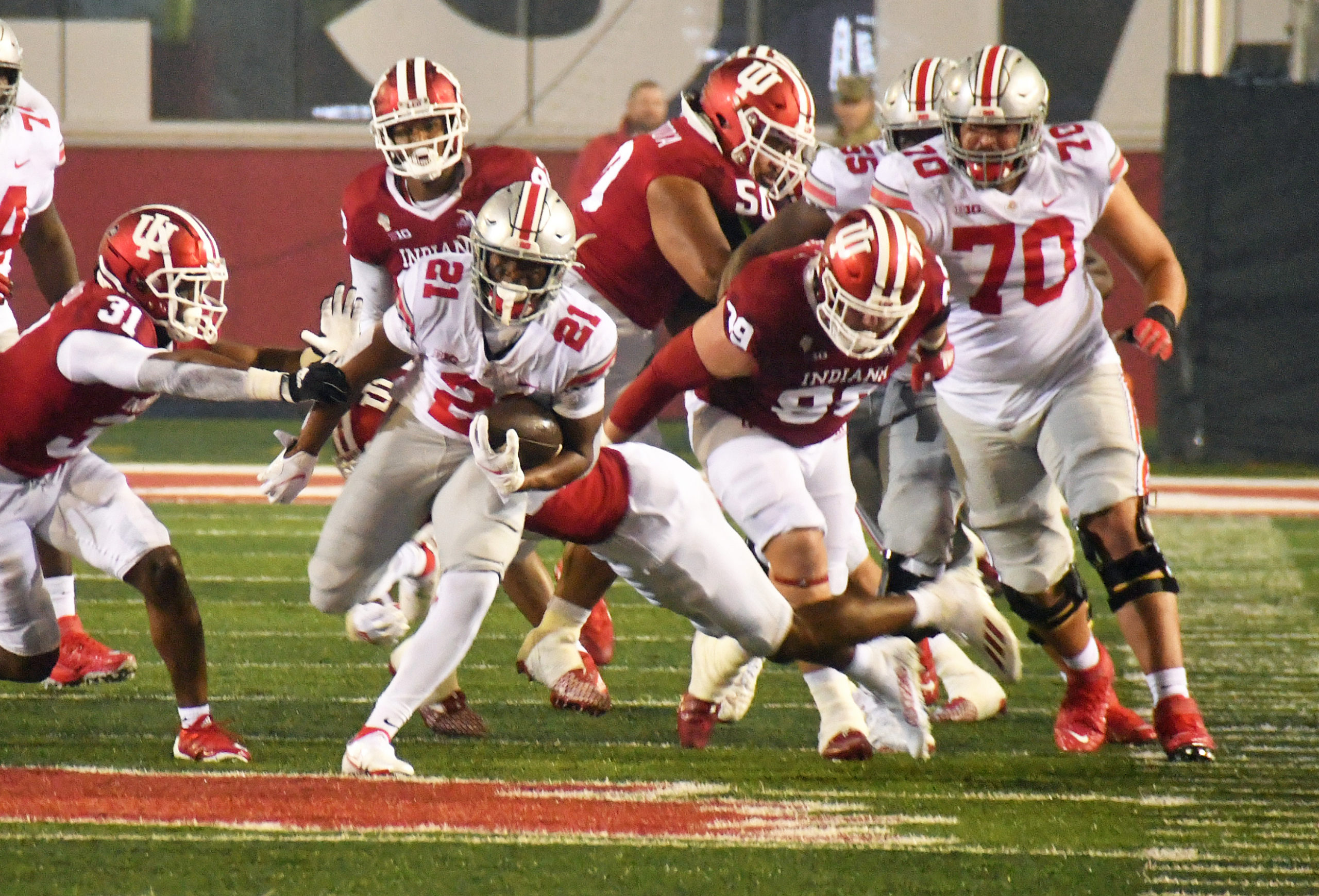 Chase Brown: Buckeyes Overwhelm Nittany Lions
Rivalry games rarely get out of hand. Ten of the last 20 meetings between Ohio State and Penn State were one-possession games, including three decided by one point.
Only one of those 20 games was a true blowout – the Buckeyes' 63-14 win in 2013. With how porous Penn State looked in a loss to Illinois last week and how unstoppable Ohio State's offense has been since its loss to Oregon on Sept. 11, I think we are going to see another lopsided game in Columbus on Saturday night.
Penn State has yet to allow an opponent to score more than 23 points in a game this season. However, Auburn is the only team the Nittany Lions have faced that ranks better than 70th in the nation in scoring or total offense. Ohio State claims the nation's No. 1 spot in both of those categories. Penn State will quickly find out that trying to keep the Buckeyes out of the end zone is an arduous task.
I expect C.J. Stroud to continue building success and TreVeyon Henderson to break free more than once on the ground. Saturday's game with be an excellent benchmark to see how far the Buckeyes have come since the beginning of the season.
Ohio State 45, Penn State 17
Patrick Mayhorn: Nittany Lions No Match In Columbus
A few weeks ago, if you bring me this game, I'm probably favoring Ohio State by about a touchdown. The Buckeye defense was really struggling and the offense had yet to hit its stride, while Penn State was sitting in the top 10 with a perfect record and an impressive win over Auburn.
Now, with the benefit of October to aid in our insight into these teams? I'm not sure these two even belong on the same field.
Ohio State has rounded fully into form on both sides of the ball. Penn State just lost to Illinois on its home turf.
Perhaps a healthy Sean Clifford can make this something of a game, but if that's what you're depending on to win games, I don't think that beating this Ohio State team is in the cards. Ohio State does what it hasn't since 2013 and absolutely decimates its rival to the East, with Michigan State and Michigan left as the only teams standing between it and another conference title berth – barring another Purdue incident or a Nebraska shocker.
Ohio State 56, Penn State 17
Mark Rea: OSU Should Roll Over Injury-Decimated Lions
While it doesn't hold the anticipation of another rivalry game coming up in another month, the annual Ohio State-Penn State battle usually provides some juice. I'm not sure that will be the case this year, though, as the Buckeyes bring an offensive juggernaut to bear on a Nittany Lions defense that has been racked by injuries.
A case in point: Illinois ran for 357 yards against Penn State last week. During the game before that, the Illini managed exactly 26 yards on the ground against Wisconsin.
Add the fact that – despite what he says – Penn State QB Sean Clifford still isn't 100 percent after getting knocked out of the Iowa game three weeks ago. Clifford was never going to be mistaken for one of college football's great quarterbacks, but he was having a good season until playing the Hawkeyes. Now, it seems that he has reverted back to the guy who got picked once and sacked five times last year by the Buckeyes.
Ohio State has never in program history scored 50 or more points in five straight games, and Penn State hasn't surrendered 50 or more in a game since a 63-14 loss to the Buckeyes in 2013. That all goes out the window tomorrow night.
Ohio State 52, Penn State 14